Bowie's Blackstar Bassist Tim Lefebvre's Desert Island Classics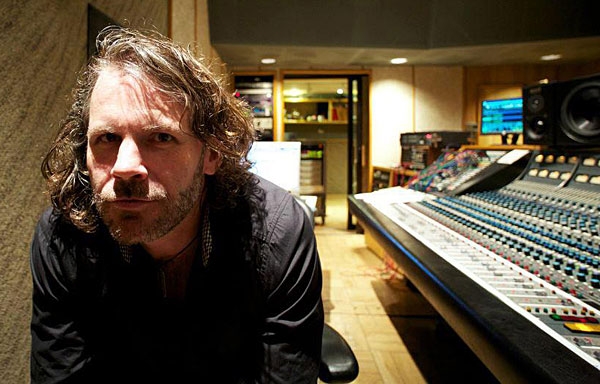 "Punch me."
"What?"
Conversations with Tim Lefebvre are often like this. That was backstage at the Jazz Standard last week after the Donny McCaslin Group's final set. I later realized that Tim wanted me to be in a compilation of timelapse video clips involving slow motion punches. Naturally, I gladly obliged.
My friendship with Tim has always been-—for lack of better words—really weird. We first met a few years ago when David Binney and I were bored and decided to send humorous videos of ourselves to friends, Tim included. Our friendship rapidly escalated into me PhotoShopping Tim onto various random objects, including beach babes, burlesque dancers, and tacos. A bit later, our friendship took a more professional turn when Binney recorded me doing spoken word for Donny's last album, Fast Future, which Tim was on. Fast forward to the present day, and here we are—slow motion punching each other.
Aside from being one of the sweetest, most down-to-earth guys I know, Tim also happens to be the bassist on Bowie's Blackstar. He's worked with a number of heavy hitters across the musical spectrum including Sting, Elvis Costello, Wayne Krantz, John Mayer, Chris Botti, and Mark Guiliana. He's also a member of the Tedeschi Trucks Band and spends a large chunk of the year on tour with them.
As usual, I'm dying to know: "Are you an audiophile?" The age-old question.
"Depends. I think there are levels of it. I'm somewhere in the middle. In other words, I don't have space for Bowers & Wilkins speakers right now, but as soon as I do, I'll be purchasing those.
"Back in college, I did consider myself an audiophile. I bought expensive speakers (at least, at the time). Like, Boston Acoustics—back when it was considered a pretty high end speaker. High-end enough, at least. I think I had an NAD receiver and a CD player—can't remember what exactly. I think that puts me somewhere in the middle of the audiophile spectrum."
So what's your current setup? The second age-old question.
"I have a bunch of different headphones, depending on how much detail I want to hear: the Alessandro Grado MS3s, the MS1s, and I recently got the Astell&Kern Rosies, which are incredible. I also use the $40 House of Marley in-ears. Solid. At home I have Yamaha NS-10 studio monitors. Hardly audiophile but accurate as hell."
How much detail he wants to hear? What? Are there moments in life where one would really prefer to hear less detail?
"With the Astell&Kerns I feel like I'd be spoiling myself. Like, 'Whoa, it's a treat,' versus the House of Marleys, which I use every day."
But why wouldn't you want a treat all the time, every day? (Or am I just a hedonist for wondering this?)
"That's just not my nature. But I also happen to make them (the Rosies) inaccessible, so they're always at the bottom of my backpack," He laughs. "Because they're so expensive, I don't want to just keep ripping them out. I'm hard on headphones so I might even end up breaking them! I consider them a Cadillac-kind-of-treat thing, so I try not to use them all the time."
It's starting to make a little more sense to me now. Do you think that's because you spend most of your time making music, you don't really feel like focusing too hard on music when you're not in that setting?
"That's part of it. I still enjoy music, but I wouldn't sit and listen to four hours of music. I don't have the attention span or the interest; therefore detail becomes a lesser issue. Half an hour, maybe. But even then, it's hard when you're listening on a phone because it's like a big video game. You get distracted by whatever social crap is going on. That's the problem with how things are these days. It's not like how people used to sit down and listen to music on stereos. It's not the same these days. People won't buy whole records because they only want to hear one song. Just listening to music and shutting your eyes and listening is a really rare thing these days. It's interesting.
"That's actually one of the reasons why I would hesitate to buy a super hi-fi stereo system. It might go to waste, for now, until things calm down for me. I don't have enough time in the day to make space for it."
What are you working on right now?
"Right now I'm producing 2 records; one with Emily Zuzik called Angelenos, and a record with Gary Novak and Kokayi. Coming out soon is a free jazz improv record with the guys from the Tedeschi Trucks Band, and a record with Rachel Eckroth from KT tunstall's band. A bunch of others just came out, too. I've also been collaborating with Nick Littlemore of Empire of the Sun on new projects under his Two Leaves umbrella."
Since Tim is someone who doesn't have a lot of time to sit and listen to music, I asked for a list of his favorite albums, for when he actually does. Here's what he sent back:
Tim's Desert-Island Classics:
1. Miles Davis: Miles Smiles
2. Wynton Marsalis: Black Codes from the Underground
3. The Police: Ghost in the Machine
4. Junip: Junip
5. David Bowie: Blackstar (okay, yeah, I played on it)
6. Fink: Perfect Darkness
7. Knower: Life
8. The Best of John Lee Hooker 1965–1974
9. Keith Jarrett: The Cure
10. Sly and the Family Stone: Stand