Beyerdynamic DT 240 Pro Affordable Over-Ear Sealed Headphones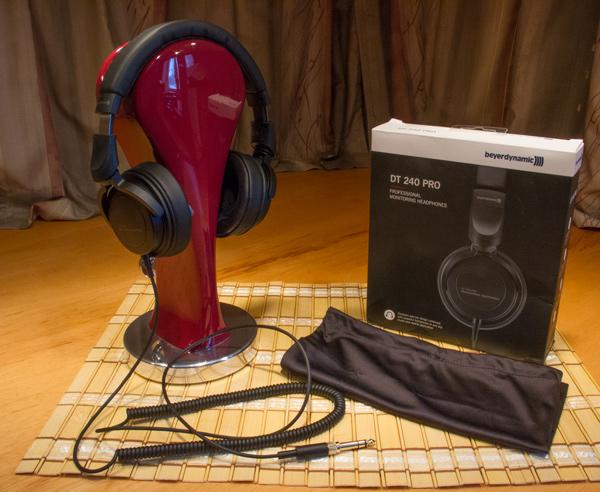 This story originally appeared at InnerFidelity.com
Doing audio production on a budget? Want something that sounds good? Feeling a little overwhelmed worrying about finding that one good sounding and durable needle in the haystack of crappy sounding cheap headphones that's going to break the first time it gets thrown in you backpack? Read on!
Beyerdynamic DT 240 Pro ($99)
Beyerdynamic has recently released an affordable over-ear (sort of), sealed headphone that will put a smile on most anybody's face...but mobile media producers in particular. Sure, this plain-Jane headphone is not going to win any beauty contests, but it's not fugly...and it's got it where it counts.
The build quality is very good for a $99 headphone. Though mostly an all-plastic build, all the moving bits seem remarkably beefy. The pleather covered headband is fairly thick and confidence inspiring without being overly bulky. Padding on the inside of the headband is thicker in the middle third where it touches the head, and a bit thinner on the outer thirds where the internal adjustment mechanisms take up a bit more space.
Adjustment sliders exit headband ends and have a metal reinforcing strips. Headband and adjustment arm end fittings appear quite sturdy. Ear capsules swivel easily forward and back on a metal pin mounted in adjustment arm ends, which feels quite slop-free. Capsules can swivel fully flat for easy storage in a drawer. Ear pieces swivel up and down on pins fore and aft. The yoke is, almost astonishingly, solid aluminum.
This headphone is considered a over-ear headphone by Beyerdynamic, but the circular 50mm in diameter earpad opening is a tad small to be considered truly a circumaural headphone by me. Earpad depth is about 15mm. Earpads are attached with a fabric flap around the circumference of the rear of the pad that inserts into a groove around the circumference of the ear capsule. Capsule diameter is 78mm.
The fit was a bit too cozy for really comfortable long term relaxed listening. The small ear cups and slightly too strong caliper pressure make these a bit uncomfortable. On the other hand, this is a light headphone and the curvature of the headband is tight enough around the top of the head that it does distribute the weight over a good length and I did not experience a 'hot spot' on the point of my noggin. Headband adjustments are detented and easy to adjust; the huggy caliper pressure keep these securely in position in use. So if you're using these for audio production their grip on your head as you work will be a plus.
The coiled cable is about 52" long at rest. The first 24" from the jack end and the last 10" at the headphone end are uncoiled. The cable easily stretches to about 8 feet in length. I actually like this configuration quite a bit as the straight cable for the first two feet allow it to rest comfortably on the desk keeping the coiled part away from coffee cups.
The cable is terminated at the player end with a 3.5mm TRS plug; a screw-on 3.5mm to 1/4" plug adapter is included. The cable is terminated at the headphone end with a 2.5mm plug, which has a narrow cylindrical body that inserts into a hole in either headphone earpiece to provides a mechanically stable mating without relying on the plug itself for strength. Also included is a simple fabric drawstring bag for storage and transport.
In physical comparison to other similar headphones I found the DT 240 Pro fared quite favorably. It seemed significantly more rugged than the Creative Aurvana Live! It wasn't as stylish as the Sennheiser HD 471i, but did seem more durable, and the adjustment sliders felt quite a bit better. The Audio Technica ATH-M50x seems built to take more of a beating and it has earpieces that fold upward into the arch of the headband to make it a bit smaller for trasport, but it's uglier than the DT 240 Pro by a wide margin. All the above mentioned headphones have more room for your ears than the DT 240 Pro.
Other than the marginal over-ear fit, I find the DT 240 Pro to be a well thought out headphone that strikes a good balance between style, comfort, ergonomics, and durability. Physically, it seems well above average at its price, which is a plus for a working headphone. Let's have a listen...