Being There: Reflections on Ways of Experiencing Jazz Page 2
McDiarmid's largest group of live recordings was made at Smalls, a funky little basement dive in Greenwich Village. In the early years of the 2010s, the smallsLIVE label was a highly effective way for people outside New York to get to the city —in their minds. Most smallsLIVE albums were recorded either by McDiarmid/Countryman or by Jimmy Katz (whose engineering brilliance was the subject of
my article
in the August 2019 issue of
Stereophile
, Vol.42 No.8). Albums in the
Live at Smalls
series, like Jimmy Greene's, recorded by Katz, and Joel Frahm's, recorded by McDiarmid/Countryman, put you right into the night, in front of the band, elbow-to-elbow with the sweaty crowd. McDiarmid told me he recorded multitrack, with mikes and cables all over the stage and ran everything to the back room. "I had a laptop set up with mike pre's and converters. The setup and tear-down was brutal, especially for those after-hours sets that ended around four a.m."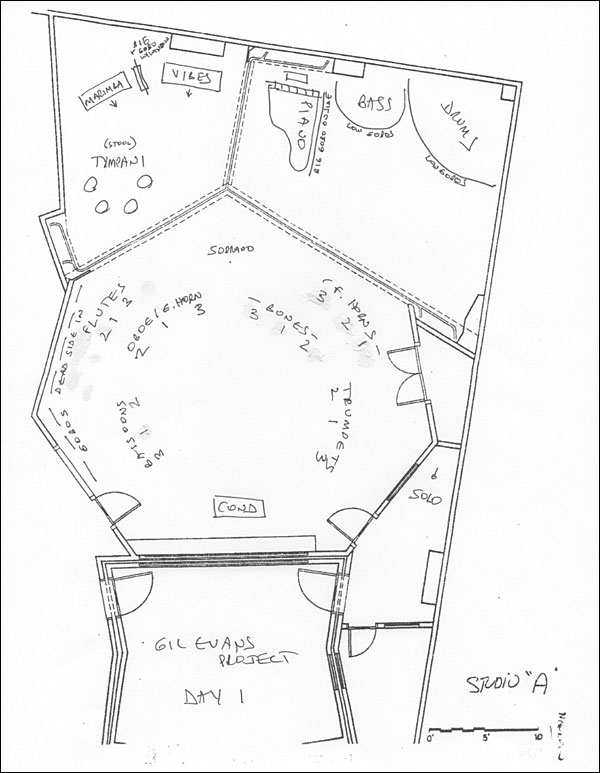 Isolation booths—the reason players in studios are often "not in the same room with each other" —are not popular with musicians. But producers and engineers want to keep instruments separate in multitrack recordings —keep them from bleeding into nearby microphones. The decision whether to isolate or let the musicians play together is an example of how choices made for "sonics" can affect "performance," to repeat those interrelated Stereophile cores. But even though McDiarmid acknowledges that studio recordings often struggle to sustain "that first-take feeling," he understands their allure: "I'm an audiophile myself, and I just love a beautiful-sounding studio recording." A place that has recently become a reliable source of "beautiful-sounding studio recordings" is Trading 8s, a studio in Paramus, New Jersey, that is owned and operated by Chris Sulit, a 36-year-old engineer who —there it is again—has a background in music. He studied orchestration and arranging, as well as engineering, at Drexel University in Philadelphia. He opened Trading 8s in 2013.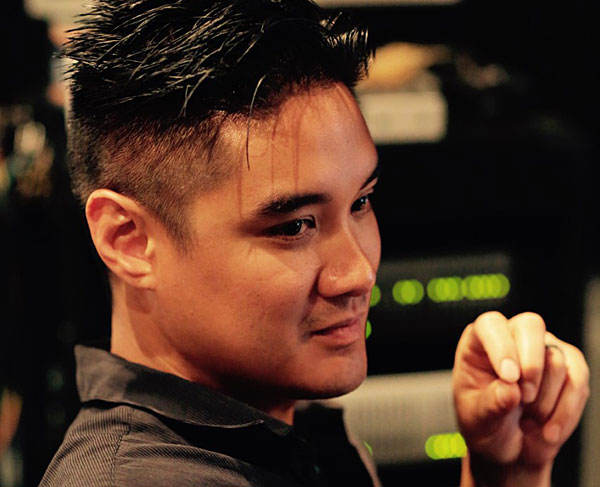 Sulit described it as a well-equipped professional facility in which he has tried hard to create the laid-back feeling of a home studio. "I think it's been successful. Many musicians have told me they feel comfortable here," he said in our interview. "Many musicians believe they play their best live."
"I try to give them something special in my space, a vibe. It may not be the same energy as live, but it's not a bad energy. I don't do many live recordings. The studio is what I do, every day. I like having that control."
A striking example of interdependent performance and sonics is Mood, Rich Perry's 2016 album on SteepleChase, which Sulit recorded. Perry is one of the world's greatest unsung tenor saxophone players. He plays original ideas with a sound like a velvet caress. Sulit: "I tried different microphones on Rich and ended up with one I hadn't used before for saxophones, an AEA R44 ribbon mike. It has a more rounded-off top end. Rich was iso'ed"—isolated—"with a carpet under him. I placed the mike further away to get more sense of space, which kind of softened the whole thing."
It works. Mood is a sonic dream state. There are no hard edges. The sound and the music are one seduction.
Sulit also used the R44 on Kirk Knuffke's cornet on his 2017 SteepleChase album Cherryco, but there he was after a different result. He put Knuffke in a live room, with no carpet, and placed the mike closer. The incisive cornet sound has fire, but the flame is turned down a little.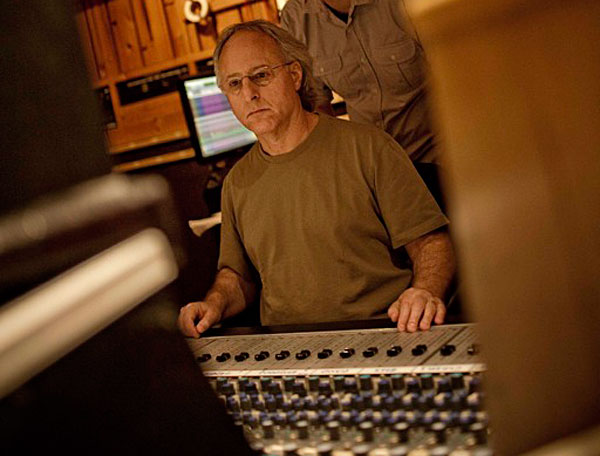 In preparing this article, I talked to James Farber, one of the most decorated American jazz engineers. He has recorded more than 1000 albums and won six Grammy awards. Farber added some additional details to McDiarmid's account of the extraordinary undertaking that was Ryan Truesdell's Lines of Color. "I think we recorded six nights. The amount of preplanning that goes into a project like this is through the roof. Ryan and I spent hours discussing the space, the gear, the tracks. We landed on 32 tracks live, which meant 32 microphones. Tyler and I had to figure out how to get all those players, mikes, booms, music stands, and instruments including doubling horns all up on that stage, and we had to have a way for musicians to get on and off. I was a little terrified. Then you do a sound check, you check everything individually and get some levels, and then the audience comes in and everything changes, because the ambience of the club dries up with people in there. So, the moment of truth happens during that first song and they start playing and I'm listening on headphones in the dressing room with our recording rig, and I knew everything was going to be fine. OK, I was thrilled."
Lines of Color, from 2015, was Truesdell's second Gil Evans album. The first, in 2012, is one of the most important jazz recordings of the new millennium: Centennial, on ArtistShare. It was recorded by Farber in Avatar Studio in New York.
As vivid as Lines of Color sounds, with its in-the-moment existential truth, when you hear Centennial, you know instantly why people go to the trouble and expense of recording in studios. Centennial is bigger, fuller, richer, and so emotionally deeper. Farber told me how it was done. "There were about 35 musicians. We were able to have all the horns in the main room. The rhythm section was all in one room. Then in a smaller booth was the soloist and/or the vocalist, and in the other room were the miscellaneous instruments that changed from tune to tune and day to day: vibes, acoustic guitar, tabla." Centennial opens with Dan Weiss's tabla on "Punjab," a never-before-recorded Gil Evans masterpiece. Hypnotic tabla beats ring out in a deep space, but Weiss was in fact "in the other room" in Avatar, at 441 W. 53rd in Manhattan.
As for the remarkable soloists, "Sometimes players left their positions and tip-toed into the sound-locked booth. Some solos were just played live in the main room. It depends on the background parts. If the background parts are tricky, then you want the soloist isolated from that. If live mistakes get into a solo, you're kind of stuck with them. I think there were a couple of overdubbed solos."
"On both recordings, Ryan completely drove the balances. He'd be there with the score and it would be, 'OK, give me a tenth of a dB more on that phrase': really subtle little changes to shape Gil's music. Ryan wanted to bring out every sonority."
Farber had instructive things to say about age-old audiophile issues like analog versus digital—and reverb. "Recording multitrack analog is really no longer an option. It's too expensive. You can't make edits on the spot, and you don't have enough tracks. We record digitally, with Pro Tools. But Centennial was mixed on an analog deck. Mixing to two-track analog just glues everything together, in a musical way.
"Adding artificial ambience is a touchy subject. Because the Jazz Standard is so dry, Brian Montgomery, who mixed Lines of Color, added some slight reverb to give it a little depth. But it still sounds like the club it was recorded in. For Centennial, Ryan wanted it to sound as natural as possible, so the reverb is kind of minimal. But you have to add some. In a studio you close-mike everything, and you have to give it some space."
Most of Farber's enormous, distinguished body of work is studio-based. But, like most engineers (and most musicians, and most fans), he loves live recordings: "The energy is like nothing else." He has done important work in the Village Vanguard, like Brad Mehldau's The Art of the Trio, Volume Two (Nonesuch, 1997) and Sunday Night at the Vanguard (Palmetto, 2016) by the Fred Hersch Trio. They sound superb—and quite different. Farber attributes the differences to the fact that "Fred and Brad each have their own ideas of balance. I work for the artist.
It's their record. Fred is more piano-forward. Brad likes a more three-equal-instruments kind of thing."
Farber had one more important point to add: "You can't make live recordings without the help of the club. The Jazz Standard and the Vanguard are super-accommodating. We kick the band out of the dressing room. In the Vanguard, we hang ambience mikes from the ceiling to get the live sound that's coming through the PA, to get the crowd and also some distance and space. Basically, we disrupt things. Nobody talks about that."
He's right. Nobody talks about it. But it's good to know. And knowing something about how recordings get made need not interfere with the illusion of being there—on the contrary: A premise of this article is that it actually helps.
I never found a Chet Baker recording that is truly exceptional, sonically. But I found some pretty good ones, like It Could Happen to You, recorded by Jack Higgins for Riverside in 1958 and reissued in JVC's wonderful XRCD series in 1999. There is a picture of a handsome Baker on the cover, before drugs had laid him waste. I still listen to Chet Baker records and remember that night in Parnell's.
The music is always what matters. As for sound quality and that being there quality, if pretty good is all you've got, you run with it.