Audio Research Reference 6 line preamplifier Page 2
That may offend the sensibilities of those purists who demand absolute accuracy, but in audio, there's really no such thing. Nonetheless, at the very least, a preamplifier should be wideband, linear, and produce low amounts of distortion and noise.
But can everything be measured? The months I spent enjoying the Audio Research Reference 6 told me that what William Z. Johnson said in 1994 holds true today. As I write this, I have no idea how the Reference 6 has performed on John Atkinson's test bench, though its published specifications indicate: an exceptionally wide frequency response of 0.4Hz–200kHz, +0/–3dB, in balanced mode at rated output into 200k ohms; distortion of <0.01% at 2V RMS, balanced output; and crosstalk measuring –88dB or better at 1 and 10kHz.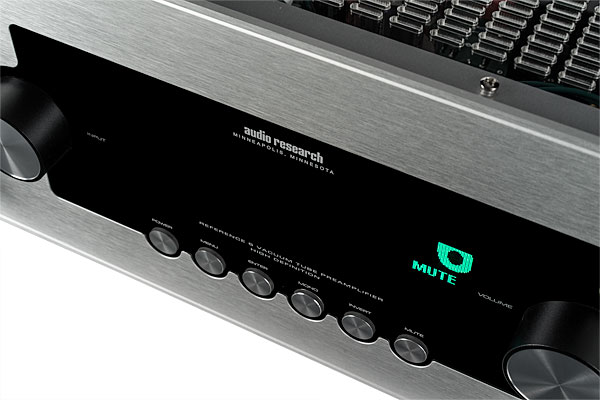 What I do know is that after I'd installed the Reference 6, late on a hot August evening, that first night of listening produced intense surprises that I'm sure can't be measured. Record after record, I found that the Reference 6 greatly increased my understanding of very familiar recordings, seeming to enhance the intentions of the musicians, even when their sounds were generated electronically.
I'd begun my listening thinking I'd be evaluating the differences between my reference preamplifier, the darTZeel NHB-18NS, and the Reference 6 in terms of the usual frequency response, soundstaging, tonality, and so on. But those took a back seat to the ARC's ability to let me lock on to and follow rhythmic and instrumental paths that had previously been blocked or lost in the sonic shuffle, as well as hear fleshed-out strings from recordings that had previously sounded somewhat thin. Far from fulfilling the tube-gear clichés of "glorious midrange, no bottom-end grunt," the Reference 6 packed a surprisingly solid bottom-end wallop, topped off by grab-and-hold grip. Not what I'd expected.
The first album I played was Eno's Another Green World (UK LP, Polydor Deluxe 2302 069), one of my favorites for sticky, late-summer nights. Eno plays all the instruments in "In Dark Trees," including synth percussion that sounds like claves. Although the performance is generated entirely electronically, I'd never before heard it sound so round and woody, nor had the attacks ever been so delicately and perfectly expressed—nor had the decays ever evaporated so convincingly after each synthesized stroke. What's more, the way the notes floated in three-dimensional space, moving slightly forward and back with changes in the intensity of the strokes, caught me by surprise—after 41 years of playing this record!
But mostly what I realized, after the record had finished and I was able to put what I'd heard into perspective, was the "correctness" of the entire presentation, especially the grippiness of the bass lines, midbass resolution that uncovered some heretofore hidden details, and the convincing roundness of Eno's voice set at the center of a bubble in three-dimensional space.
At the same time, it was obvious that while the Reference 6 was definitely less dynamic, less detailed, less transparent, less fully extended or resolving in the upper octaves than the darTZeel—which costs more than twice as much—the ARC was an exceptionally skilled and unerringly convincing teller of sound stories that revealed, with every record I played, musically significant information not found in the usual checklist of sonic attributes.
Just as 10 people will describe the same event 10 different ways, some more accurately than others, different audio components will present different descriptions of the same musical event, some more accurately and more cogently than others—and a special few can polish the sound free of objectionable musical seams, even if they buff out some of the details.
Some components omit too much, and so make everything sound at first beautiful—and then, pretty soon, boring. (Some cartridges with overly burnished sound do this, for sure). Others resolve all of the detail, and produce gobs of air and crystalline highs that at first mesmerize, then grate and cause fatigue, producing a disjointed effect overall. There are records like that as well, particularly some of the older, over-equalized reissues from Mobile Fidelity Sound Lab. I've just compared MoFi's vinyl remastering of Pink Floyd's Atom Heart Mother (LP, MFSL 1-202) with the new one from the band's own label (LP, Pink Floyd/Parlophone PFRLP5), on which a sticker proclaims "REMASTERED FROM THE ORIGINAL ANALOGUE TAPES BY JAMES GUTHRIE, JOEL PLANTE AND BERNIE GRUNDMAN." While some of the other releases from Pink Floyd Records sound dull, this one is tonally ideal and coherent; the MoFi sounds disjointed and bright.
The Reference 6 managed an exceptional combination of overall perfection of timing, in which everything arrived at the right time, and lingered just long enough before gracefully evaporating. It also managed to reproduce unerringly convincing harmonic structures that produced lush, true colors and solid, three-dimensional images. If you like a meaty sound, the Reference 6 is perfect for carnivores. Its sound was decidedly lush in the mids, but without smothering the upper mids and lower trebles. Instead, the latter pushed their way forward just far enough to produce sweet, clean, believable, exciting sound.
If the recording had it, the soundstage was deep, with instruments well layered and organized in space. Some of the recent reissues on vinyl from Pure Pleasure have sounded suspiciously digital—not tonally, but spatially. This is clear when I play them through my reference darTZeel preamp, and I wanted to hear if the Reference 6 could be similarly revealing. I had that chance with Pure Pleasure's reissue of Paul Desmond's (with Strings) lush and lovely Desmond Blue, featuring guitarist Jim Hall, recorded in 1962 by Ray Hall (no relation) (LP, RCA Living Stereo/Pure Pleasure LSP-2438). On the original LP, the airy space of New York's Webster Hall is apparent behind the strings, which are clearly spread across the stage, Desmond and Hall well focused in front. On the reissue, there's no sense of space. It's a flat picture, strings and soloists mushed up against a plane. (It sounds like phase incoherence.) The Reference 6 revealed all of this, as well as the mess that is Pure Pleasure's mono reissue of Nina Simone's very first album, from 1957: Little Girl Blue (LP, Bethlehem/Pure Pleasure BCP 6028). This is a great album—so get Analogue Productions' stereo reissue (AAPJ 083), cut from the original analog tape.
Playing the Clash's very familiar London Calling, whether original LP (CLASH3) or CD, made it clear that the Reference 6 attenuated the very top to some degree. This album's usually ringing, shimmering cymbals sounded somewhat muted, and the snare, while meaty, lacked some of its crack. But this was more than compensated for by the verisimilitude of the voices—I'd never heard Joe Strummer sound so Strummery, or Mick Jones's harmonies so Jonesy—and the way the ARC put everything in order in terms of timing and space, plus its robust bottom end and overall forward thrust. The Reference 6 could definitely do rock'n'roll, despite its somewhat polite top—which ended up being very kind to grating digits.
The Reference 6 was also decidedly ready for classical. The latest reissue from the Electric Recording Company is the Brahms Violin Concerto, with violinist Leonid Kogan and Kyril Kondrashin conducting the Philharmonia Orchestra (EMI SAX 2307/Electric Recording Company ERC027). This recording was first issued in 1960; an original pressing recently sold on eBay for $889, and a few years ago a copy went for $1236 on Collector's Frenzy—the 300 copies pressed by ERC each sell for £450 (ca $585 at time of writing). The Reference 6 lost some of the air, but the harmonic structure and tonality of the violin and the overall orchestral sound were stunning enough to make me forget about gear.
Conclusions
Early on, Audio Research built its reputation on its tubed preamplifiers (footnote 3). From reviews I've read over the years of ARC products I couldn't afford and never got to hear, they've had their ups and downs. Friends who own the Reference 5 SE, which I've not heard, say that the Reference 6 is a major improvement in terms of both sound and ergonomics. I believe them. The Reference 6 was an absolute pleasure to have in my system. I installed it and immediately fell in love with it, so strong were its positive attributes, so ultimately unimportant its minor shortcomings.
The Reference 6 made music. I have no doubt its sound has been sculpted and contoured in a particular way, just as was the sound of the Reference 2, which I reviewed in the September 2000 issue, and which then cost $9995. Adjusted for inflation, that would be $13,979 today—just $21 less than the Reference 6. When I reread my review of the Reference 2, I saw that it hit similar sonic points. The Ref 2 is long gone from my system, but I'm confident that the Ref 6 is far superior in every way—and particularly in its top-to-bottom seamlessness and resolution of detail. And ergonomically, the Reference 6 is the product of a different and far better world.
In rereading that review, I also noticed that the Reference 2 hadn't seemed able to even suggest, let alone match, the Reference 6's ability to communicate—something you have to hear for yourself. Leaving aside the usual sonic checklist, on which the Reference 6 did a very good job of ticking boxes, its most appealing sonic qualities surely won't show up in the measurements. Bill Johnson was right.
---
Footnote 3: I still have the
ARC SP-10
I bought in 1984 after reviewing it for
Hi-Fi News & Record Review
magazine.—
John Atkinson