Audio Aero La Source Music Center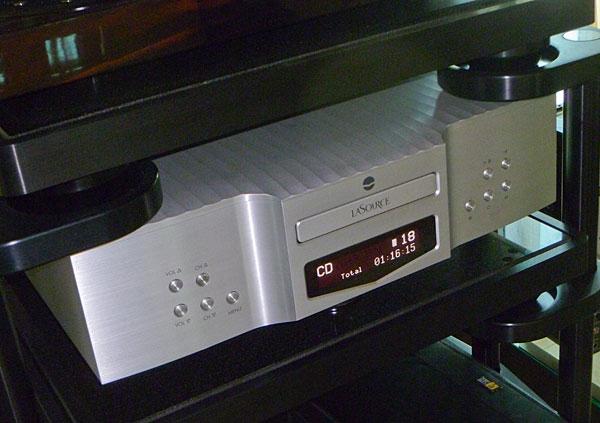 It is a truism worth repeating: you can't really draw any conclusions about the sound of a component from an audition at an audio show.
Then there are those exceptions that prompt you to drop your neutrality and reach for the superlatives. The Vienna Acoustics room was like that for me last year. But this year, I've got to hand it to Philip O'Hanlon for creating a sound and scripting a demo that I would rate as extraordinary no matter what the circumstances.
Vivid's G2 Giya loudspeakers and the large room at the top of the Mirage didn't hurt. But I was here for the digital front end, and in this case, the Audio Aero La Source, which was functioning both as a disc player and preamp, connected to a Luxman M-800A Amplifier.
O'Hanlon describes the La Source as "an all-out attempt to put an analog preamp into the same box with the SACD/CD player." The La Source was also hooked up to a computer and streaming files via its USB input. On the back is a set of balanced and unbalanced analog inputs, BNC, SPDIF coax and optical, USB, and AES/EBU digital inputs along with a BNC digital and balanced and unbalanced analog outputs.
You can order the La Source with an Esoteric VMK5 Neo VRDS transport for $44,000 or without the transport for $35,000 and there is a trade-up program for Prestige owners. Also in the box is an Anagram digital clock along with S.T.A.R.S. 32bit/384kHz DSP, dual mono Burr Brown 1792 DAC, and vacuum tube output stage.