Art's Thursday in Munich, Part Two
Scheduled to ship in early autumn, the Hegel 590 ($12,000) is poised to become the Norwegian company's new flagship integrated amplifier. With a power supply 50% larger than that of Hegel's previous top-of-the-line integrated (the H360), the 590 operates in class-AB, delivering 301Wpc and maintaining low distortion with a feed-forward system that kicks in as needed. As with previous Hegel products, its D/A section uses a built-from-scratch master clock, rather than an off-the-shelf chip, and it does PCM up to 384kHz, and up to DSD256 (DSD over PCM).
Driving a pair of KEF Blade loudspeakers (ca $30,000/pair), a pre-production Hegel 590 sounded amazing—a really good sense of musical drive, plus a tonal balance that was neither dull nor overly crisp—on a digital file of Shelby Lynne performing the Nick Cave song "Into My Arms." I mentioned to KEF's Johan Coorg how good that and another pop selection sounded, and he pointed to both painstaking set-up work and the addition, at the last moment, of a Nordost Tyr 2 USB interconnect.
Designer Tim de Paravicini of EAR Yoshino, as well-known among recording and mastering engineers as he is among high-end audio enthusiasts, brought to Munich his modified Denon DH-610S open-reel deck ("I rebuilt the electronics my way," he told me). He also played a number of LP selections, including Bob Marley and the Wailers' "Waiting in Vain," which was cut in 1985 at Island studios, using his electronics. The sound, through a system including a pair of EAR 861 amplifiers—four PL509 output tubes per amp, bridged for mono—and a pair of Graham Audio LS5/8 loudspeakers had a great deal of punch, and remained clean and poised even when the volume was turned up high.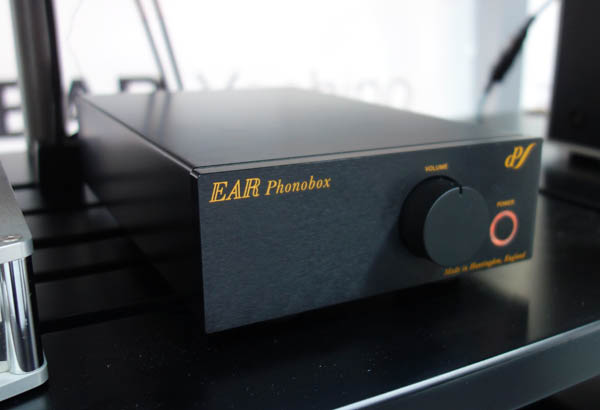 Speaking of vinyl, High End 2018 also saw the debut of the EAR Phonobox, which replaces the much-loved EAR 834 phono preamplifier. The estimated US retail: $1800.
Also coming soon from Tim de Paravicini: the company's first-ever headphones, the removable solid-wood backs of which allow for either open-ear or closed-back use. Tentatively named The EARphones, these are scheduled to go on sale in two months' time, for an estimated price of $1800.
Knowing that Wilson Audio brought to Munich a full three pairs of the company's new Alexia 2 loudspeaker ($65,000/pair; watch for John Atkinson's review in the July Stereophile), and hopeful of hearing at least one of those pairs, I steered toward the room sponsored by digital specialists dCS ltd. My reasoning: on that system, I would also be able to hear back-to-back comparisons of MQA and non-MQA versions of the same music files, derived from recordings made by Wilson Audio's Peter McGrath.
The less controversial of my two take-aways: driven by a Dan D'Agostino Momentum stereo amplifier and fed by a dCS Rossini DAC ($24,000) and Rossini clock ($7500)—the system also included the brand-new Rossini SACD/CD transport ($22,000)—the new Alexias sounded effortless, and harked back to the unapologetically pretty tonal balance of Wilson's Sophia 2 loudspeaker, which until now was my favorite of the brand's creations: I left the room thinking more about the music I had heard than the gear.
The conclusion that may sit less well with some: all of the four abbreviated selections I heard—two different piano recordings, a string quartet, and a recording by Renée Fleming, with Michael Tilson Thomas and the San Francisco Symphony Orchestra, of one of Strauss's Four Last Songs—sounded better in their MQA versions. The two piano recordings seemed to benefit the most—the sense of touch was more apparent, and more human—and although the Fleming-Tilson Thomas file also sounded more focused, musically and spatially, I also admit that the music making was so over-the-top gorgeous that the sonic distinctions, though real and in MQA's favor, mattered less to me. Still, in four out of four cases, MQA's aptly described de-blurring was an unambiguous improvement.
Speak of the devils (just a figure of speech!), here are Peter McGrath of Wilson Audio (left) and Bob Stuart of MQA (right), seen here taking a break from all things audio and chatting about another mutual passion, photography.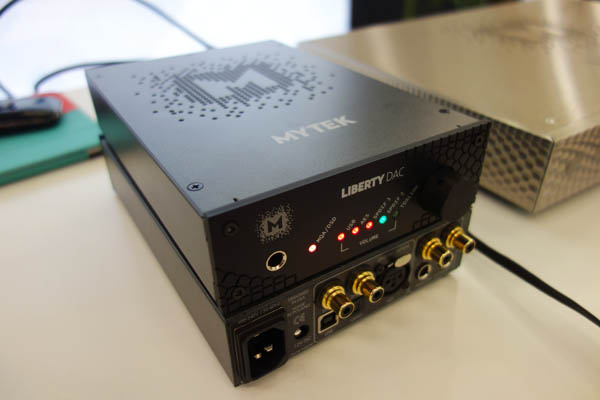 Seen here are two samples—one turned back-to-front—of the new Liberty D/A converter ($995) from Brooklyn's own Mytek Audio. As the company's Adam Bielewicz explained, the MQA-equipped Liberty is essentially the same as the original version of the Mytek Brooklyn, sans phono preamp and front-panel display. JA has a sample in for review.
From Pear Audio Analogue came the news that all of their turntable models are now available in custom automotive finishes—seen above is Ferrari Anthracite paint on a Kid Howard model—for a 10% upcharge, compared to the standard wood finish.
Also on its way from Pear Audio Analogue: a power-supply option that promises improved performance, but for less money than the company's currently available outboard supply. As company founder Peter Mezek (above) explained, "I thought to eliminate the enclosure and put [the new board] in the turntable—carefully isolated, of course—and it performs very well." The release date and projected price have yet to be determined.
Speaking of vinyl, there were even more LP vendors at High End 2018 than I remember seeing during my last visit, in 2014. Above are the proprietors of Da Capo Schallplatten of Furth . . .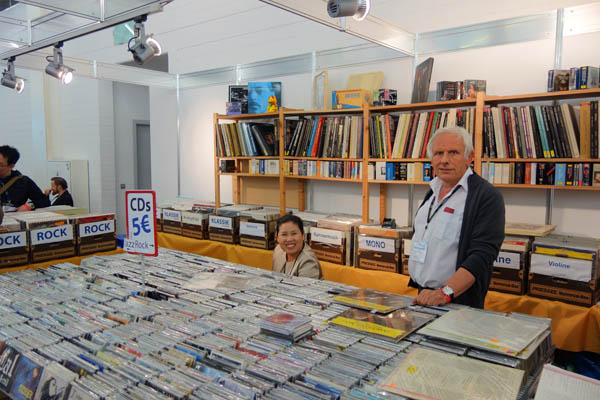 . . . and here is the generously stocked booth of Blue Danube Records, of Tulln, who specialize in used LPs, with an emphasis on classical music. I steeled myself as I approached, determining to wait until the end of my stay before spending any money—but when I saw the sections labeled Decca and EMI, I lost my resolve. Their inventory is now short one LP.