Art's Friday in Munich, Part One
As I exited my hotel on Friday morning, a portion of my favorite Nick Drake lyric popped into my mind:
A day once dawned / And it was beautiful . . .
Friday's weather was no less spectacular than Thursday's—yet from the moment I arrived there, the MOC was mobbed with attendees who weren't at all bashful about spending the day indoors. Perhaps the interior sunniness of the glass-and-steel structure helped: I would certainly chafe at spending such a beautiful day roaming the dark halls of some glum hotel.
Whatever the reason, I couldn't shake the impression that a lot of audio enthusiasts didn't show up for work on Friday.
I began the day in Halle 1, listening to Grandinote electronics and loudspeakers in one of the many freestanding "room units" at Munich High End. Here, a Grandinote Volta server (8000 Euros) fed a Grandinote Shinai integrated amplifier (12,000 Euros), which in turn drove a pair of Grandinote Mach Nine loudspeakers (30,000 Euros/pair), with all Luna cabling.
The Grandinote gear almost ruined me: Although I heard other good-sounding systems on Friday, few were as musical or emotionally powerful as this one. I sat down just as the people running the dem put on the Weavers' famous live version of "Guantanamera": the playback quality was exquisite—musical, emotionally powerful, and sneakily dynamic, without apparent flaw. Pete Seeger, a man whose sanctimony kept me from fully enjoying his music as the years went by, was in youthful fine voice here, and the instrumental accompaniment was tactile and just plain real-sounding. On the next selection, the late Sandy Denny sounded similarly real and no less emotionally powerful: I was starting to cry, and it was only 10:30 in the morning!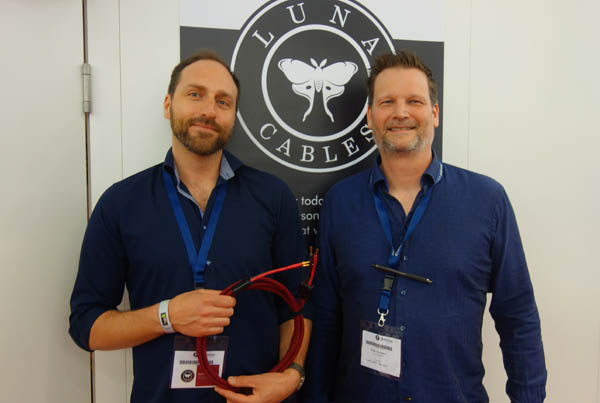 Before leaving the Grandinote room, I spoke with Danny Labrecque (left, in the photo above) and Erik Fortier (right) of Luna Cables, who showed me the aluminum spacers that they're beginning to use in place of shrinkwrap on their Luna Red models. Also new from vintage-inspired Luna is a decidedly non-vintage Ethernet network cable.
In other cable news, Cardas introduced their newest AC cord, the Clear Beyond Power XL ($2490/1.5m), terminated with the company's new E-5 connectors and described as Cardas's highest capacity power cable.
Also new from Cardas was this pre-production sample, displayed by the company's Brian Von Bork, of their first AC power strip, which is projected to sell for $1500. The strip, which has yet to be given an official model name, offers point-to-point wiring and a handmade toroidal filter on every internal ground leg.
Draabe Technologies of Seevetal, Germany displayed three different models in their line of Nessie wet-wash, vacuum-dry record-cleaning machines. Of particular interest was their Nessie Vinylcleaner Pro (1349 Euros), a mid-line model that offers a swiveling brush arm and a fully automated drying process. I was given a demonstration by the machine's designer, Uwe Draabe, who described the included Nessie Vinylin cleaning liquid as a mild detergent, free of alcohol. (Although Draabe didn't make such a claim, it seemed to me the vacuum-dry cycle dried the wet LP in just a single revolution.)
A nice feature of all the Nessie cleaners is this very heavy chrome-plated record weight, the bottom of which incorporates a seal that prevents the cleaning fluid from getting on record labels.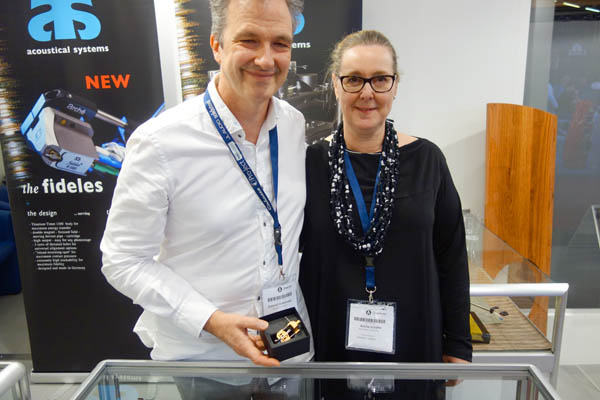 Here are Dietrich Brakemeier (left) an Axinia Schafer (right) of the German firm Acoustical Systems, makers of the really fine Arché headshell that I wrote about in the May issue of Stereophile. The Arché suited the medium- to low-compliance cartridges I favor—and later this year, fans of high-compliance cartridges will be able to buy a low-mass Arché.
Those of you who responded to my Thursday-morning show report by putting a deposit on Dan D'Agostino's enormous new monoblock, the Relentless ($250,000/pair), may want to place an order for the new S 5000 "independent power source" (40,000 Euros) from the German firm Stromtank. The newest and largest product from these AC-power specialists, the Stromtank S 5000 uses an array of batteries—monitored and controlled by an active and fully automated system—plus two converters running in parallel to regenerate AC, offering up to 5000W. Seen here with Stromtank's new flagship is company CEO, Annett Dehmel, who told me that the S 5000 can operate up to eight hours off the grid (which, in the event of a nuclear catastrophe, could provide the happy owner with eight hours more music than the rest of us would hear!
I made my way to the SME booth in time to find our own Michael Fremer videotaping the company's latest record player, the Synergy: a high-mass but small-footprint turntable plus magnesium tonearm and Ortofon MC Windfeld PWTi phono cartridge, incorporating a Nagra-built onboard phono preamplifier. Scheduled to ship in September, the Synergy will retail for 14,900 British Pounds.
While visiting that display, I had the pleasure of speaking with Ajay Shirke (above), Chairman of Cadence Audio SA—which owns SME and other brands—and a music lover and record collector of renown. Referring to the recent news that SME has now purchased the assets of the historic turntable manufacturer Garrard, I asked Shirke, mostly in jest and partly in hope: "So when will the Garrard 301 turntable go back into production?"
He replied: "About a year to a year-and-a-half from now."
I was stunned: "You're not joking?"
Shirke smiled warmly and said, "Not at all—bringing it back has been a dream of mine." He went on to describe the platter-bearing development that the original Garrard company, of Swindon, Wiltshire, undertook after the 301's heyday, and how that may be incorporated into the new version. All the while I was too shocked/delirious/happy to do much more than nod—until I got up the nerve to ask about the classic SME 3012 tonearm. Ajay Shirke replied, "We are going to put all of the heritage arms back into production, one at a time."
You heard it here first.