Art's Thursday in Munich, Part One
Everything you've heard is true. Lufthansa really is among the world's finest airlines. (I say that as an uncomfortable and often unwilling traveler who has had nothing but perfect flights on Lufthansa), Munich is one of the cleanest, most attractive, and most easily traveled cities in Europe. And Munich High End is, without a doubt and by a stunning margin, the greatest audio show on Earth, period. Nothing I could say—
nothing
—can prepare you for the sheer scale of the venue, the number and variety of exhibits, the quality of those exhibits, and the exciting, carnival-like vibe of Munich High End: It must be experienced.
After an overnight flight, I headed straight to the show, just in time for its Thursday-morning opening, and was happy-slapped into wakefulness by row after row of exhibitors, perhaps half of which one never sees at shows in the US or Canada. Among the first and prettiest sights to greet me in the MOC's bustling Halle 1 was a selection of electronics by the Italian design and manufacturing firm Viva Audio. The Egoista 845 headphone amp shown above (10,500 Euros, plus VAT), which operates in pure class-A with zero negative feedback, is, as Herb Reichert reminds me, his very favorite headphone amplifier.
Also on display was this prototype of a forthcoming Viva headphone amp, designed around the evergreen 300B directly heated triode. Neither a model name nor an exact price were available at the moment, although Egoista 300B seems a good guess for the former, under 12,000 Euros for the latter.
Still standing at the Viva display, I turned and saw a no-less-stunning sight: the physically commanding Samadhi wireless powered loudspeaker system from the Swiss firm Goldmund (250,000 Swiss Francs/pair). This brand new model is derived from the Goldmund Satya, which impressed listeners at the recent Montreal Audio Fest, and boasts a total of 700W of amplification power per side.
For the Bespoke Audio Company, which specializes in hand-crafted passive preamps, made to order with their own custom-wound transformers, High End 2018 is their fifth outing in Munich—an anniversary celebrated with this special limited-edition preamp (9583 Euros), using exotic wood-burl transformer covers with traditional gilt around the control knobs and a clear Lucite top.
Bespoke's Harry O'Sullivan and Lucy Gastell brought along one of the machines on which they wind their transformers—the one being made here will be used as a volume control—in addition to which they brought news of their long-planned standalone moving-coil step-up transformer, which should be available later this year.
I don't always attend press functions, which can be both dreary and disproportionately time-consuming, but I couldn't turn down the chance to to be present for the world premier of the new Relentless monoblock power amplifier from Dan D'Agostino ($250,000/pair), seen here with its namesake and chief designer. D'Agostino, who said he began working on the amp about two years ago, describes the Relentless as a very low-distortion (0.006%), class-AB design (class-A up to a little over 100W) containing over 600,000µF worth of power-supply capacitors, clamped in place with an acoustic damper. Like the Munich show itself, the Relentless—which weighs approximately 500 lb and will begin shipping in July—must be seen to be appreciated. (And, yes, a Relentless preamplifier is in the works.)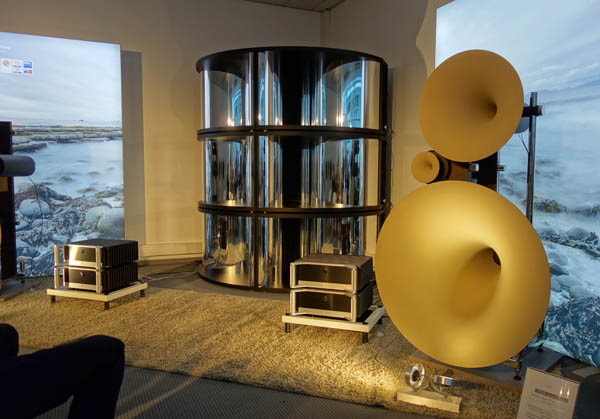 It was a full two hours into the show before I had the opportunity to sit down and do some listening—courtesy of Avantgarde Acoustics, who demonstrated a limited-edition version of their long-standing Trio loudspeaker (108,000 Euros/pair), driven by all Avantgarde electronics. This German firm has made a name for themselves with high-sensitivity horn-loaded loudspeakers that are both architecturally stunning and domestically acceptable, and these Trios had many of the strengths I associate with the brand—very good touch and presence, in particular, heard on a CD of a live performance by the Allman Brothers Band. From my far-right seat, I heard a bit of strain audible on some low-frequency notes—and made a note to myself to revisit their room later in the weekend, to hear whether that was just a bit of early-show teething pain.