Analog Corner #302: 25 Years and Counting Page 2
I wasn't anti-CD. I was anti–bad sound. I was against
bad
sound being declared
good
. I put a bumper sticker on my car—I printed it out myself—saying "Compact Discs sound terrible."
When the Los Angeles Times ran an editorial extolling CDs' excellence, I sent a letter, which was published, opining that I hoped the paper knew more about diplomacy and economics than it did about good sound. I was on the warpath.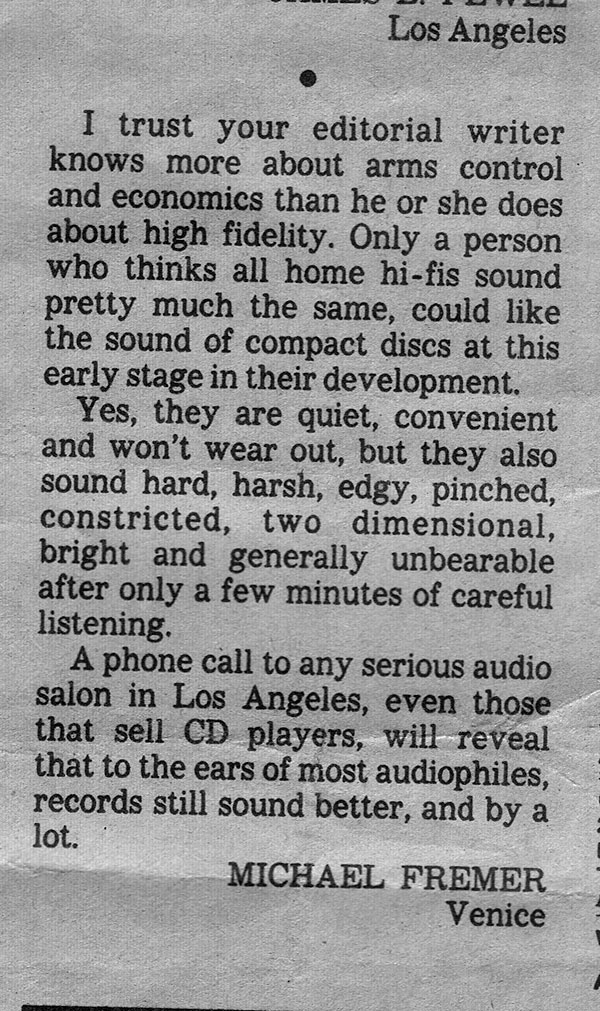 After 6 years at The Absolute Sound, I quit in 1995—a hilarious story best told in a different venue. John Atkinson offered me a job at Stereophile and accepted my proposal to write about turntables, vinyl records, and all things analog, although he cautioned me that in a few years I'd be out of a job because vinyl was going away.
I was as sure as I've ever been about anything in my life that this was a golden opportunity and that I'd better not blow it.
A year later, as I made my way onto the stage at the New York Academy for the Advancement of High End Audio awards dinner, which I was about to emcee, Stereophile's principal owner and publisher, Larry Archibald, came up to me and whispered in my ear, "I'm doubling your column pay." How often does that happen? I knew I was on to something good.
I'm slowly posting my old columns to AnalogPlanet.com. It's interesting to read the old columns, which now seem as if they were written by someone else. Those early columns were written at a time when the future of vinyl was still uncertain, so the writing was defensive and about vinyl advocacy and not about the parade of new analog gear. Plus, 20 or 25 years ago, I really was a different person.
Today, despite some serious setbacks (including the recent Apollo/Transco lacquer factory fire), vinyl is well-established. It's very visible in mainstream media. Every digital innovation that was supposed to put an end to what many considered a hipster fad somehow hasn't. CD certainly did not, nor did high-resolution downloads. Even streaming, which now dominates music consumption and represents the total rejection of physical media, has not dented vinyl's appeal to a substantial minority of music fans.
Vinyl sales continue to rise (though the effects of the pandemic and the lacquer fire have yet to be fully felt), and as used-CD prices plummet, used record prices continue to rise. I just looked up Tom Waits's Rain Dogs at Discogs. The original CD will set you back between $5 and $10, the original vinyl at least $30—more than a monthly subscription to Qobuz, where you can stream it at CD resolution as many times as you'd like.
By nature, we are hunters and collectors. If we are going to bother hunting and collecting in the real—not virtual—world, a jewel-boxed data dump won't do. That's part of the explanation for it—that, the sound, and the experience. It's what I thought in 1985, as I watched in horror/disgust as Tower Records replaced record bins with CD racks. It's what I still think today.
Analog Corner faces the future
Twenty-five years and 300 columns later would be a tidy place to call it quits. I've thought about it, but my email inbox has never been busier: "Hi, sorry to bother you . . ."; "Hey, so I contacted you a while back . . ."; "May I impose on you?"; "Michael, Just wanted to say thanks again." And so on. The messages arrive daily, some on Saturday night at 11pm, and I answer every one of them. Although usually not on Saturday night at 11:05, because you can be sure I don't see them then. I'm usually listening to records. As I was proofreading this column, an email arrived that says, "Thanks for writing back, I thought I'd give it a shot—I've learned a lot from your reviews." I'm all about good feelings during a pandemic.
I answer because people want information and buying assurance. Buying is good. Sales are good. But I never tell anyone what to buy. How can you answer this? "Sorry to bother you, but if you had to choose between these two, what would you choose? A VPI Prime with 10.5" JMW 3D-printed tonearm and Ortofon 2M Black MM cartridge, or a Clearaudio Performance DC with Satisfy Kardan tonearm and Virtuoso V2 MM cartridge?"
Maybe you have a definitive answer. I don't. I just try to help narrow the options—or, sometimes, expand them. I appreciate reader follow-ups after they make a choice and have had time to listen.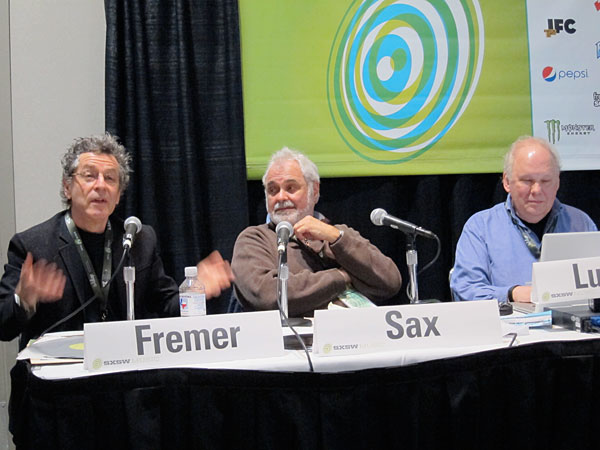 One time, a reader gave me a turntable budget and a few of his choices, all of which were good. But he could also afford the Lithuania-built Reed 1C with Reed arm, which I found so impressively engineered and built, and which sounded so refined and pleasing. Reed is "off the radar" compared to the brands he mentioned, so I suggested it as a possibility. He ended up buying the 1C and later sent this: "Just wanted to say thanks again for the advice and for your time. The Reed is beyond the usual, tired adjectives: exquisite, superb, elegant, amazing, sublime. It is pure pleasure! Otherworldly and most definitely next-level for me."
What would helping someone out and getting that kind of feedback be worth to you? It helps keep me going.
As does mentoring 14-year-old vinyl fanatic Malachi Lui, who writes so brilliantly for Analog Planet about new music, blues, and jazz and writes an occasional equipment review. Kanye West is his—not my—favorite artist, but we agree that David Bowie's "Blackstar" was the last decade's best album. You should read his review of "Both Directions at Once" (Impulse 80028228-2)—the "lost" John Coltrane album—which he wrote when he was 12 years old. Those are his words, with very minor editing. I will always thank vinyl records (and my electrician, who heard Malachi on WFMU talking up vinyl records and AnalogPlanet) for bringing him into my life.
My most important motivation, though, is the feedback I receive. How would you react to getting an email like this one, which I received a few days ago? I've edited it lightly for length.
"Hi Mr. Fremer: I just want to thank you for all of your work. I watched hours of your videos and enjoy all of them. And sorry for my kind of bad English. I'm from Iran.

"I think it's about near a year that I collected records, and I love them more than anything. All of my records is used, and I don't have any new vinyl. Because all of new records that exist here first is really expensive, and second they are not good pressings. They are that mass-produced vinyl from digital file, and another thing is, most new records is Pink Floyd and rock and popular pop. I'm into jazz and old hip-hop/rap. There's not much good new records for me to buy, so I stick to used records.

"After watching your videos, I understand pressings and all of that. Now I got five jazz records. They are in really good shape. Near mint. You don't know how happy I was when I found them. I got:

Everybody Knows by Johnny Hodges (cover is Impulse label, but vinyl is in Philips label)

Gone with the Wind by Dave Brubeck (is reissue of 1966)

Jazz Impressions of Eurasia by Dave Brubeck (reissue of 1966)

The Wonderful World of Jazz by John Lewis (this is first pressing)

Know What I Mean? by Cannonball Adderley (1961 Riverside stereo)

These are my jazz, and I love them. ... I don't have a turntable now... .

In future, I think I will send you more emails, because I have more things to say. :-)."
I, too, have more things to say, so I'll keep writing. I'm hoping to stick around for at least another 5 years. I am not here to tell you my hearing is as good as it was 25 or even 10 years ago, but my listening is better than ever, and that is more important. As long as I remain alive and healthy, and as long as the feedback I get from readers—especially the younger ones—affirms what I hear and write in reviews (the PS Audio Stellar phono preamp review, for instance), I'll be here.
I'm 73, but I'm keeping myself in good shape, still running on good knees, doing mat Pilates until it's safe to return to the gym and 35+ good push-ups daily. Until the pandemic ends or there's a vaccine, I'm self-quarantining. I just heard that this year's Hong Kong Show in August is going on as scheduled. It's tempting, but no.
Next Month: Back to your regularly scheduled Analog Corner.