2011 Records To Die For Page 2
DAVID R. ADLER
---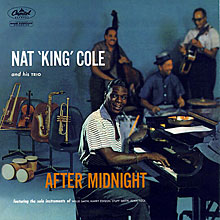 NAT KING COLE: After Midnight
Nat King Cole, piano, vocals; John Collins, guitar; Charlie Harris, Lee Young, drums. With: Willie Smith, alto saxophone; Harry "Sweets" Edison, trumpet; Juan Tizol, valve trombone; Stuff Smith, violin; Jack Costanzo, congas, bongos
Capitol Jazz 20087 (CD). 1957/1999. Lee Gillette, prod.; Michael Cuscuna, reissue prod. DDD. TT: 63:42
Cole was a piano master in the small-group swing idiom, but he gained far greater fame as an Eckstine-style crooner. After Midnight finds him straddling both worlds, and in some ways this makes it the ultimate Cole disc. It's got heartbreakers like "Blame It On My Youth" and "You're Looking at Me," but no syrupy production here: Cole's core trio and high-profile guests provide snap and crackle, whether on ballads or cookers ("Just You, Just Me," "It's Only a Paper Moon"). You could practically learn to play jazz by studying this record. Or you could just bathe in its easygoing magic.
PAT METHENY GROUP: Travels
Pat Metheny, guitars; Lyle Mays, piano, synthesizers, autoharp, organ, synclavier; Steve Rodby, basses; Dan Gottlieb, drums; Nana Vasconcelos, voice, percussion, berimbau
ECM 1252/53 (2 CDs). 1983. Pat Metheny, Manfred Eicher, prods.; Jan Erik Kongshaug, Randy Ezratty, Gary Geller, engs. AAD. TT: 96:26
Long ago, Pat Metheny went from whiz kid to master storyteller. This double album, a tour document from 1982, chronicles that process well. Travels is rapturous, hitting on all the reasons for Metheny's widespread appeal: emotional intensity, warmth, chops, melody after sublime melody. I've practically memorized the applause between these tracks. Something about the blend of joy and nostalgia in a piece like "The Fields, The Sky" always sends me. And the balance of moods here, from the yearning of "Goodbye" to the grooving determination of "Song for Bilbao," seems to hit on something essential about life itself.
JOHN ATKINSON

---
PETER GABRIEL: Scratch My Back
with Jason Rebello, piano
Real World 1 (CD, 180gm LP, 4GB USB drive containing 24-bit/96kHz files). 2010. Peter Gabriel, Bob Ezrin, prods.; Tchad Blake, Dickie Chappell, mix engs.; Dave Bates, "song stimulator"; John Metcalfe, mix eng., arr. DDD? TT: 53:29
Back in 1969, my band shared the bill at a college in London's Holland Park district with a prog-rock band featuring a lead singer who also played flute. Although the band had a regular drummer, the singer accompanied himself with a kick drum that sat at his feet. The intervening decades allow me to admit that we were blown off the stage. That was my introduction to Peter Gabriel and Genesis, and PG has remained a favorite ever since. But I wasn't sure what to expect from Scratch My Back, a collection of cover versions of songs by artists as diverse as Radiohead, Lou Reed, David Bowie, Neil Young, Paul Simon, Arcade Fire, Regina Spektor, and Bon Iver—who, it is assumed, will one day return the favor by covering Gabriel's songs on an album called I'll Scratch Yours. The only justification for recording a cover version is that the artist can make it his or her own, as Aretha Franklin did with Otis Redding's "Respect." And Peter Gabriel, with often sparse, spacey, string-dominant orchestrations, and without drums of any kind, succeeds in doing that with every one of these 12 songs. Talking Heads' "Listening Wind," for example, with its early-1980s layered loops, was always an impressive sonic creation, but Gabriel cuts away the clutter to reveal its depths as a song, leaving you both horrified at the protagonist's actions while understanding his motives. Even when the lyrics are superficially banal, as in the Magnetic Fields' "The Book of Love," Gabriel's throaty delivery and John Metcalfe's empathetic arrangements transform them into a passionate expression of love. In an age when popular artists don't make albums as such anymore, Scratch My Back is a return to the paradigm; there is not a weak track on it.
MOZART: The Piano Sonatas
Piano Sonatas 1–18; Fantasia in c, K.457.
Robert Silverman, Steinway D piano
IsoMike 726441-55602-8 (7 "fully loaded" SACD/CDs, 4- and 2-channel DSD). 2010. Ellen Silverman, prod.; Graemme Brown, chief eng.; Ray Kimber, Aaron Hubbard, CJ Johnson, Nathan Call, engs. DDD. TT: 6:47:00. Available from www.isomike.com/silverman_mozart.html, amazon.com.
When, in 2004, I produced Stereophile's recording of Robert Silverman's performance of Beethoven's Diabelli Variations, recording it with Ray Kimber's IsoMike, the Canadian pianist mentioned that he was soon to perform a complete cycle of Mozart's piano sonatas, and that he felt this should be his next recording project. The demands made on my time by the magazine unfortunately didn't allow me to be involved, but I followed from afar Bob's recording of the sonatas for Ray Kimber. Although the IsoMike baffle array was used for both recordings, Graemme Brown had used a matched quartet of Neumann M150 omni microphones for the Diabellis; for the Mozart he used DPA 3529As. So far I have listened to only the two-channel versions on the SACD layer (the discs also include four-channel SACD and two-channel CD versions), but even in stereo, this is one of the finest-sounding piano recordings I have heard. Appropriately intimate without diminishing the instrument's dynamics, close without becoming overpowering, the sound allows Silverman's performances to speak freely. And what performances! Having grown familiar with Bob's playing in the bigger-boned repertoire of Beethoven, Brahms, Liszt, Rachmaninoff, and Schumann, I wasn't sure what to expect from the more delicately nuanced Mozart works, which demand a different approach from the player, with more left unsaid but, conversely, nowhere for any departure from perfection to hide. But he succeeds in spades. Silverman offers such superb clarity of line, as in the melodic passages between the "cycle of fourths" modulations in the Allegro of Sonata 12 in F, K.332, that you have to force yourself to remember that the piano is a percussion instrument as he sings, even dances, at the keys. Mozartean magic!
ROBERT BAIRD

---
THE BROTHERS JOHNSON: Look Out for #1
A&M SP-4567 (LP). 1976. Quincy Jones, prod.; Chris Brent, Peter Chaikin, engs. AAA.
When it comes to funk, R&B, and soul, the 1970s was a crazy-rich decade, and this very solid album, produced by the Q himself, has always held a special place in funk history. Although they had a bigger single, "Strawberry Letter 23," which hit No.5 on Billboard's Top 100 in 1977, the Brothers Johnson never again made this good an album. Guitarist George and bassist Louis Johnson, a pair of L.A. boys who paid a lot of solid dues by playing with Billy Preston and the Supremes before releasing this, their debut album, had, by '76, also become accomplished songwriters. Except for a cover of "Come Together" that, unlike a lot of Beatles covers, funk, R&B, or otherwise, actually works, they wrote everything on this record. The brothers hit here with a record that moves between genuine funk workouts like "Thunder Thumbs and Lightnin' Licks" and the immortal chants of "Get the Funk Out My Face"; the infectious single "I'll Be Good to You," with its prominent roiling guitar in the chorus's background; and my favorite, the so-silly-it's-great ballad "Land of Ladies." Choosing a favorite funk record from the '70s is nearly impossible, but this gem belongs on any list of masterpieces.
NITTY GRITTY DIRT BAND: Dirt, Silver & Gold
United Artists UA-LA670-L3 (3 LPs). 1976. William McEuen, prod., eng.; Richie Cicero, Mike Denecke, Dino Lappas, Gary Mullen, engs. AAA.
For some semi-unhealthy reason—possibilities include the hoofbeats of approaching mortality, a belated regression to teenagehood, gobs of tannin clogging the brain synapses, a desire to absolve an unfairly denigrated musical decade (I suspect they all apply to varying degrees)—I have been stuck in a '70s music groove. Out of that charmed decade—to the haters I say, go and listen, then we'll talk—I chose two seminal albums from that decade's key year, 1976. Although the NGDB is best known for Will the Circle Be Unbroken (1972), that epic experiment in country-meets-country-rock, Nashville-establishment-meets-Colorado-hippies, it's this other three-LP set, from four years later, that is their masterpiece. An oversize mix of greatest hits and new material, Dirt, Silver & Gold features damn near every kind of Americana you can think of, from straight-up folk ("Buy for Me the Rain") to bluegrass ("Soldier's Joy") to near rock'n'roll ("Bayou Jubilee"/"Sally was a Goodun") to novelty tunes ("Woody Woodpecker") and hippie rock ("Bowlegs"). There's even stuff like "Mr. Bojangles" and "House at Pooh Corner," which represent what I'd have to categorize under the unwieldy title of Roots Pop. The list of contributing composers includes Randy Newman, A.P. Carter, Hank Williams, Jackson Browne, and Doc Watson. Besides the Dirt Band (at that point a quartet of John McEuen, Jeff Hanna, Jimmie Fadden, and Jim Ibbotson), the players include Doc Watson, Norman Blake, Vassar Clements, Roy Acuff, Mother Maybelle Carter, Jimmy Martin, and Russ Kunkel, to name just a few. The crowning touch to this mass of heartfelt music, which has been through one less-than-wonderful reissue on two CDs, followed by a slightly better one, is the album's dedicatee: bluesman Jimmy Reed. As triple albums go, this one ranks up there with a slim field of contenders that include Led Zep's How the West Was Won, George Harrison's All Things Must Pass, The Clash's Sandinista, and Joanna Newsom's Have One On Me.
LARRY BIRNBAUM

---
LITTLE RICHARD: The Georgia Peach
Specialty SPCD-7012-2 (CD). 1991. Bumps Blackwell, Art Rupe, orig. prods.; Kirk Felton, remastering. AAD. TT: 58:35
Little Richard made the national charts before Elvis Presley did, and his gritty screech of a voice virtually defined rock'n'roll. This collection contains all his Specialty hits through tmid-1958, plus early tracks, such as "Baby" and "I'm Just a Lonely Guy," that show his roots in jump blues and gospel. Although Richard was from Macon, Georgia, Specialty recorded him mostly in New Orleans with musicians associated with Fats Domino, giving the music a slamming second-line beat. Some songs—"Rip It Up" or "Jenny Jenny," for example—seem less propulsive than they did in their day, but landmarks like "Tutti Frutti," "Slippin' and Slidin'," "Long Tall Sally," and "Good Golly Miss Molly" can still raise the roof.
MAGIC SAM: West Side Soul
Delmark DD-615 (CD). 1967/1993. Bob Koester, prod.; Stu Black, eng. AAD. TT: 45:52
The Chicago bluesman Magic Sam, who died in 1969 at the age of 32, had cut a number of singles before he recorded this, his first album, in 1967. It established his reputation internationally and still stands as a modern blues classic, showcasing his powerful, pellucid singing and molten-metal guitar playing. Like Robert Johnson, Sam had an uncanny ability to make other artists' material his own. He wrote only three of the 11 songs here, but his covers of records by B.B. King, Bobby Bland, Little Junior Parker, Jimmy McCracklin, and J.B. Lenoir surpass the originals. He even outdoes Johnson himself on "Sweet Home Chicago," although Sam's version is based on Junior Parker's.
ARIEL BITRAN

---
JERRY BUTLER: Ice On Ice
Mercury SR 61234 (LP). 1969. Kenneth Gamble, Leon Huff, prods., engs. AAA. TT: 31:02
I burst into Robert Baird's office, frantic but smiling: "Have you heard Jerry Butler?" I had just discovered Butler through Pandora Radio. This was about the time RB was taking the first steps toward his outstanding interview with Kenneth Gamble and Leon Huff (Vol.31 No.9), and he excitedly introduced me to the world of Philly Soul artists, including Teddy Pendergrass, Billy Paul, and the O'Jays. But the one I most connected with was Butler, for his all-knowing delivery and unwavering confidence.
In Ice On Ice, Butler tells, in a mature style and in his refined yet husky groan, heartbreaking stories of love and loss. Gamble and Huff's lush production includes various delectable instrument choices, including nylon-string guitars, metallic flutes, tightly tuned snares, airy vibraphones, an endless choir of background singers, and soaring., intertwining strings. The arrangements, in combination with The Iceman's stellar pop songcraft, provide a timeless album on any plot of the emotional and sonic spectra. If you can't find the vinyl, all tracks are available on the Collector's Choice Music CD reissue—which includes, on the same disc, Butler's The Iceman Cometh.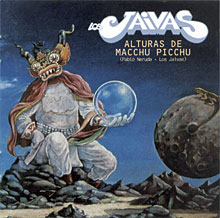 LOS JAIVAS: Alturas de Machu Picchu
CBS LIL-0003 (LP). 1981. Los Jaivas, prods.; Daniel Michel, Dominique Strabach, Rolf Hanekamp, Luciano Piccinno, Jan Twilley, Jon Schroeder, engs. AAA? TT: 37:26
Alturas de Machu Picchu, the magnum opus of Chilean prog-folk band Los Jaivas, is the ultimate concept album. With lyrics by Pablo Neruda (cribbed from his Canto General), Los Jaivas meld Incan instruments with wailing guitars to transfer the listener to a lost city high in the mountains. The music reflects on legends of unified peoples, unknown aspects of the ancient past, and synthesized hints of the existence of extraterrestrials. As a band, Los Jaivas personified the struggle between the Westernized nation Chile was to become and the native roots it clung to before and during the dictatorship of Pinochet. The forlorn but aggressive tone of Alturas funnels that struggle through the story of the lost Incan nation.
DANIEL BUCKLEY

---
ALONDRA DE LA PARRA: Mi Alma Mexicana/My Mexican Soul
Alondra De La Parra, Philharmonic Orchestra of the Americas; Daniel Andai, violin; Pablo Sáinz Villegas, guitar; Alex Brown, piano
Sony 8869775552 (2 CDs). 2010. Alondra De La Parra, exec. prod.; Adam Abeshouse, prod., eng. DDD. TT: 2:05:51
Sony wisely paired up with hotshot Mexican conductor Alondra De La Parra and her powerhouse Latino orchestra for this Mexican bicentennial sampler of chestnuts and worthy wildcards from the post-colonial world of Mexican classical music. The usual suspects (notably Moncayo's Huapango and Revueltas's Sensemayá) are peerlessly rendered with both idiomatic performances and pure sonic wallop, while such lesser-heard gems as Chávez's El Trópico (from the H.P. Suite), Chapela's Inguesu, and Hu°zar's Imágenes deservedly expand the recorded repertoire. From the lyrical and the romantic to modern works casting European models in distinctly Mexican hues, De La Parra has opened a treasure chest for the world.
AMY X NEUBURG & THE CELLO CHIXTET: The Secret Language of Subways
Amy X Neuburg, vocals, electronics, drums; Elizabeth Vandervennet, Elaine Kreston, Jessica Ivry, cellos
MinMax Music MM 017 (CD). 2009. Amy X Neuburg, prod.; Bruce Kapham, prod., eng. DDD. TT: 61:19
If there is a talent to watch in the modern classical world, it is Amy X Neuburg. A dazzling classically trained singer, a wizard at live electronics, a bodacious percussionist, and a songwriting master with a crisp grasp of language, irony, and the capriciousness of modern life, Neuburg is also a genuinely original composer who seems to have swallowed everything from madrigals to the avant-garde, and now spits it out in her own quirky, appealing way. The Cello Chixtet is her perfect foil, harmonically caressing her voice and/or underscoring her sonic tales with mercurial twists of color and weight, at times percussive and bombastic, at others lyrical, impish, or warm. Track this down, buy it, and put some amazement back in your life.