2008 Records To Die For Page 4
ART DUDLEY
---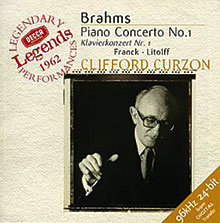 BRAHMS: Piano Concerto 1
Clifford Curzon, piano; London Symphony Orchestra, George Szell
Decca/Speakers Corner SXL 6023 (LP). 1962. AAA. TT: 48:15 (Also available on CD: Decca 417 641-2, ADD.)
Much has been made of how Brahms waited until age 44 to compose his first symphony, feeling as he did the force of Beethoven's legacy at his back. Yet an arguably greater influence came from Brahms's mentor and friend, Robert Schumann, who urged the aspiring composer to begin writing orchestral music in 1853, when Brahms was only 20. That was also the year Schumann re-orchestrated and published, as No.4, his own symphony in d, the score of which became one of Brahms's most prized possessions. Three years later, Schumann died in an insane asylum. D minor would also be the home key of Brahms's first large-scale work—a piano concerto rather than a symphony, introduced to the public in 1859. Whether or not the work's more harrowing moments stemmed from the young composer's anguish over Schumann's end is a matter of some debate; regardless, as with so much great art, most of the listening public simply wasn't ready for the concerto's violent trills and wild mood swings—and those who did fancy themselves the more adventurous concertgoers of the day threw in their lot with Wagner and his chromaticism, in a false and largely critic-driven wrangle that seems awfully silly today.
Modern music requires modern players, of which there was no shortage in postwar Europe and the Americas. But none have recorded Brahms' Piano Concerto 1 with the combination of skill and passion displayed by Englishman Clifford Curzon in this outing with George Szell and the London Symphony Orchestra. The music leaps from the grooves of this (mostly) well-made stereo recording, excelled by none other at putting across the sheer physical force of which Curzon was capable, as well as his supremely unself-conscious approach to the music. By comparison, Barenboim strikes me as calculated, and Rubinstein sounds just plain dull. (Leon Fleisher with Szell is interesting, too, but unnervingly sloppy in some passages.)
The Speakers Corner LP reissue of the Decca original is superb: as good as this sort of thing gets. There's also a mid-1980s LP release on London Jubilee (411 579-1) that sounds surprisingly nice. I've never cared for the idea of using a handful of spectacular recordings to test the abilities of a playback system, but this wonderful LP comes closer than any other to changing my mind.
DANIEL DURCHHOLZ
---
DE LA SOUL: 3 Feet High and Rising
Tommy Boy TBCD 1019 (CD). 1989. Prince Paul, De La Soul, prods.; Sue "In the House" Fisher, Bob "The Amazing" Coulter, Dan "Bust a Harmony" Miller, Chris Irwin, engs. AAD? TT: 67:18
Listening to 3 Feet High and Rising today, it seems to have come from a vastly different and far more innocent universe. It's not just the subject matter—De La Soul's trippy D.A.I.S.Y. (Da Inner Sound, Y'all)–age raps were the very antithesis of the gangstaisms that would rule the 1990s. But in the days before strict adherence to sample clearance (a lawsuit by the Turtles against De La Soul would change all that), Prince Paul's genius-level production created a soundscape that couldn't be reproduced today—not because of any lack of musical intuition or ability, but simply because of business. I'm all for everybody gettin' paid, but I'm just sayin' . . .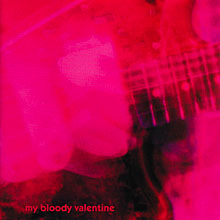 MY BLOODY VALENTINE: Loveless
Sire 26759-2 (CD). 1991. Kevin Shields, Colm O'Ciosoig, prods.; various engs. AAD? TT: 48:36
News of My Bloody Valentine's impending return to activity after a decade-plus hiatus sent me running for my copy of Loveless, the band's 1991 shoegazer masterpiece. Led by the monumental "Only Shallow," the album's swirling, psychedelic production is the perfect sonic carnival ride, leaving you dizzy and disoriented in the most pleasant possible sense. The band spent two years in the studio crafting Loveless, in the process nearly bankrupting Creation, their groundbreaking and influential British label. It's easy to look back now and proclaim their extravagance worth the label's miseries, but alas, the album's reputation far outstripped its sales. But you know what? It was worth it.
BEN FINANE
---
BECK: Guero
Geffen B0000 3481-02 (CD). 2005. Beck, Mike Simpson, The Dust Brothers, Tony Hoffer, prods., engs. DDD. TT: 46:50
If Odelay remains Beck's zany tour de force, Guero finds the eternal hipster emerging from the post-breakup melancholy of Sea Change with a more mature voice and a superior songwriting prowess. Playing the role of the outsider, Beck the guero (white boy) fills a Latin funkiness with aphasia: "See the vegetable man in the vegetable van / With a horn that's honking like a mariachi band." The album's musical landscape winds from lounge ("Earthquake Weather") to swampy fatback ("Go It Alone") to hangman ballad ("Farewell Ride") with the ease, elegance, and nonchalance we've come to expect from Beck.
WHAT MADE MILWAUKEE FAMOUS: Trying to Never Catch Up
Barsuk BARK57 (CD). 2006. Michael Kingcaid, Drew Patrizi, Jim Eno, prods., engs.; Lars Goransson, prod.; Matthew Barnhart, eng. DDD. TT: 48:23
Passing through Jeff Buckley, the Cars, Franz Ferdinand, Interpol, Iron & Wine, Modest Mouse, Queens of the Stone Age, the Shins, Spoon, the Strokes, and Weezer en route to nowhere, the (revamped) debut album from Austin band What Made Milwaukee Famous never jells and never cares. The music, if schizophrenic, is great, with impeccable craft and a deft pop sense that eases the album's transitions over tight alt-rock that's laced with irony but never devoid of sincerity. The journey is exhilarating, the dense textures and bright melodies providing copious scenery while the listener wonders at Milwaukee's shifts in consciousness.
MICHAEL FREMER
---
ANTILL: Corroboree
GINASTERA: Panamb°
Eugene Goossens, London Symphony Orchestra
Everest/Classic SDBR-3003 (200gm LP). 1958/2007. Harry Belock, prod.; Bert Whyte, eng.; Bernie Grundman, remastering. AAA. TT:
ca
40:00
Completed in 1944 and based on an Australian aboriginal dance ceremony of the same name witnessed by the composer when he was a child, Corroboree is a cinematic "world music" extravaganza written decades before the term was coined. Though it features a didjeridoo and a bull roarer (aka thunder stick), the orchestration relies primarily on standard European instruments, including conventional string and woodwind sections. The percussion lineup, though, includes a staggering array of noisemakers that have been captured with alarming verisimilitude on sprocketed 35mm tape. Don't be fooled by the recording date of 1958: this musical and sonic thrill ride is not to be missed. (XXII-12)
ART BLAKEY & THE JAZZ MESSENGERS: A Night in Tunisia
Art Blakey, drums; Wayne Shorter, tenor saxophone; Lee Morgan, trumpet; Bobby Timmons, piano; Jymie Merritt, bass
Blue Note/Music Matters MMBST 84049 (2 stereo LPs, 45rpm, 180gm). 1960/2008. Alfred Lion, prod.; Rudy Van Gelder, eng.; Kevin Gray, Steve Hoffman, remastering. AAA. TT: ca 40:00
Art Blakey's furious, almost violent polyrhythmic skin pounding, Bobby Timmons' ivory attacks, and Jymie Merritt's explosive bass plucks anchor Lee Morgan and Wayne Shorter's dizzying, melodic machine-gun fire on the Gillespie opener that dominates this classic session—and the rest ain't exactly filler. Tape-box forensics prove that most of the Holy Grail mono Blue Note masters were simply downmixes from stereo made by original engineer Rudy Van Gelder. Comparing this stupendous-sounding, ultradynamic reissue to the "deep groove" original I bought for $3.09 in 1961, at the age of 14, at Sam Goody, proves that RVG compressed and bleached his original cut, and that nothing can help his boxy piano miking. (XVII-10)