2008 Records To Die For Page 2
JOHN ATKINSON
---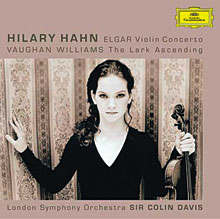 ELGAR: Violin Concerto
VAUGHAN WILLIAMS: The Lark Ascending
Hilary Hahn, violin; London Symphony Orchestra, Sir Colin Davis
Deutsche Grammophon 28947-48732-6 (multichannel SACD/CD). 2004. Martin Engstroem, Thomas Frost, prods.; Stephan Flock, balance eng., stereo & surround mixes; Sam O'Kell, eng. DDD. TT: 66:10
For the longest time I was sure I was going to nominate our May 2006 "Recording of the Month," Daniele Gatti's performance with the Royal Philharmonic of Tchaikovsky's Symphony 6 (SACD, Harmonia Mundi HMU 807394), for one of my 2008 "R2D4" slots. That recording has spent many hours in my Ayre player and has single-handedly forced me to redefine my decades-old opinion—formed with the arrogance of youth—of Tchaikovsky as a great orchestrator who could write great tunes but was no great shakes at symphonic development. But when I heard Hilary Hahn's hauntingly beautiful excursion through the Elgar Concerto, I had no choice but to change my choice.
If you know England's Sir Edward Elgar only from graduation memories of his "Pomp and Circumstance March No.1," you'll be surprised at the intensity, the passion, the intimacy of his Violin Concerto. Composed in 1910 for Fritz Kreisler, the concerto is actually an ode of unrequited love to Elgar's friend Alice Stuart-Wortley, and Hahn explores the depth of feeling expressed in the notes without descending into bathos or sentimentality. The coupling is Vaughan Williams' instrumental song of serenity, The Lark Ascending, and this account supplants my 1997 "R2D4" recommendation of Anne Akiko Meyers' performance on RCA. The sound, recorded in Abbey Road Studio No.1 in 24-bit/96kHz LPCM, is luminous, warm, and supportive of music that, in Hahn's words in the liner notes, "represents a time past / When music was quietly enhanced by words, / When gestures contained in the scribbled page / Came to life as vast statements." (XXX-2)
VAN MORRISON: Live at the Grand Opera House Belfast
Mercury 422 818 336-2 (CD). 1984. Van Morrison, prod.; Mick Glossop, eng., mix; Chris Blake, David Chapman, asst. engs. AAD. TT: 52:05
Possibly the worst concert I ever attended was Van Morrison performing in Brighton, England, in the early 1980s. Van the Man sat at a keyboard for most of the first set, blowing perfunctory saxophone and letting members of his band sing lead vocal. It is a paradox, therefore, that this live CD, recorded about the same time, has been in constant rotation in my system for more than two decades. The songs are mainly drawn from the more spiritual catalog Van was recording at the end of the 1970s, rather than the classic albums he cut in the US at the beginning of that decade. Tempos are generally slow—dangerously, glacially slow in "Haunts of Ancient Peace," "Rave On John Donne," and "Vanlose Stairway"—but the band plays with persistent power. As Stephen Mejias said when he poked his head into my office while I was writing these words, "This band swings!" I put that down to the presence of the great drummer Peter Van Hooke, who subsequently went on to commercial success with Mike and the Mechanics and can put more bounce in a backbeat than any drummer has a right to be able to. The incomparable Mark Isham on trumpet, James Brown alum Pee Wee Ellis on saxophone and flute, and David Hayes on bass guitar, ain't too shabby neither. "Yeah, this is hip," enthuses Van at the start of his intricate reworking of "It's All in the Game." And hip this CD indeed is.
ROBERT BAIRD
---
PAW: Dragline
A&M 31454 0065 2 (CD). 1993. Paw, prods.; Mr. Colson, prod., eng.; Doug Erickson, eng.; Andy Wallace, mix. AAD? TT: 50:29
Remember the early 1990s? Back when grunge was more than just an excuse to write bad songs, the record business was still a going concern, and Nirvana had just made the last great rock record? Well, it just so happens that at one South by Southwest festival back there in the '90s murk, these guys suddenly became the toast of a good old-fashioned A&R war. Wining, dining, chicks in hot tubs—even racing dune buggies, if memory serves—these boys got the full treatment. Part of the fascination came from the fact that they were from Lawrence—certainly the most enlightened spot in Kansas, but a long way from Seattle or New York or any other loud, almost metal, guitar-driven musical furnace. Another, more important element was that the songwriting was there: a claim most grunge bands could not make. Ever. Meanwhile, in Totoland, guitarist Grant Fitch and singer Mark Hennessy, Paw's primary songwriters, had loud, hard-charging, chunky tracks like "Jessie," a salute to man's best friend in which a pedal steel suddenly pops into the bridge—and "The Bridge," which has the kind of hook usually heard only in poppier fare. Sure, they fell apart after this, their debut, but for a moment there it all clicked. It was grunge all right, but it had soul. And tunefulness. And it wasn't from Seattle.
FRANK SINATRA: Sinatra and Sextet: Live in Paris
Reprise 45487-2 (CD). 1962/1994. Joe McEwen, James Isaacs, A&R; Molly-Reeve Morrison, project coordination; Lee Hirschberg, digital editing, mastering. AAD? TT: 74:04
For Chairman of the Board beginners, let me set the scene: the booze-and-broads and, in hindsight, weirdly low-rent Las Vegas cultural phenomenon that was the Rat Pack, is at the height of its swagger. Sinatra's a huge star, yet he's just been snubbed by JFK, whom he allegedly helped elect through his ties to the mob, which the Kennedys allegedly used to great effect in the election of 1960—but that's another story. Set on tarting up his image—so say the liner notes to this live set—Francis Albert Sinatra, at the tender age of 46, travels to Paris in June 1962 to play his first-ever gig in the French capital, one that will benefit "children's charities." The sound here is markedly better than bootlegs, yet less expansive and balanced than that of his Capitol and Reprise studio records.
The list of what goes right here, or is extremely unexpected and interesting, is long and unprecedented. First, Sinatra is singing in front of a small combo instead of the usual larger orchestra or just piano accompanist. From his stumbles and throat clearings, it's obvious that he's nervous. Paris done got Mr. Cool a little buffaloed—which alone makes this set worth hearing. Finally, the two salient sides of the towering Sinatra persona are raw and on full display in this unedited tape. There's the cretin who can't help attributing "Ol' Man River" to "Sammy Davis's people." But then that melted-butter voice and incredible gift for phrasing easily create—absolutely off-the-cuff and in the moment—definitive versions of "At Long Last Love," "Moonlight in Vermont," "Day In—Day Out," and an "I've Got You Under My Skin" that literally takes your breath away. Few others have ever had Sinatra's gift of impromptu genius—what he called being "a saloon singer." This is that infuriating, stupefyingly gifted man at his peak.
LARRY BIRNBAUM
---
KING COLE TRIO: Hit That Jive: 1936–1946
Nat "King" Cole, piano, vocals; Oscar Moore, guitar; Wesley Prince, Johnny Miller, bass; Lee Young, Jack "the Bear" Parker, drums. Track 1 only: Tommy Thompson, Bill Wright, saxophones; Kenneth Roane, trumpet; Eddie Cole, bass; Jimmy Adams, drums.
Jazz Legends JAZ 2006 (CD). 2004. William D. Tennant, exec. prod.; Scott Yanow, compiler; Steve Pringle, remastering. AAD? TT: 60:21
Everybody knows Nat "King" Cole, the suave balladeer who recorded duets from beyond the grave with his daughter Natalie. But few are familiar with the King Cole Trio, the group Cole rode to fame in the 1940s as a stride pianist and singer of jive songs. This is about as good as any single-disc collection of the trio's music, tracking them from their first retail session in 1940 (they had previously recorded transcription discs for radio play) to the 1946 date that yielded Cole's evergreen version of Mel Tormé's "The Christmas Song." (There's also a tune from Cole's 1936 studio debut, with his brother Eddie's band.) Cole flaunts his hepcat credentials on "I Like to Riff," "Hit That Jive, Jack," and his breakthrough hit, "Straighten Up and Fly Right," not to mention his definitive "Route 66." On standards such as "Sweet Lorraine" and "Honeysuckle Rose," he anticipates the bebop piano harmonies of Bud Powell, complemented by the trio's brilliant guitarist, Oscar Moore.
JOÃO GILBERTO: The Legendary João Gilberto
João Gilberto, vocals, guitar; Antonio Carlos Jobim, piano; others
World Pacific CDP 7 93891 2 (CD). 1990. Aloysio de Oliveira, Ismael Corràa, orig. prods.; Ron McMaster, remastering. AAD. TT: 75:50
It's been called the Holy Grail of bossa nova: Gilberto's first three Brazilian LPs from 1959, 1960, and 1961, plus a couple of tracks from an EP of songs from the movie Black Orpheus, all jumbled together on one hard-to-find CD. Here are the striking Antonio Carlos Jobim compositions that started it all—"Chega de Saudade," "Desafinado," "Samba de Una Nota Só" ("One Note Samba")—delivered in Gilberto's insidiously cool voice, accompanied by his subversively rhythmic guitar. Here also are "Bim Bom" and "Hô-Ba-La-Lá," the pioneering Gilberto compositions that introduced the bossa beat. More or less tasteful instrumental accompaniments occasionally intrude, but Gilberto's solo artistry shines through.
DANIEL BUCKLEY
---
THE BIRD AND THE BEE: The Bird and the Bee
Metro Blue/Blue Note 3 68251 2 (CD). 2006. Greg Kurstin, prod., eng. DDD. TT: 35:48
Track for track, no pop recording of the past five years has so originally and imaginatively redefined songwriting as has this one. Quirky and sensuous, witty and superbly crafted, its 10 songs evolve in most unexpected and delightful ways. Greg Kurstin uses keyboards, drum machines, and guitars to orchestrate gem-like settings for Inara George's breezy lyrics, little-girl leads, and sunny harmonies. Stylistically, The Bird and the Bee spans sunny pop and dance music to jazzy, flowing works. "Fucking Boyfriend" will probably be the track that puts this group on the map, but every tune is as wryly crafted. George, by the way, is the daughter of the late, great Lowell George, founder of Little Feat. This apple has not fallen far.
ARVO PÄRT: Fratres, Tabula Rasa, Cantus
Gidon Kremer, Tatjana Grindenko, violin; Keith Jarrett, piano; Alfred Schnittke, prepared piano; 12 Cellists of the Berlin Philharmonic; Dennis Russell Davies, Staatsorchester Stuttgart; Saulus Sondeckis, Lithuanian Chamber Orchestra
ECM New Series 1275 (CD). 1984. Manfred Eicher, prod.; Heinz Wildhagen, Peter Laenger, Eberhard Sengpiel, Dieter Frobeen, engs. DDD. TT: 54:39
Think of "great classical performances" and one instinctively presupposes a vintage recording by a Heifetz, Casals, Caruso, or Callas. But this recording of Arvo Pärt's Fratres, played by Gidon Kremer and Keith Jarrett, captures a stunning realization of a piece that spans the gamut of human emotion, from excruciating sorrow to sublime ecstasy. While dozens of recordings of the same piano/violin arrangement have since been made, no other even remotely captures this one's exquisite intensity, scintillating color, and majestic emotional landscape. Add the equally vivid performances of two other 20th-century masterpieces, Tabula Rasa and Cantus, and you have what may be the must-have Arvo Pärt disc. (X-8)