Gramophone Dreams #11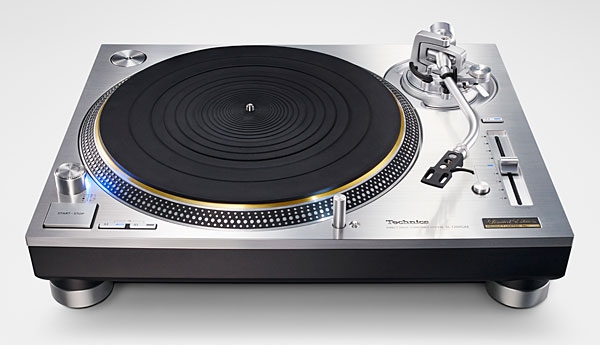 Which record player has achieved international acclaim as a musical instrument in its own right?
Which turntable is revered for its near-indestructible build quality?
Which disc spinner has played more records—and made more people drink, drug, dance, and make out—than any other?
Which turntable has sold over three million units?
Hint: It is not made in the US, the UK, China, or Switzerland.
Few Stereophile-reading audiophiles wept when, in 2010, the Technics SL-1200 Mk.5 direct-drive turntable was discontinued. Those who did shed tears blamed it on the rise of the MP3 and the demise of the LP. Outside the audiophile world, people cried, barricaded streets, and demanded an explanation from Technics and its parent company, Panasonic. Corporate suits said the tooling had worn out. Record people everywhere, including yours truly, mourned in silence at the end of the SL-1200's prodigious run.
Well, folks, Technics turntables are back. Completely from scratch, using all-new tooling, Technics has designed and built a brand-new, jet-fighter-strength, direct-drive turntable with a slick, sophisticated look—one that flies rings around the old gray propeller model.
Panasonic is celebrating a half-century of the legendary Technics SL-1200 by releasing two new Technics Grand Class models aimed primarily at audiophiles: the SL-1200GAE 50th Anniversary Limited Edition (1200 numbered units) and the regular-production SL-1200G. The two SL-1200s are almost identical: in the SL-1200G, the finish of the magnesium tonearm will be different, as will be the silicone damping inside the new footers. Both models will cost $4000, and will be sold only through brick-and-mortar audio salons.
Nor is that all: Panasonic has decided to reestablish the Technics brand in perfectionist audio with a full line of high-fidelity audio components, beginning at the top with the new Reference Class, followed by the more affordable Premium Class (of which I recently reviewed the Premium SB-C700 loudspeaker), and this new Grand Class, which includes the ST-G30 music server, the SU-G30 network audio amplifier, and the SL-1200GAE 50th Anniversary Limited Edition turntable.
Description: The instant I first saw and touched the Grand Class SL-1200GAE 50th Anniversary Limited Edition, I realized that it is not just a tarting-up of the old workhorse SL-1200. New from the ground up, it has almost nothing in common with the used SL-1200 Mk.2 I bought at a stoop sale for $70.
Every time I'm near the shiny new 'GAE, I run my fingers sensually over the word TECHNICS deeply engraved on the hairline-processed, 0.375"-thick aluminum top plate of its plinth. This new fourth layer is added to the already substantial three-layer sandwich of die-cast aluminum, bulk molding compound, and heavy rubber of the SL-1200 Mk.5's plinth. No MDF anywhere! The new 'table weighs 39.6 lbs (18kg). The discontinued SP-1200 Mk.5 weighed 26.4 lbs (12kg).
After I run my finger over the logo, I usually lift off the thick rubber mat and gaze in awe at the brass top of the dynamically balanced platter, which is made of layers of die-cast brass, aluminum, and heavy rubber. The machined brass, resplendent to behold, reminds me of the copper-sandwich platter of Technics' most venerated turntable, the SP-10 Mk.3. The SL-1200GAE's designer, Tetsuya Itani, told me that he owns a Technics SP-10 Mk.3; that was his inspiration and reference for the new model. According to Technics, the SL-1200GAE's much heavier platter "delivers smooth rotational stability and inertial mass surpassing the SP-10 Mk.2."
Removing the platter reveals other new and important features. There is a Mode switch that, in its Manual setting, enables the use of two adjacent trimpots for adjusting Torque (Low to High) and Brake onset (Slow to Fast). With the Mode switch set to Auto, the SL-1200GAE exhibits Torque and Brake performance equivalent to that of the original SL-1200s. Also under the platter, also new, is a USB port to aid in servicing.
At the center of all this high-Technics newness is a brushless, coreless, twin-rotor, nine-pole DC motor. According to the Technics press release, "One problem that direct-drive systems have always faced was sound quality degradation caused by 'cogging', or tiny vibrations of the motor and rotational speed fluctuations. However, by combining the knowledge and expertise gained as the originator of direct-drive turntable systems with a newly developed coreless direct-drive motor without iron core, this 'cogging' [pole-magnet alignment detent] can be eliminated. Any potential minute motor vibrations are suppressed even further by high-precision rotary positioning sensors guided by a microprocessor controlled system; a feature unique to the new Technics turntable."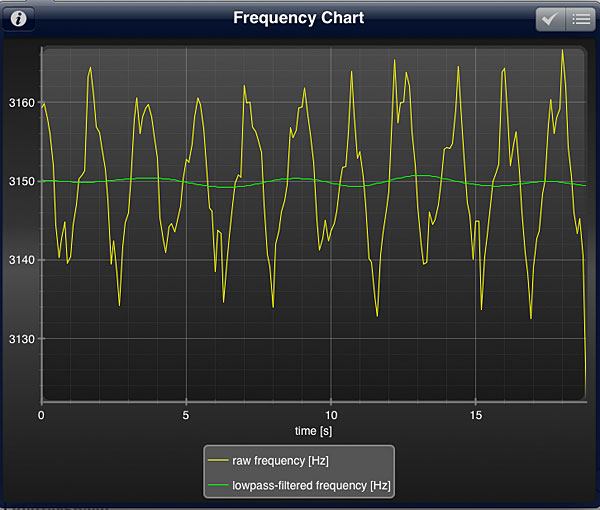 If the new platter, motor, and speed control are unquestionably big steps up from the original, so are the new isolation feet, made of heavy die-cast zinc, with a flexible leg of dense silicone separating the zinc feet from their mounting screws. The new feet allow the deck to move freely in three dimensions. Tetsuya Itani says that his goal was a full-table resonant frequency lower than 10Hz.
My favorite part of the original SL-1200 was its thick rubber platter mat, which delivered the full boogie energy of every song. Fortunately, Technics has not changed that. Also unchanged from the SL-1200s of legend are the overall look and layout, the Pitch slider—although pitch control is now fully digital—the Off/On and Start/Stop switches, and the 45rpm adapter. Unlike the old 1200s, the back of the SL-1200GAE has an IEC power-cord socket, and gold-plated RCAs with solid-brass grounding lugs for fitting the tonearm cable of your choice.
My biggest problem with the original SL-1200 was its aluminum tonearm. Compared to audiophile arms, it felt flimsy and imprecise, and favored high-compliance moving-magnet cartridges. (Moving-coil cartridges can overwhelm flimsy tonearms.) The new tonearm has an effective mass of 12gm, low friction, stainless-steel gimbal bearings, and a strong, light, highly damped armtube made of cold-drawn magnesium. It feels very precise, and seems better suited for the lower-compliance moving-coils favored by audiophiles. To accommodate heavy cartridges, the 'GAE tonearm comes with two extra balance weights, so the user has a choice of small, medium, and large.
Last but emphatically not least: The SL-1200GAE plays 331/3, 45, and 78rpm records. This shows you what Panasonic must believe is true of its new customer demographic. While the SL-1200GAE has every feature a dance or radio DJ user might want, the fact that it can also play 78s is, to me, huge—and might actually define this $4000 turntable's audience for the longer haul.
I believe that the collecting of vintage and new vinyl has only begun to catch on as a normal component of a sophisticated and discriminating lifestyle. Forget DJs with sneakers and headphones! Think foodies in Kenneth Cole suits drinking port wine and playing their latest black-disc acquisitions as a relaxed form of after-dinner parlor entertainment. The 'GAE's new Grand Class style and finish, plus its better-quality magnesium arm with detachable and upgradable headshell, make switching among stereo, mono, and 78rpm cartridges easy. Picture me smiling suavely in my slim-fit black suit, cueing up John Hammond's 1927 recording of "Purty Polly" (78, Sears Silvertone 9249) as my guests sip 1947 Porto rouge Sandeman.