The Fifth Element #19
Let's start with some music—three discs I recently have been using to evaluate equipment as well as listen to for enjoyment. They are as contrasting in style as one could hope for, but all on an enviably high musical plane. (Space considerations compel brevity approaching that necessary to sell screenplays to producers at cocktail parties, footnote 1)
Ensemble Amarcord: And So It Goes (Apollon Classics apc 10102): Former choristers from Bach's own church make up this German version of The King's Singers. This contemporary a cappella program ranges from Billy Joel to Supertramp to a Cuban love song, but it was Amarcord's cover of Sinéad O'Connor's "In This Heart" that raised the hairs on the back of my neck when I heard them live. The CD isn't shabby either. Indeed, And So It Goes totally wowed everyone who heard it at Home Entertainment 2003 in San Francisco—John Atkinson quickly scribbled the particulars on his Palm Pilot.
If you liked Cantus' Let Your Voice Be Heard, you're sure to like this. Just add it to your demo-disc pile. Well worth the trouble to get from Amarcord's US tour management, (860) 560-7800. (If your church or school has a performing-arts series, book them. Right away. I guarantee goosebumps.)
John Mayer: Room for Squares (Sony CK 85293): Rock singer-songwriter-guitarist Mayer is often compared to Dave Matthews, but for me his combination of bedevilment over the fair sex, wry wordplay, smooth arrangements, and low-key vocal delivery strongly calls to mind Michael Franks' early work.
Mayer's "St. Patrick's Day" (which is not about St. Patrick's Day at all, but instead observes that nobody wants to be alone at Christmas) is in feeling-tone emotionally vulnerable and wistful, yet hopeful. Michael Franks would be proud to claim it, and its knowing embrace of what just might be self-deception comes within striking distance of Cole Porter's. If you like Dave Matthews, you'll like this. More to the point—assuming you want to expand your horizons—if you like this, you should also like Michael Franks' four earliest Warner/Reprise efforts: The Art of Tea (2230-2), Sleeping Gypsy (3004-2), Burchfield Nines (3167-2), and Tiger in the Rain (3294-2). Go for it!
I have been reading overweight pontificator Harold Bloom's Genius, and, to its credit, underneath the contrived Kabalistic trappings lies the first reasoned argument that can make me, even for a moment, consider Shakespeare as a genius equal to J.S. Bach. But then, when I once again single-mindedly listen to Bach, so much for that.
Of late, my minimum daily Bach requirement has been met by Bradley Brookshire's recording of The French Suites (Purchase PC 1575). While I am not ready by a long shot to declare it perfect or definitive, I am certainly ready to say "You must hear this." Brookshire (footnote 2) plays the harpsichord the way Nigella Lawson (footnote 3) eats chocolate: with enraptured absorption.
The recording's vantage point is a bit too close, so you have a front-row perspective on the harpsichord's mechanical workings, even to the extent that at times you can hear its soundboard resonating with the registration changes. But, having made recordings in the same room where this CD was made, I can say that this disc seems to be a faithful document.
What lifts Brookshire's performances out of the usual audiophile (or academic Baroque) dead end is his unusual leavening of drama with humor, and perhaps even a light touch of self-deprecation. I sense that, when he waits just a tad too long for a cadential or false-cadential chord, he is having a bit of fun at his own expense rather than saying, "See how profound I am!" Great late-night listening—this is why they make Cockburn's Special Reserve Port, is it not?
Luscious Watts
Last time out I mentioned darTZeel's NHB-108 from Switzerland as the sweetest-sounding solid-state power amplifier I have ever heard. NHB stands for "Never Heard Before," and I surmise it is also a nose-tweak aimed at the familiar abbreviation NFB, for "negative feedback." The (temporary) return of Stereovox's interconnects and speaker cables, and the arrival of Custom Power Cord Company's Series Two Top Gun AC cords (gloriosky, they're great!), only reinforce that impression.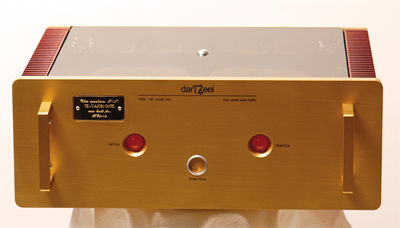 Visually and sonically, what a gorgeous machine! The last time I was as excited by an amplifier, its nameplate said "Halcro." The good news is that the darTZeel costs less than half of what a pair of Halcro dm-58s do. In my medium-size room, darTZeel's 100Wpc coped with all the dynamic demands I threw at it. In my friend, retailer Bob Saglio's larger room, playing the loudest parts of Verdi's Requiem on his Duntech Sovereign 2001s louder than I would care to hear, the darTZeel's indicator lights briefly glowed brightly, indicating that we had gotten within 1dB of the amp's dynamic headroom limit, but the protection circuit did not kick in.
The NHB-108 is the first amplifier in my experience to combine the pristine purity of minimalist solid-state designs with power reserves more than adequate for most non-home-theater listening situations. By "minimalist" I mean that there are a total of just six transistors in each channel, the output devices for each channel being one matched pair of bipolar transistors. To say the least, I was puzzled by this choice: aren't bipolars, well, bipolar? As in, so 1970s?
darTZeel designer and occasional Stereophile contributor (footnote 4) Hervé Delétraz makes compelling cases for all his idiosyncratic engineering choices in his two lengthy owner's-manuals-cum-apologiae-pro-vita-sua, both available for free downloading at Hervé's website and both fascinating reading. Time and again I was reminded of the Firesign Theatre's "Everything you know is wrong."
To take one example, Delétraz makes a mathematical case for his claim that an extraordinarily high output current is not as important as one might think. He also makes plausible arguments that noise and harmonic and intermodulation distortion are not really relevant unless they are audible.
---
Footnote 1: My favorites in that genre are the pitches for Joan Didion's
The Panic in Needle Park
("Romeo and Juliet on Smack") and D. Keith Mano's
Topless
("Episcopal priest inherits topless bar"). Selling your script in five words or fewer is indispensable for highest honors.
Footnote 2: New York readers should note that Bradley Brookshire is giving an all-Bach harpsichord recital at Manhattan's Merkin Hall on Sunday November 2 at 3pm. The Merkin Hall Box Office can be contacted at (212) 501-3330.—John Atkinson
Footnote 3: Appearing on your local cable channel in Nigella Bites, the home-wrecking little hussy. Memo to Nigella's publicist: When I refer to your client as a home-wrecking little hussy, I mean it in the most complimentary manner imaginable. Please let me know about the interview.
Footnote 4: His online-only series of articles about the NHB-108's genesis begins here.