The Fifth Element #47
US composer Morten Lauridsen's
Lux Aeterna
is one of the indisputable masterpieces of the 20th century. John Atkinson has recorded the male vocal group Cantus's performances of Lauridsen's
O Magnum Mysterium
(on
Comfort and Joy: Volume One
, Cantus CTS-1204) and
Ave Maria Dulcissima
(on
Cantus
, Cantus CTS-1207). (And great recordings they are—one engineer chum thinks JA's Cantus recording of
OMM
is the single best-engineered choral recording he's ever heard.)
In a White House ceremony on November 15, 2007, Lauridsen was awarded the National Medal of the Arts. He won that honor, according to the official citation, for "his composition of radiant choral works combining musical power, beauty, and spiritual depth that have thrilled audiences worldwide." Other 2007 recipients included Les Paul and Andrew Wyeth. Lauridsen is only one of eight classical composers, including Aaron Copland and Elliott Carter, ever to receive the National Medal. Bravo. It couldn't happen to a nicer guy.
If you haven't yet heard what all the fuss is about, at least buy the Los Angeles Master Chorale's Lux Aeterna (CD, RCM 19705), probably the best one-disc introduction to Lauridsen's small but spiritually compelling oeuvre. If the 15 bucks or whatever daunts you, I'm sure your local public library has it, or can get it for you in a few days. No excuses!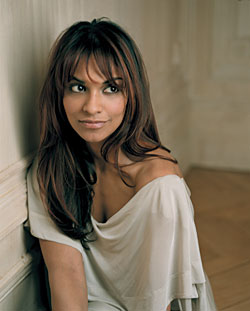 Flashdancin'?
By now you're probably wondering just who is the comely lass lounging around, seemingly waiting for the casting call for the remake of Flashdance. Glad you asked! Because you'll need her name in order to buy her CD, which I think you'll want to do.
She's Danielle de Niese, a dynamic young operatic soprano whose career has really taken off. Decca has recently released her début recording, wittily titled Handel Arias (CD, 475 8746). I'm so relieved they called it that, and not Acid Thrash That Rocks Like a Beast. Because it's all Handel arias, all the time. But it's a very well-chosen program that balances familiar and more obscure works, and is also quite well recorded. And with Les Arts Florissants, led by William Christie, I don't think you could do better in terms of accompanying.
De Niese was born in Australia, but her parents relocated to California when her musical talent became obvious. She studied at the Colburn School of the Performing Arts, and was accepted at Tanglewood when she was 13. By the age of 15 she had made her professional début at Los Angeles Opera—in a leading role. She then became the youngest person accepted into the Metropolitan Opera's Lindemann Young Artist Development Program. Yikes. In recent years she has made big splashes at Glyndebourne, Opera de Lyons, the Barbican, and elsewhere, so this is probably the optimal time to release a recording—no one can claim that she's being pushed or is not ready.
De Niese's voice is powerful, bright, clear, and very agile. She writes many of her own ornamentations, and seems to have a lot of fun singing them—no wallflower she. On this recording she comes across as a lively, spontaneous, but intense singing actress—a different kind of intensity from that manifested in Lorraine Hunt Lieberson's Handel-aria recital on Avie SACD. Hunt Lieberson's intensity was an intense stillness; de Niese's intensity almost bursts out of the speaker cabinets.
Just listening to the CD, I came to the conclusion that de Niese could be a bit of a charge-taking arm-waver, and when I finally got around to watching the making-of DVD included with the press kit, that impression was confirmed by the video clip of her cavorting at Glyndebourne as Cleopatra. Pay no attention to the battleships and Zeppelins—if Cleopatra wants Zeppelins, Zeppelins she shall have, that's my attitude.
Despite the slight touch of cognitive dissonance the staging gave me, de Niese's performance is tremendous, and tremendously assured, with energy left over for the occasional inviting glance or saucy smirk. And yes, it seems she can dance (at least a bit). So let's get that Flashdance remake in the works.
Getting back to the CD, de Niese's traversal of "Lascia ch'io pianga," from Rinaldo, is absolutely hypnotic in effect. You must hear it. Her voice is seductively rich (reminiscent of Kiri te Kanawa's at about the same age), her sense of timing is perfect, and her meshing with the orchestra is all you could ask for. The orchestra throughout is crisp and clear without ever being rushed or strident—this is historically informed performance I can't imagine anyone objecting to.
I've listened to this CD quite a bit, and it wears very well. If I need to note a quibble to retain my critic's credentials, here it is: de Niese was miked somewhat close-in for my tastes. On the making-of DVD, the microphones (at least there were two, for stereo) are at about her chin level and not much more than 2' away. (She was at the rear of the orchestra, so I assume the mikes were cardioid in pattern.) So the perspective is rather close-up, but I adapt to it fairly easily. On the laments, she can be heard breathing perhaps more than she would be in an opera house. I realize that many listeners will say, "Bring it on." The orchestra and harpsichord miking I have no such reservations about.
Click here to hear a sound clip. (Music sample used with permission of Universal.)
You can also visit Danielle de Niese's website or just buy the CD. Highly recommended.
More great recordings (and recording gear)
Any time there is a new recording of anything by Morten Lauridsen, I try to get it. I was particularly motivated when I saw that the Norwegian chamber chorus Grex Vocalis had recorded O Magnum Mysterium, because for more than 20 years, Grex Vocalis's Renessanse for Kor (Kiku FXCD 39) has been one of my all-time favorite CDs of any kind. Their performance of "Innsbruck, ich muss dich lassen" on that disc is one of my desert-island tracks (footnote 1). So I requested Grex Vocalis's recent Christmas-themed CD, O Magnum Mysterium, from their new label, 2L (which stands for the corporate name Lyndberg Lyd.). In reply, I received half a dozen 2L CDs. I'll tell you about the Christmas CD closer to Christmas; for now, I have to tell you about a truly fabulous Bartók CD.
First, some background. 2L's website is worth checking out. They seem to have some time ago switched from releasing CDs to SACDs, and it looks as though they now have as many SACDs (all both hybrid and surround, as far as I can tell) as CDs in their catalog, which is impressive for its eclectic but non-superficial nature. I first encountered 2L by word of mouth; mastering engineer Alan Silverman was knocked out by a 2L Mozart SACD that had been recorded using DXD technology, and Kalman Rubinson named this SACD one of his "Records to Die For" in February. By coincidence, Enjoy the Music scribe Rick Becker was knocked out by the same SACD, and sent me a copy of it.
DXD? I hear you mutter. Right. All we need now is another audio initialism to cope with. I feel your pain. But Digital eXtreme Definition (DXD) is a rather rational response to the loose ends Sony left when it pretty much dropped the SACD ball. Direct Stream Digital, aka DSD, is the very fast one-bit recording method that is the "delivery system" for SACD; in other words, the pits on an SACD represent a one-bit DSD datastream. For many proponents and adherents, DSD is the preferred recording medium as well. The big problem is that few pro-audio production tools are available for DSD, and none are what you'd call affordable. The less-big (for the moment) problem is that DSD is not exactly what you'd call future-proof.
DXD is a PCM-based system that can take advantage of many existing production solutions, such as ProTools HD and the Pyramix DAW, and offers data density claimed to be four times greater than DSD. DXD runs at a 352.8kHz sampling rate and 24-bit resolution. It appears to be the brainchild of, or has been codeveloped by, a company that is new to me, Digital Audio Denmark. They make a modular unit, the AX24 Converter System, which can be optioned as anything from two channels with line inputs, running at 48kHz, to eight channels with mike preamps, running at DXD, DSD, or Double-DSD (128Fs rather than 64Fs, ie, 5.645MHz). US prices run from about $5000 to around $20,000. Telarc outfitted one of its recording rigs with AX24s, for their re-recording in Atlanta of Brahms's Ein deutsches Requiem. Perhaps JA can assign some other Stereophile scribe to evaluate the AX24 when optioned as a stripped-down, playback-only (DAC) device. It sure looks handsome.
Of late, 2L has been recording with DXD, with gear from Merging and Pyramix, then downconverting to DSD for SACD production. The Mozart SACD did sound very, very clean, and if I'd heard that performance at a concert, I would have considered the time very well spent. But I didn't feel a need to keep hearing the recording, pleasant as it was.
However, 2L's Bartók SACD (2L28), by violinist Annar Follesø, pianist Christian Ihle Hadland, and clarinetist Björn Nyman, struck me altogether differently—this is one of the most attractive Bartók releases I have come across in years. A close perusal of the liner notes reveals that it was recorded in 2003 and 2004, before 2L went ultra-hi-rez; the master recording is 24-bit but only 44.1kHz. Fear not—it sounds very good, even as a CD.