The Fifth Element #41
I have not seen
Borat! Cultural Learnings of America for Make Benefit Glorious Nation of Kazakhstan
, and I am not likely to. But the phrase
cultural learnings of America
is a good jumping-off point for an important topic: cultural literacy.
I am in favor of cultural literacy—at least in theory. In practice, though, problems can crop up. "Cultural literacy" is the notion, fostered by thinkers such as Allan Bloom (The Closing of the American Mind), former Education Secretary William J. Bennett (The Book of Virtues), and E.D. Hirsch (Cultural Literacy: What Every American Needs to Know), that adequately informed participation in democratic society requires a basic familiarity with our common cultural legacy as much as it does familiarity with the mechanics of our system of government.
I would stress the personal benefits as much as the societal ones. Bad things, trying things, happen to people all the time, and our common culture—from the Book of Job through King Lear through Richard Strauss's Four Last Songs—allows us to tap into a larger community of archetypes, models, and fellow-sufferers. The riches of culture—drama, painting, dance, poetry, music—enable us better to cope with life when times are bad, and more fully enjoy life when times are good.
So far, so good. But the problems that crop up are at least threefold.
First, people inevitably will disagree about the contents of the minimally required boxload of our "common" culture. You aren't likely to get any two music lovers to agree about the 10 Greatest Rock Albums of All Time. Good luck getting consensus as to the 100 Most Important Works of Music. From the outset, you'll get at least as much disagreement as agreement about what is both "great" and "common" (common meaning held in common rather than ordinary).
Second, apart from the incontestable greats—such as King David, Bach, Mozart, and Shakespeare—inclusion in someone's proposed canon of cultural literacy will at times be the result of a self-perpetuating cycle of mass exposure. This is often related to factors other than ultimate quality. Were I to have to choose a musical example of this phenomenon of popularity disproportionate to quality, I need look no further than Copland's Fanfare for the Common Man (or the Eagles' "Hotel California").
Third, once a work or creator is included in the canon of cultural literacy, he, she, or it risks being reduced to those elements (or element) likely to show up on the test, so to speak. This is probably the biggest problem. There are two kinds of students: those who are engaged by the subject matter, and those who are in it only to pass the course. "John Coltrane? Who? Oh, yeah! 'Sheets of sound'! Next question!"
Multiple-choice testing only adds insult to injury. Reducing an unusually complex artist's entire career to a three-word catchphrase does not enhance comprehension, it impedes it. But that is what happens when 800 years of Western music account for less than 20% of the class time in a Western Civ survey course.
Free stuff!
Anyway, by now you may be wondering where I'm going with this. What I have been trying to do, and would now like your assistance with, is put together a short list of musical works or recordings that people should have heard at least once or twice, to satisfy the most basic requirements of cultural literacy in music for contemporary Americans. I vividly remember a conversation I had years ago with Michael Tilson Thomas (I was then writing for Digital Audio magazine, which shows how long ago that was) in which he passionately and eloquently spoke about pieces of music that tell us what it means to be American. That's the kind of list I mean—keeping in mind that Americans have made a few contributions to the performance of Bach, etc.
Not that I'd seriously suggest adding any new requirements on the road to US citizenship, but here's one way to look at this: If a new-minted US citizen from a non-Western culture, or whose exposure to music had been limited, wanted a short list of records to listen to, to get some idea of what American musical life was about, what should be on that list? What are the pieces that say "American musical life," as Vaughan Williams' Fantasia on a Theme by Thomas Tallis and An Oxford Elegy say "British musical life"?
I want the list to rank the works and recordings in terms of importance, impact, and accessibility—not any chronological or typological scheme. The ability to engender a passionate response means more to me than do other, more intellectualized justifications.
I want the list to encompass most genres of music, not just "serious" music. But no silly music, please. Ish Kabibble and Tiny Tim do not belong on such a list. Mere popularity is not cultural significance. And in this regard, I am cautious about claims to significance that have not withstood some test of time.
Most important, I want the chosen works and recordings to be listenable! Enjoyable! This is not an exercise in "Eat your spinach, it's good for you!" Rather, I want people to write in and say, "I never had gotten around to hearing ----, and I'm so glad that you nudged me toward it." I want works and recordings that can be listened to for pleasure, repeatedly.
For this criterion—enjoyability—I have stayed away from some otherwise admirable efforts that get bogged down in their own scholarship. The Charlie Christian boxed set is wonderful, but having an alternate take of a song follow another alternate take of the same song, and then another take, gets a bit tedious.
Here's where the free stuff comes in. Send your suggested list of 12 works or recordings, with the subject line "Cultural Literacy," to stletters@primediamags.com. (Only 12 works or recordings; no recommendations for further listening, please.) The list-scribblers of the 12 most interesting lists (my sole decision, unless John Atkinson wants to pitch in) received by May 1, 2007, will each win something from Stereophile's online store—such as one of our test CDs or recordings. We'll try not to duplicate anything you already have. I'll post the results in a special online-only update. Keep watching www.stereophile.com for news.
My List-in-Progress
Please remember that my own list is a subjective and idiosyncratic compilation based on my listening biases, and not simply a report on sales figures or performances. In other words, there are a few intentional omissions of "the usual suspects."
For classical works, the recommendation is usually more for a work than for a particular performance. The search engine and recommendations of www.arkivmusic.com are very much better than Amazon.com's for classical collectors. (John Marks Records releases are available from both sites.)
Furthermore, in a spirit of realism, I would not expect that, in order to achieve cultural literacy, people need have heard every track on every original recording, let alone boxed-set compilation; eg, a concrete, experience-based idea of how Christopher Parkening's and Jimi Hendrix's achievements differ will suffice!
A final word: I am not suggesting that the average Stereophile reader is musical-culturally illiterate. However, we all have our gaps. And some of us may know a high school student who thinks that music began with Britney Spears and reached its apogee with Jennifer Lopez; having a handy shopping list for cultural enrichment might be a good thing.
To the list!
1. George Gershwin: Rhapsody in Blue
For further listening: Samuel Barber: Knoxville: Summer of 1915, Violin Concerto.
Leave the deconstruction to the ill-intentioned. Rhapsody in Blue is great music as well as uniquely American music. New parents should be given a copy along with their child's birth certificate.
I have a slight preference for either of Michael Tilson Thomas' jazz-band–version recordings that does not involve a player-piano roll, and a slight prejudice against Bernstein's cuts to the score. But it's hard to go wrong with almost any recording. If all you've heard are the four chords on the airline commercial, by all means borrow whatever your local public library has on the shelf.
As for Barber, I'm partial to Dawn Upshaw's Knoxville, and Elmar Oliveira's Violin Concerto remains a favorite. Both of these works are almost as accessible as the Gershwin, both arguably go deeper into the heart of things, and both will repay repeated listenings.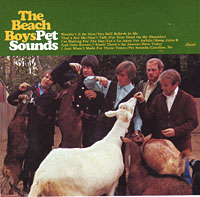 2. The Beach Boys: Pet Sounds
For further listening: Elvis Presley: Elvis: 30 #1 Hits. The Band: The Band.
California, or at least the idea of California, has had a near-magnetic attraction for the American imagination. But what happens when you travel as far West as you can, you reach the ocean, yet your basic human problems remain unsolved?
For Brian Wilson, the answer was to create an idealized world of earnest loyal boys (my buddies) and unthreatening pretty girls (the honeys), and, when that was wearing thin, express all of his late-adolescent angst in one place: Pet Sounds.
The coherence of Wilson's original inspiration was marred by the inclusion of the Beach Boys' unrelated but then-current hit, "Sloop John B." Nutjob Stage Parent From Hell Murry Wilson (a violent assault by whom might have been the cause of Brian's deafness in one ear) did his damnedest to mess things up. But, flawed as it is, Pet Sounds remains as cogent an expression of the American condition as The Grapes of Wrath or The Great Gatsby.
Elvis Aaron Presley, another blighted quester, and The Band, lovingly examining the musical treasures in our second-hand store of a culture, supplement—but in my view do not supplant—Wilson's masterpiece.
3. Willie Nelson: Red-Headed Stranger
For further listening: Hank Williams: The Essential Hank Williams Collection: Turn Back the Years. Garth Brooks: Ropin' the Wind.
Before California was a fixture in the American psyche, the West—the "territory ahead"—exercised its own pull: Leave your past mistakes behind you, become someone new. It's said that the difference between Europe and America is that in Europe, 100 miles is a long distance, while in America, 100 years is a long time.
Created on his own initiative at a time when Willie Nelson was almost on the cusp of stardom, Red-Headed Stranger retells the thrice-told tale of violent sin, and redemption through the love of a good woman. The irony is that the violent sinner was himself a preacher. Recorded on so small a budget they couldn't afford to screw up the sound, Red-Headed Stranger is a feast of small touches that add up to an integral work of chamber-opera proportions.
Hank Williams lived an even shorter life than did Franz Schubert. I hasten to point out that, contrary to legend, Williams did not drink himself to death, but died from acute curvature of the spine—although, without question, anyone suffering from such crippling pain will self-medicate. A tragic life indeed. Nearly all the country music that came after owes him some sort of debt.
Garth Brooks' three best-selling albums account for more than 45 million copies among them. That, and the diversity of his sources and influences—things now taken for granted in country music—show how dynamic a cultural force country music has become.
4. Miles Davis: Porgy and Bess
For further listening: Louis Armstrong: Hot Fives and Sevens. The Complete Norman Granz Jam Sessions. Miles Davis: The Complete Birth of the Cool.
Miles Davis' collaboration with Gil Evans on themes from Gershwin's opera of black life, Porgy and Bess, constitutes a high-water mark for song-form jazz, which is why I give it the nod in favor of the ubiquitous Kind of Blue. This might be the best cover of "Summertime" ever.
No Louis Armstrong, no Miles Davis—it's that simple. If you remember only the amiable clown from Armstrong's television appearances late in his life, you must make the acquaintance of the young lion. The only drawback to listening to Hot Fives and Sevens is that it's hard to conceive how revolutionary this music was at the time of its birth, Armstrong's gestalt having since so thoroughly pervaded the musical landscape.
The Complete Norman Granz Jam Sessions is an encyclopedia of the best post-WWII playing. The Complete Birth of the Cool includes airchecks from the legendary live performances at The Royal Roost that predated the recording sessions. Far be it from me to deny Mike Zwerin his asterisk in music history.
5. Christopher Parkening: Parkening Plays Bach
For further listening: Ry Cooder and V.M. Bhatt: A Meeting by the River.
From the land of sun and surf (and the Beach Boys): Christopher Parkening. It might not be much of an exaggeration to say that Parkening has contributed even more to the popularity of the guitar as a classical instrument than did his teacher and mentor, Andrés Segovia. Disregard the fact that J.S. Bach never wrote a single note for the guitar: Parkening's album of transcriptions remains as musically fresh and technically astonishing as it did thirty-plus years ago.
Also from California: Chameleonic Ry Cooder, this time paired with Indian slide guitarist V.M. Bhatt and an Indian rhythm section. Do I hear an echo of "The Streets of Laredo" in the title track? Regardless, compelling music, in as good a recording as one could ever wish for.