A First System
I'm so much more impressed by good,
affordable
systems than I am by those costing tens or hundreds of thousands of dollars. I find it difficult to concentrate on music when I'm overwhelmed by the high prices of the gear delivering it. Price should never be the most impressive aspect of hi-fi.
When price is the most impressive aspect of a system, the system sucks. Plain and simple. Is that clear?

My first "system"—a Magnavox boombox and CDs.
If your $100,000 speakers and your $80,000 amplifier and your $150,000 turntable do not absolutely knock the crap out of me with heavenly music and sound, to the blissful point where I'm considering robbing a bank, selling an organ, finding a sugar momma, or otherwise dreaming of attaining the funds to acquire such a system because, Good God Almighty, this music is electrifying my once-weary soul, then your silly system sucks and you're just wasting my time.
So, I was happy to see this first system, posted by Tim F. in our Gallery. Sitting on a nice Quadraspire rack, Tim has a Rega P2 turntable with a Bias 2 cartridge and upgraded glass platter; an NAD PP-2 phono preamp; and an NAD C325BEE integrated amplifier—all very fine choices representing good value. Standing on distinctive Quadraspire stands, Tim has PSB Image B25 loudspeakers. (Note the placement of the left speaker, blocking Tim's glass door: Evidence that Tim values sound over practicality!) Speaker wire is Silver Sonic T-14.
I bet the system sounds great.
(And it looks like Tim's got some trees just outside his listening room—always a good thing.)
See the album resting against the wall? That's a band called Harmonia. Jon Iverson told me; he says they're "AWESOME." (And rare is the occasion Jon uses all caps. He's normally very reserved.) So, while Tim clearly has good taste in gear, he also has good taste in music.

Later, I spent some time with a pair of Totem Arro loudspeakers and Musical Fidelity A3.5 CD player and integrated amplifier.
In the comments below the picture of Tim's system, Tim confesses that he had avoided hi-fi for a long time. "I assumed that I couldn't afford it," he says. This breaks my heart. It means we're not doing a good enough job. So, let's reflect on an essay published by John Atkinson in November 1994, "The High End, Mid-Fi, & Pretend High End." I go back to this essay whenever I need to remind myself of what hi-fi is all about. In it, JA very clearly reminds us that hi-fi does not have to be high-priced:
Components primarily designed to meet the needs of audiophiles and music-lovers are worthy of the appellation "high-end," no matter what they cost. The much wider range of products whose genesis lies purely in the need of their manufacturer to fill a gap in their product line or attack a previously unoccupied niche in the market, or even just to flesh out their business plan, are "mid-fi" by definition. It's as simple as that. The next time you find someone equating the words "high" and "end" with "high-priced," or feeling that low-priced is automatically equivalent to "mid-fi," remind them that it ain't necessarily so.
(Ooh, yeah. Did you feel that? I love that paragraph. It gives me chills!)
Let's work together to destroy the notion that hi-fi must be high-priced. Okay?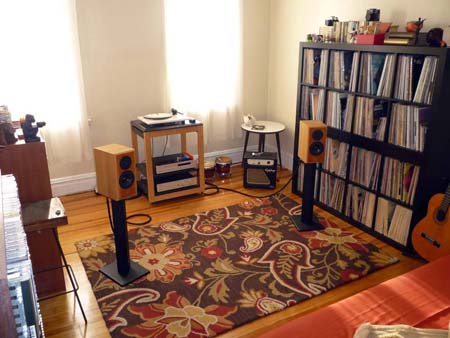 The system today: DeVore Fidelity Gibbon 3 loudspeakers, Rega P3-24 turntable, Exposure 2010S CD player and integrated amplifier, Furutech Evolution cables, Polycrystal equipment rack. The boombox and television are long gone. My living room has been transformed into a listening room.
We've got this idea for a new monthly column in the paper mag. It'll be written by me, and it'll be called "The Entry Level." I'll focus on affordably priced products, but I'll also speak with hobbyists and people in the industry to learn more about their first experiences with hi-fi. I want to know about first times, first systems, first loves, those things that got you into hi-fi—your entries into the art of listening. The thing is: Hi-fi is like anything else—you have to start somewhere. And there is nothing like a beginning.
Even Jon Iverson, whose listening room looks out onto the Garden of Eden, had to start somewhere.

A young Jon Iverson, back in the days when if you wanted something, you built it yourself.