McIntosh C200 preamplifier
In August, I
reviewed
McIntosh's MC501 monoblock power amplifier. In terms of what I'd thought was possible from Mac, this was a revelation. Once memories and lurking preconceptions had been set aside and the amps installed in my system, the MC501 easily established itself as among the finest overall performers I have ever reviewed.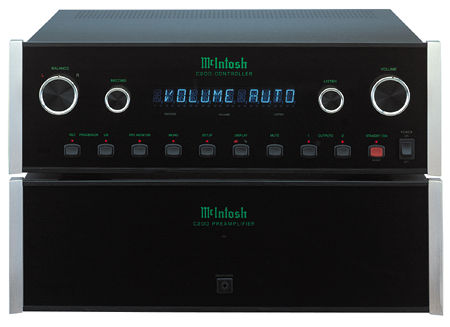 But the pair of MC501s weren't all that McIntosh had sent along last fall. While perusing Mac's website last summer, I came across the C200, which had not been on active display at Home Entertainment 2003, where I had discovered the '501. Introduced three years before the MC501, the C200 had the look of a deadly serious, no-holds-barred control center. While making arrangements for the loan of the power amplifiers, I asked McIntosh's Sally Goff if it might be possible to also obtain a C200. She promptly agreed.
Inside the boxes
Like some other assaults on the state of the front-end art, from the likes of VTL and Mark Levinson, McIntosh's C200 begins with a two-chassis "clean box/dirty box" architecture. The controller box (the C200C, in MacSpeak) contains all power supplies, microprocessors, and control circuitry, while the C200P preamp box holds all of the audio circuitry for maximum noise isolation. A 6' cable with 25-pin connectors carries control signals and power supply voltages from the controller chassis to the audio chassis.
The C200 is a bit more hard-core purist than Mac's other line stages. For one thing, there are no tone controls or other equalization devices. Though the C200 is laden with features, the approach was to design "the finest audio preamplifier ever created" with "no design compromises...in the quest for absolute accuracy, total sonic purity and virtual elimination of distortion and audible noise."
The design brief for the C200 was ambitious—it includes both moving-magnet (MM) and moving-coil (MC) phono sections, a full complement of control loops to accommodate multimedia processors (though none of the active electronics for same, of course), multiple remote turn-ons for other McIntosh components, and pretty much every luxury feature one might desire. The C200's degree of flexibility is reflected by the C200P's well-filled rear panel. It carries three balanced and eight unbalanced input pairs, three balanced and three unbalanced main output pairs, a balanced tape output, and the necessary jacks for monitoring and processor loops.
Additional features include a multistage digital volume control with 213 steps of 0.5dB each that Mac claims has a tracking accuracy to within 0.1dB, adjustable rates of volume and balance change, input trim for all inputs, multichannel passthrough mode, full-function remote control, and even a Mono switch. The manual says that only the "finest precision 1% tolerance resistors and polypropylene caps are used throughout."
The C200 isn't quite as drop-dead stunning as the MC501, but then again, it has a lot more switching functions to perform. It's stylish and beautifully made; the C200 can be taken for nothing but a McIntosh. The controller's front panel is busy but well organized, and features a big, easy-to-read alphanumeric fluorescent display that indicates Listen and Record source selection, volume and balance settings, and setup-mode selections and adjustments. The blue-lit display's brightness can be adjusted or turned off entirely. The Setup mode allows the user to program a variety of settings and defaults into the C200's memory, where they are retained until changed. These include display brightness, rate of change of volume and balance, passthrough options, and the shutting-off of unused input sources. The Setup menus were easy to deal with, and the offered options useful and convenient.
Settling in
Like the MC501, the C200 arrived in nearly bombproof packaging, each chassis in its own large, rugged box. The instruction manual, also like the MC501's, is a model of its kind. Setup was a matter of installing the C200 on my Grand Prix Audio Monaco Modular equipment rack and getting an understanding of the basic programming functions from the manual. The chassis were lighter than I'd have expected, but the C200 is very robust. It's a familiar litany, and a truthful one: The C200 functioned perfectly, made no unusual noises, and did everything it was supposed to, with no hint of fussiness or attitude.
Only one thing about the C200's construction made me a little nervous: its XLR jacks are not of the conventional locking type. While the inadvertent disconnection of a balanced interconnect won't result in the burst of noise that can accompany disconnection of a single-ended cable, it's unusual to see nonlocking XLRs. In accordance with the AES standard, pin 2 of all balanced jacks is wired as hot.
The C200 seemed to require very little break-in time. I left the units on, fully powered up, but in Mute whenever they were in my system. I think I heard the sound become slightly more organic and holistic after 50-75 hours of this, but the changes over time were minimal.
Line it up, will ya, Mac?
The C200 line stage shared most of the sonic traits of its sibling MC501 amplifier, and that is a very good thing. It had precisely the same relaxed, easygoing character. Orchestral music was especially enjoyable through the C200. Eiji Oue and the Minnesota Orchestra's performance of Leonard Bernstein's Candide overture and suite (CD, Reference RR-87CD) was spacious, utterly open, and had a highly credible sense of place and space. Where a conductor like the legendary Leopold Stokowski imposed his will in the mixing room, the Mac let me hear his tinkering. On Smetana's The Moldau, from Rhapsodies (CD, RCA Living Stereo 61503-2), the C200 did not gloss over Stoky's highlighting of the featured solo instruments, but the coherence and satiny shimmer of the strings were notable for their resolution and sense of many players working in perfect unison.
Alan Hovhaness' Symphony 50, Mount St. Helens, with Gerard Schwarz and the Seattle Symphony (CD, Delos DE 3137), had gorgeously subtle and transparent string textures in the opening movement; and, later, luxurious, organ-like brass sonorities. The C200 presented Hovhaness' opulent Easternisms with the lovingly detailed, somewhat distant perspective that is characteristic of this CD.
Spacious techno-spectaculars such as Armin van Buuren's "Never Wanted This," from 76 (CD, Ultra L 1168-2), and Ron van den Beuken's "Clokx," from Ultra.Trance:3 (CD, Ultra UL1180-2), were also excellently rendered. The virtual environments of these tracks were large and cleanly defined, with immense breadth and depth.
The C200's timbral balance was exceedingly neutral from top to bottom. It sailed effortlessly through my usual deep-bass tests: Sugar's "Let's Feel the Music," from Shine (Korean CD, Starworld/BMG PD-6621); and "Dream" and "Sweetest," from Double Rainbow (Japanese CD, Toys Factory TFCC-81650). Not only are these songs wonderful pop music (at least if you've ever had a fondness for techno-pop and/or girl groups), they have the uniquely steep bass transients that only synthesizers are able to generate.
The depth-charge array of deep-down instruments and samples on Metro Area's "Caught Up," from A Bugged-Out Mix by Felix Da Housecat (CD, Emperor Norton EMN-9070-2), was awe-inspiring. Nothing in them fazed the C200 in the slightest. Acoustic bass instruments, however deep they may go, can't generate a synthesizer's zero-to-200mph-in-a-millisecond transients. The C200 proved equally adept at handling the bloomier transients of nonelectronic bass instruments such as acoustic bass and electric bass guitar. "I've Got You to See Me Through," from Eleanor McAvoy's Yola (SACD, Market Square 113) had exceptional bloom and solidity through the C200. Like the MC501, the C200 seemed to know that not all bass transients are created equal.