Industry Update
Linear buys Sunfire:
Following its
acquisition of Imerge
and
Niles
,
Linear, LLC
, a division of
Nortek, Inc.
has acquired
Sunfire Corporation
, manufacturer of high-end amplifiers and speakers. No details of the deal were disclosed, other than to say that Bob Carver "will remain with Sunfire."
Hafler no more: Recent visitors to Hafler's website have been greeted with the following notice:
"Dear Hafler Enthusiasts,
"Hafler Professional products are no longer being manufactured.
"If you are in need of product information, specifications or owners manuals, this website is fully active and you'll likely find the information you're looking for here.
"If you're looking to purchase a specific Hafler model, please contact one of our Hafler US Distributors or World Distributors.
"If you're interested in purchasing a factory refurbished Hafler product at a great price, you'll find them at http://stores.ebay.com/High-Desert-Audio-Store.
"If you are in need of warranty service or have a technical question, please call 1-866-GOHAFLER or email us at support@hafler.com.
"If you are in need of out-of-warranty service, please contact one of our Authorized Hafler Service Centers."
Hafler, once one of the pre-eminent brands in consumer audio, has seemed a bit rudderless since its 1987 acquisition by Rockford Corporation, although Hafler's most recent prosumer products, such as its TRM series powered monitors, seemed to signal a comeback. Does the website's ominous message signal an end to the storied brand name? Gosh, we hope not.
NHT's new "Classics": NHT is introducing a new line of acoustic-suspension loudspeakers it has modestly dubbed Classics.
Scheduled to ship in October, NHT Classic will consist of eight models.
The Absolute Zero ($200—all prices are per speaker unless otherwise noted) is an ultra-compact two-way bookshelf speaker "featuring the output and performance that made the original Super Zero a classic." The Two ($250) is a "traditional NHT two-way design, employing a 6.5" woofer." The Three ($400), "a completely new design," incorporates a new ¾" aluminum dome tweeter, 2" aluminum dome midrange array, and a 6.5" woofer in a compact bookshelf model. The Four ($1800/pair), a compact tower speaker, features a high-output, four-way system that adds a side-firing 10" aluminum cone woofer to the same dome tweeter/midrange array as the Three bookshelf model. The system is bi-ampable, and can be used with NHT's X2 crossover and A1 amplifiers. The 2C ($450), a three-way center channel speaker, employs the same dome tweeter/midrange array as the models Three and Four, combined with dual 5.25" woofers. The 3C ($600), also designed as a companion to the Models Three and Four, uses dual 6.5" woofers. The Ten ($600), a compact, powered subwoofer with a 10" aluminum-cone woofer and a built-in 150W amplifier. The Twelve ($850), is similar to the Ten, but with a 12" driver and 250W amplifier.
Oregon Scientific and NXT: Oregon Scientific, a company best-known for nifty alarm clocks, pedometers, and personal weather stations, has announced a miniature stereo system employing NXT SurfaceSound Technology. The $349 Music Element is a "2.1 audio system" (translation: two NXT -based satellites and a subwoofer) that also includes a "compact soft-loading CD player" that will play MP3 CDs. The press release notes, "The dispersed audio performance, characteristic of NXT SurfaceSound technology, delivers an impressive, room-filling sound, while the independent volume, bass, treble and subwoofer level controls provide users with the option of adjusting the system's audio output to suit their environment." The Music Element will be available in October.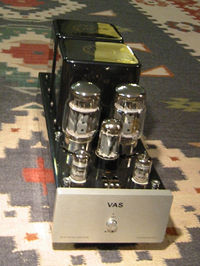 VAS' new monoblock: Sze Leung, whose company VAS Audio, imports Cayin Audio equipment into the US, announced a new amplifier of his own design. The Citation Sound-2 is a tubed monoblock that delivers 50W in ultraliner or 25W in triode. List price is $2495/pair and the warranty is three years, parts and labor (90 days for the tubes). Leung will deliver the amp with the purchaser's choice of 6550EHs, 6CA7EHs, or EL-34s. What makes the CS-2 different? "I'm using twice the transformer an amp with this output would normally have, which makes it run cool and prolongs tube life," Leung claims. "And because I know what it's like to be an audiophile without a bottomless wallet, I'm keeping the price down by only offering it on my website."