CEDIA Day One
The first day of CEDIA, like the first day of CES, is clogged with highly structured press conferences by the major international electronics companies and, since the show floor is not yet ready for primetime and there is the minute possibility that they might actually say something interesting, all the press faithfully parade from one to the next. Sure, I am little less enthusiastic than most since my, and, I hope, our interests are focused on audio, much less so on video and progressively less and less on home integration and central vacuum systems.
But, mirabile dictu, in the course of lots of Blu-ray brouhaha, Sony actually announced the debut of a new SACD player, the SCD-XA5400ES! Not only is this an ES series component, Sony's highest-spec line noted for attention to detail and seriously overclad chassis construction, it will play CD, DVD and SACD with stereo analog outputs, both balanced and unbalanced, and all discs via HDMI! There was mention of a special communications protocol that, when this player is used with one of the new Sony A/V receivers, makes for a significant reduction in jitter, but details were sparse. What really raised my eye-brows was that this is a 5-disc carousel player. The only thing that Sony might do to amaze me more would be to actually release new SACDs.
This is the CEDIA that I anticipated would see the High End finally get on board with audio via HDMI and, so far, I have not been greatly disappointed at any of my stops. Every brand either had a product available now, to be shipped next month or, at worst, by CES in January. Some, even, surprised me.
When NAD released their impressive Master series a while back, I found the two-channel components more appealing than the M15 multichannel processor since, even then, it was apparent that the interface realities for multichannel were changing. Despite its elegance and performance, the M15 did not seem forward-looking and, it seemed that its little brother, the T175, had leap-frogged it with HDMI audio processing.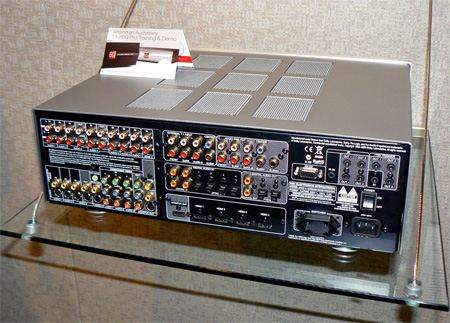 Big change. Not only has NAD updated the T175 to the T175HD with codecs for DTS-HD MA and Dolby TrueHD, both the T175HD and the M15HD have fully modular back panels that permit hardware upgrades to protect ones investment for the future. The picture shows the M15HD's rear panel sporting a new HDMI board with a Sigma Designs VXP video processing. Interestingly, the M15HD sports AudysseyPro capabilities but no Audyssey MultEQ XT for quick auto EQ. At $4499, this looks like a do everything or, rather, do everything well processor that lacks nothing except balanced outputs. Of course, anything's possible with that snazzy modular construction.
Speaking of modular construction, one of its long-term adherents is Theta Digital and, while upgrades have not appeared promptly in recent years, the situation has changed under its new owners, ATI. The Casablanca III has an HDMI v1.3 plug-in card for video and audio and, to prove it, we are publishing another rear-panel photo. Availability is said to be before the end of 2008 with price T.B.D (but the unofficial word is that it will not be much more than $3k or so).