dCS Scarlatti SACD/CD playback system
Is anyone in this economy shopping for a four-box, rack-swallowing, two-channel SACD/CD player contending for the state of the art and costing $79,996? dCS is betting that its Scarlatti will attract a small crowd of those wealthy music enthusiasts who, in
any
economy, reliably pony up for the best. For the rest of us, the Scarlatti will be a spectator sport.
While ease of use is one of digital audio's greatest selling points, "simplicity" is not the Scarlatti's middle name. Although this ultra-complex system, including the optional new Upsampler ($12,999), has more menu choices than your local Applebee's, once your dealer has installed and configured the system, you can't stray too far—unless you want to, thanks to the macro-programmed Philips Pronto 9400 remote control with LCD touchscreen (supplied). Still, accidentally press one wrong button and you can lose yourself in a nest of setup menus, or interrupt communications among the four components comprising the system, and leave yourself with no sound.
So it's important to actively participate in setting up the Scarlatti, and to understand how its various components and connectivity variants interact to bring you the music. The greater your comprehension, the more likely you are to play, discovering the system's many sonic and technical capabilities—and the less likely you are to be intimidated.
What it is
The Scarlatti system replaces dCS's combo of Verdi SACD/CD transport, Purcell D/D converter, and Elgar Plus DAC, which I reviewed in the April 2003 Stereophile (Vol.26 No.4) and adds a master clock unit developed from the dCS Verona that John Atkinson reviewed in March 2005. Calling the Scarlatti an SACD/CD player is like calling the Hubble a telescope.
At least for now, in today's fading disc-based digital world, the heart of the Scarlatti is the SACD/CD transport itself ($32,999), based on the best from Teac/Esoteric. It loads quickly, operates smoothly, is satisfyingly responsive, and upsamples to DSD, if desired. It can communicate with the Scarlatti DAC via coax, TosLink, and/or BNC S/PDIF, AES/EBU, or FireWire (1394) connections, depending on the sampling rate and type of data being transferred.
The fully balanced Scarlatti DAC ($23,999) incorporates a significantly updated edition of dCS's proprietary, oft-written-about Ring DAC technology. Because it incorporates both multiple selectable digital inputs, and control in the digital domain of both volume and balance, in an all-digital system the DAC can be used to directly drive the power amplifier. The balanced analog output uses proprietary discrete circuitry, while the single-ended output is based on op-amps. dCS figures buyers will be running balanced.
While the Scarlatti transport and DAC themselves comprise a complete system, dCS also supplied the optional Scarlatti Master Clock ($9999), claiming that stripping the clock data from the signal and slaving all components to the outboard clock reduces jitter and produces better sound.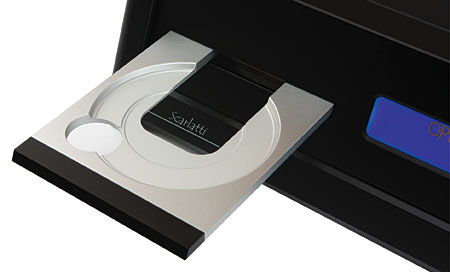 Finally, there's the newest dCS component, the Scarlatti Upsampler ($12,999), which, among other things, corrects one of the Scarlatti DAC's glaring omissions (by 2009 standards) by providing a USB2.0 data port. dCS claims that outsourcing the sample-rate-conversion process to a separate unit instead of doing it in the transport results in significantly better sound. While the transport's CD-upsampling abilities are "limited" to DSD, the Upsampler lets you try 88.2kHz, 96kHz, 176.4kHz and 192kHz PCM and DSD (1-bit data at 2.822MHz). Like the new USB DACs from Wavelength and Ayre Acoustics, the USB connection operates in the preferred asynchronous mode, where the DAC controls the streaming of data from the computer, resulting in very low word-clock jitter. By contrast, USB's usual "adaptive" mode allows the computer to control the data flow, leaving the DAC to try to make sense of the timing information, which results in high jitter and degraded sound quality.
In addition to letting you play back high-resolution 24-bit/96kHz audio tracks downloaded from sites like HDtracks.com, USB connectivity lets you play back many DVD-Audio discs, and even Reference Recordings' 24/176 HRx DVD-R data discs and Chesky's new 24/192 Master Series discs, albeit at a reduced sampling rate of 96kHz, the maximum currently possible via USB2.0. (But if your computer has a 192kHz-capable soundcard, like the Lynx AES16 or RME HDSP 9652 Hammerfall, you can run analog to your current preamplifier or digital to the Scarlatti DAC and hear these files in full resolution and bandwidth.)
With the failure of DVD-A and the marginalization of SACD, the future of "mainstream" hi-rez sound is via the Internet, which makes USB connectivity mandatory for any digital product—and especially one this expensive—that wants to be considered future-proof. (Sorry, SACD fans—and I'm one of you—but the catalog is limited, even if new titles do come out regularly.)
A formidable stack
Getting the most from the Scarlatti system requires multiple connections, including FireWire between DAC and transport and DAC and Upsampler, BNC connections between the Master Clock and its three slaves, dual AES/EBU balanced between Upsampler and DAC, single AES/EBU and RCA S/PDIF between transport and Upsampler, and, in my system, S/PDIF connections between the DAC and my Sooloos Music Server and Alesis Masterlink hard-disk recorder. Add four high-quality AC cables, and behind my equipment rack things got very busy—and costly. But dCS does supply a long USB cable for easy laptop connectivity.