Monster Cable Beats by Dr. Dre studio headphones
I was looking out the window. I was waiting for the plane to take off. I was wearing Monster Cable's Beats by Dr. Dre Studio headphones ($349.95). I was listening to Pens' burning, fuzzed-out, 27-minute onslaught,
Hey Friend, What You Doing?
(320kbps MP3; LP, De Stijl IND071). I was shouting with sudden shock and pain.
"Ow! What?"
My brother-in-law had reached across the aisle and punched me in the leg. He'd been trying to get my attention for a while.
"How do the headphones sound?"
"They sound good, jerk. I couldn't hear a thing you were saying." Apparently, the Beats' noise-canceling feature was working as advertised.
I had just discovered it. Moments earlier, I'd settled into my seat and plugged the Beats' seductive red cable into my iPod Nano's mini-jack. I'd selected an album and pressed Play. Nothing.
Included in the Beats' impressive packaging are two Duracell AAA batteries. I hadn't installed them. I removed the headphones and searched all over for a battery compartment. Again: Nothing. I was perplexed. And charley-horsed.
The Beats
The Beats by Dr. Dre (9.2oz) have a chunky, padded, shiny black headband that slopes down and expands almost seamlessly into circular earcup supports. The large, oblong earcups are extremely comfortable and can swivel gently, back and forth and from side to side. Thin accents of silver and red wrap round each earpiece—a subtle, handsome touch. On the outside of each earcup is a metallic disc that curves into a graceful red b, the now-familiar logo of the popular Beats brand. Moving back up the shiny headband, four tiny hex-head screws reveal the seam at which the headphones can be expanded along their internal metal bracing. This is followed by a small Monster Cable logo and, finally, at the very apex of the band, four words: beats by dr. dre.
All this, but no sign of a battery compartment. Defeated and desperate, I consulted the quick-start guide. First sentence: "Battery compartment is located in the left earcup." Oh. Second sentence: "Press down and turn earcup cover counterclockwise." I did so, et voilà. Clever. I installed the batteries.
The right earcup has a small power switch. With the batteries installed, moving the switch to the far left activates the headphones and ignites a red LED located below the b. When the batteries run low, the LED goes amber.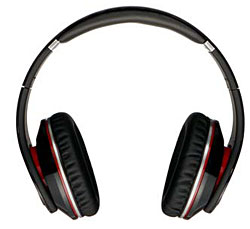 Batteries. I sort of hate them. I kept forgetting to turn off the headphones. I kept draining my batteries. If you buy a set of Beats headphones, remember to turn them off at the end of your listening session, or be prepared to buy lots of batteries.
To mute your music, press and hold the metallic disc on the Beats' right earcup. Release to resume listening. Clever. Learn the deft use of this, to avoid punches in the leg.
Earlier, I mentioned the Beats' impressive packaging. Opening a set of Beats headphones reminded me of unboxing a brand-new pair of sneakers. As a kid, I'd sit there in my bedroom, staring at my new sneakers, intoxicated by that scent of leather and rubber and thick cardboard. I wonder if Dr. Dre had this in mind. At the press conference for Lady Gaga's Heartbeats, Dre had mentioned that his lawyers had originally asked him to market sneakers. "Fuck sneakers," Interscope Records chairman Jimmy Iovine told Dre. "Let's sell speakers."
Anyway, the packaging is outstanding. Do you want pride of ownership? Image? Style? Convenience? The packaging and design of Monster Cable's Beats by Dr. Dre provide all of that. You'll want to display the hefty red box in your recording studio or your bedroom, as the case may be. Pull on the silky tabs and the box unfolds like a case of an expensive set of knives, revealing the padded carrying case, already containing the Beats headphones.