Grado SR60i headphones
Here's a question for a Stereophile.com poll: What's the best hi-fi value of the last 15 years? I'd bet that, 16 years after its introduction, Grado Laboratories' SR60 headphones would get more than a few votes.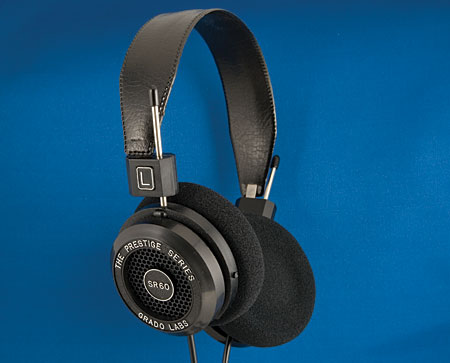 When introduced, in 1993 or '94, the Grado SR60 was cheap by hi-fi standards—just $69. The early '90s were a great era for personal sound—ie, headphones. It was a time when, for the first time in my memory, it became possible to buy really good headphones for under $1000, let alone for less than $100.
Corey Greenberg, in his June 1994 review of the Grado SR60s (Vol.17 No.6), noted that, after auditioning many of the affordable headphones then available, "I just wanted to lower myself into a tub of Noxzema and be left alone for a couple of months." I'm not exactly sure what he meant by the Noxzema bit—I've never been afflicted with that particular temptation—but I figure it can't be good. Fortunately for Corey, the SR60s appeared in time to save him from drowning in skin cream.
The SR60s' subsequent success is easy to understand. It sounded good—honest, musical, warm—and it was cheap. Regular people who hadn't grown accustomed to the absurd prices of high-end gear could buy a pair with no loss of self-respect.
Those virtues of value and musical honesty were the ones that attracted me a few years later, when I bought my own pair of SR60s. Like Corey, I sought affordable 'phones that would sound good when driven by the feeble output stage of whatever portable device I was using at the time. No other 'phones I auditioned anywhere near the Grados' price seriously challenged them. The sound of the day was fuzzy and electronic, with boomy bass; either the designers weren't listening to the headphones they designed, or they were aiming for the big, wide middle of the sonic bell curve. The SR60s lacked the combination of negative sound qualities I was hearing from their locally available competitors, and which always reminded me of a hip-hop–playing low-rider pulling up next to me at a stoplight.
Fifteen years later, I still own those SR60s, and use them almost daily (mostly with my TV, the sound channeled through my Benchmark DAC1 D/A converter). They've given me just two tiny problems: The original earpads were uncomfortable, and I lost the tiny rubber endcaps that secure the earpieces to the headband. A new puppy solved the first problem by eating one earpad, which prompted me to order the far comfier Large Grado Pads, called the S-cushion and widely available online for $15–$20. The second problem never really was one; every six months or so, I spend 10 seconds threading the earpad back on. (When they read this review, the folks at Grado will send me a replacement endcap—or maybe I'll steal one from the review sample.)
Here's the most remarkable thing about the SR60s: The 2009 Stereophile Buyer's Guide listed their price at $69—no increase in 15 or 16 years. If the SR60s were a great deal for $69 in 1994, they were an astonishing deal at that price in 2009.
Updating a Budget Classic
But what about this year? The 2010 Buyer's Guide lists a new model, the SR60i—the subject of this review. The price is higher, but only a little: $79. Is the new version worth the extra $10? Well, even the old version was worth the extra $10, and a good bit more: an increase of $10 in 15 years covers less than half the inflation of the dollar in that period. Grado's John Chen tells me that your extra $10 gets you "an improved driver" and a new cable with "a higher conductor count." I speculate that the SR60is are also cheaper to manufacture: How else to explain such a small price increase? But, whatever—so long as they haven't messed up the sound.
Sound
The outstanding qualities of the SR60s were the warmth and honesty of their sound. These have been retained in the SR60is, though there may be a shade less warmth. The SR60s were free of obvious colorations and unfortunate resonances; so were the SR60is. The new edition seems to go a bit deeper in the bass, though I didn't find this subjectively important. The one difference that I did find important enough to affect my experience of the music was that the midrange sounded a touch more vivid. I found most music a little more involving through the SR60is; I recall especially "MDM," track 1 of Charles Mingus's Mingus The Candid Recordings (LP, Barnaby, KZ 31034); the tones of Eric Dolphy's alto saxophone and bass clarinet seemed a bit richer through the SR60is. Keep in mind, though, that I'm comparing the new Grados with a pair at least 15 years old. The older 'phones may just be tired.
Grado says that the SR60is are fine to use with portable players. I agree—but only in a quiet place. Their sensitivity was a bit low for my iPhone (used without a headphone amp). In a reasonably quiet home setting, the volume levels achievable were perfectly adequate, but if you plan to listen on airplanes or in other noisy places, you'll want more volume—or, better, more isolation. Try in-ear 'phones, many of which have been reviewed in Stereophile's pages. They're a better solution than electronic noise reduction.
The Verdict
John Grado took over from his uncle Joe Grado, the company's famous founder, some 20 years ago. He's revised one of high-end audio's great bargains, and without messing it up by raising its price too much or by compromising its performance. In fact, in my opinion, the SR60i is modestly better than the original, and remains one of audio's great bargains.