Zesto Audio Leto line preamplifier Page 2
The Zesto's reproduction of the highs had one shortcoming, though it rarely raised its head as I listened to dozens of records. When listening to recordings with passages of significant high-frequency energy, I noticed a slight tense quality, as the preamp lost its normally relaxed demeanor. I heard this during the louder guitar-and-drum passages of the early Beatles recordings on
Mono Masters
(CD, Parlophone LC 0299-7), and even during the more active sections of "Ear Topology," from my jazz quartet Attention Screen's
Takes Flight at Yamaha
(CD, Stereophile STPH021-2). On the latter track, drummer Mark Flynn's boisterous passages with considerable cymbal and snare content seemed a hair less refined than I'm used to hearing on this recording.
The Leto's bass was beyond reproach. Double-bassist William Parker plays a solo on the title track of Matthew Shipp's Nu-Bop—the Zesto reproduced it with clarity and forceful dynamics, while retaining the instrument's woody, airy texture. Similarly, throughout John Zorn's The Dreamers (CD, Tzadik TZ 7366), Trevor Dunn's electric bass sounded clean, fast, and tuneful, and gave the rhythm section a powerful anchor with no trace of overhang.
With most recordings, I was astounded by the Leto's wide and linear dynamic range, from ppp to fff. The dynamic envelope of the 10 musicians performing Tomiko Kohjiba's The Transmigration of the Soul, on the Santa Fe Chamber Music Festival's Festival, was startling in its subtlety and drama (CD, Stereophile STPH007-2). Throughout the entire piece, the Zesto produced a startling sense of presence in the high-level passages—particularly noticeable in soprano Kendra Colton and percussionist Tyler Mack's duet—with no trace of compression, or loss of any of this work's subtle inner detail.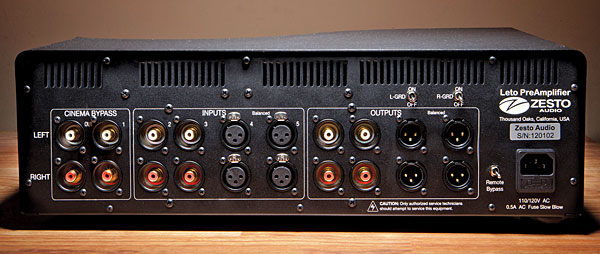 The Leto's wide dynamic range was even more noticeable with smaller groups. With "Fruit Forward," from Attention Screen's Live at Merkin Hall (CD, Stereophile STPH018-2), the preamp reproduced the entire dynamic range of Mark Flynn's drum kit, including his difficult-to-reproduce bashing of his Korean tuk drum—I was reminded of the dynamic envelope I heard when sitting next to him while this track was being recorded. Cyrus Chestnut's pounding piano solo in "Reckless Blues," from Marilyn Peyroux's Dreamland (CD, Atlantic 82946-2), kicked me in the chest but didn't detract from the band's vocal/instrumental balance. Even Miles Davis's trumpet solo in "My Funny Valentine," from The Columbia Years 1955–1985 (CD, Columbia C4K 45000), and János Starker's playing of J.S. Bach's Suites for Solo Cello (CD, Mercury Living Presence 432 756-2), both triggered the Ellen Test: My wife asks me to turn the stereo down whenever the volume rises so far above the normal listening level that it startles her.
However, with a few recordings in which the high overall level coincide with densely scored instrumental passages, I noticed that, compared with other preamps I've listened to with the same recordings, the Zesto seemed to run out of gas a bit in the loudest passages; in short, the Leto's dynamic range seemed to stretch only from ppp to ff. I noticed this with only three records: the boisterous finale of "Dog Breath Variations/Uncle Meat," from Frank Zappa's The Yellow Shark (CD, Barking Pumpkin R2 71600), which includes an overprominent bass drum; the loud tutti sections of "Third World Anthem," from Jack DeJohnette's :rarum XII: Selected Recordings (CD, :rarumECM 8012); and the most boisterous passages of the Danse Infernale section of Stravinsky's The Firebird, with Dorati and the London Symphony (CD, Mercury Living Presence 432 012-2).
With well-recorded rock and small jazz groups, I was taken with how the Leto presented a coherent rhythmic package. I found myself tapping my toes to the early Beatles recordings on Mono Masters, as well as to the title track of Chesky's Jazz in the New Harmonic, with its infectious opening double-bass vamp.
The Zesto Leto most impressed me with its ability to articulate transients. I loved all the quirky drum fills that pianist Herbie Nichols writes into the pieces on his The Complete Blue Note Recordings (CD, Blue Note CDP 8 59352 2), played by Max Roach or Art Blakey, depending on the track—the speed, dynamic envelope, and delineation of the drums' pitches was incredibly lifelike. In this regard, I was most impressed by the Leto's reproduction of Pepe Romero's Flamenco! (CD, Mercury Living Presence 434 136-2). The guitarist's phrasing of transients is ridiculously fast and difficult, but the recording sounded perfectly clean, with no artificial sharpness or blurring.
Comparison Shopping
Comparing the Zesto Leto with my long-term reference, the Audio Valve Eklipse line stage ($5799), I found the preamps to be nearly identical in their abilities to render inner midrange detail and low-level dynamic articulation, although decays of notes seemed a bit longer through the Eklipse, and its perspective on the midrange was a touch more forward. The two preamps shared the same lush, uncolored liquidity, and a consistent reproduction of timbres.
The Audio Valve's bass extended a bit lower, and it had superior high-level dynamic capabilities. However, the Zesto's highs were a bit more detailed.
Build the Preamp, They Will Come
I was very impressed with the Leto. Zesto Audio has produced a well-made, stunningly gorgeous product that gave me hours of pleasure as I listened to a wide range of recordings. In this crazy market of ever-increasing prices, a tubed line stage with so many strengths, so few and negligible weaknesses, and that can produce this level of musical satisfaction without costing somewhere in five figures, is commendable. In that sense, the Zesto Leto line stage is a veritable bargain.