Youn Sun Nah's Same Girl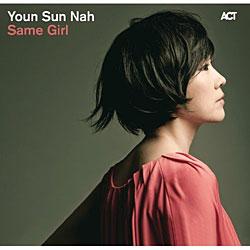 Has anyone here ever heard of Youn Sun Nah, or am I just out of it? She's a South Korean singer, 42 (though she looks 25), born to a musical family. She's spent the last decade or so in France and has built a strong reputation on the European concert tour the last couple years, but there have been no appearances or even press about her stateside, not that I know of anyway.
Well, let me get a ball rolling. Her new CD, Same Girl (on the German label ACT), is one of the most refreshing jazz vocal albums I've heard in a long while.
She has operatic range and amazing control, lacing a passage with a sly twisted note, an edge of vibrato, or a sudden swoop to the stratosphere, then landing right back on target, but she makes it all seem effortless, even casual. She does silky, husky, passionate, and insouciant—but all for the sake of the song, never just to show off her stuff.
Same Girl starts with a slow, haunting version of "My Favorite Things," accompanied only by her own thumb-strums of the kalimba. (You can hear a piece of it on her website.) The next 10 tracks include the title tune (by Randy Newman), Jackson C. Frank's "My Name Is Carnival," Metallica's "Enter Sandman," a Korean folk song, and a couple of originals, one delightful ("Uncertain Weather"), one a little too cute ("Pancake").
Her band of northern European musicians is accomplished but not daring. I'd like to hear her stretch out with some top-notch improvising jazz musicians in the States. Someone: Listen to this album, and bring her over for a gig!
Oh, the album was recorded by one Lars Nilsson at Nilento Studios in Gothenburg, Sweden, and it sounds terrific—very vivid, dynamic, and tonally true.