Wired for Wireless at AudioVision SF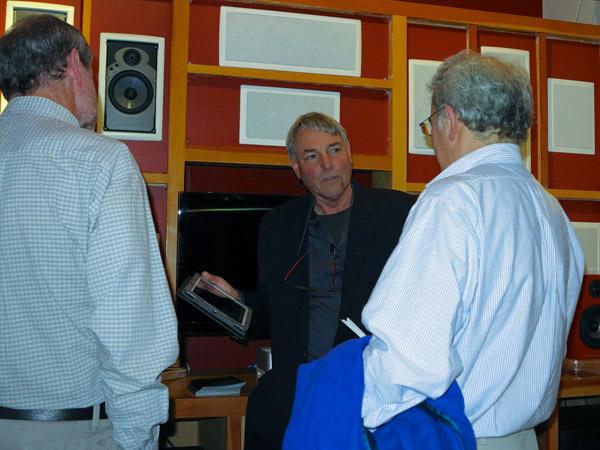 If ever one needed an object lesson on how to put on a successful demo, the team at AudioVision San Francisco provided. At an evening entitled "A Sonos Wireless Event," held on the evening of February 7, at least three demonstrations were held simultaneously: the first in the store's main "High-End System" room, which in itself involved two different systems; a second in the store's smaller demo room, again including a switch of
Triangle loudspeakers
,
Bel Canto Design
electronics, and
Nordost
cabling; and at least one more in the hallway. Representatives from
Sonos Wireless Audio
, Bel Canto Design and Nordost conducted the demos with an able assist from AudioVision staff.
Every available space in the tight fit, packed-to-the-gills-with-equipment store was filled with people. Indeed, there was so much buzz around the event that the second session, which first began around 9 pm in the "high-end system" room, drew another full house.
Part of the excitement was generated by the musical curiosity of AudioVision's co-owners, Randy Johnson and Antonio Long. Declaring liberation from Diana Krall and the like—"I'm not playing audiophile recordings, I'm playing music"—Long chose indie artists from small labels whose music wasn't always ideally recorded but was always interesting. How many demos do you attend where, after a single classical chamber music excerpt, you hear Angus Stone, Elbow, Michelle Shocked, Bat for Lashes, Gary Clark Jr., and other tracks that demand far more from a sound system than your stereotypical low-voiced female jazz artist with small combo?
There was only one hitch: the event wasn't wireless. Although Sonos equipment is designed to run wirelessly on its own Sonos mesh network, independent of an existing WiFi set-up, it would not have run smoothly in a room packed with bodies, most of which had in either their pockets or hands at least one wireless device of the Apple variety. To the expected question, "What's the difference in sound between wired and wireless," Matt Bruen, Sonos' Western Regional Sales Manager, replied, "It functions exactly the same, wired or wireless. There should be no sonic degradation from wireless."
Bruen explained that Sonos was founded in 2002 "because the music listening experience was so primitive back then." The company that calls itself "a music company, not a high-end company," has since developed a wireless music system, albeit one that still requires power cables, to access all the music in your collection, wherever it is stored, via an app that controls playback via computer or hand-held devices. You can even access worldwide internet radio channels, stream music from your iPhone, import files from iTunes, access up to 16 music folders on computers at once, and play different music in different zones of your home of office. You can also access your NAS drive without turning computers on. With software constantly updated to keep pace, "we realistically have a solution for every room in your house." All this seems to be accomplished via Sonos Connect ($349) and the mobile or computer device(s) of your choice.
"We love Sonos because they've solved the problems to managing your music easily, and they help you do it without a media manager" chimed in Bel Canto Design's PJ Zornosa. "You don't have to worry about your router catching up."
Next, Antonio Long addressed the quality of your music rips. "iTunes doesn't do a good job of ripping your music," he said. "I've done a huge amount of research, and found that the rips on the Naim UnitiServe sound better than anything I've ever heard."
The Systems
With no one from Triangle on hand to introduce the two loudspeakers in use in the main room, the stand-mounted Triangle Magellan Duetto ($5999/pair) and floor-standing Magellan Cello ($12,900/pair), Zornosa spoke briefly about the partner electronics: Bel Canto DAC 2.5 ($1995) and Reference 500S power amp ($2695) for the stand-mounts, and Bel Canto DAC3.5VB Mk.II w/VBS1 ($5490) and Reference 1000 Mk.II monoblock amplifiers ($5990/pair) for the larger speakers. Most of the components were positioned on a Stillpoints Rack, with Nordost Sort Kones under some devices.
"Our class-D amps don't sound like switching amplifiers," Zornosa claimed. "Manufactured by our little 21-year old Minneapolis company, they use very little electricity and have separate power supplies."
"Nordost is the foundation," said Long. "Cables are not tweaks; they are foundation pieces. I'm more than willing to show you the difference and why, if you use zip cable, you're wasting your money on a good pair of speakers."
Michael Marko, Nordost Western Regional Sales Manager, discussed the synergistic relationship between cables in the Nordost family. Both he and Long stressed the importance of not mixing cables from different companies. "Most of the time it's essential to stick with one geometry and similar materials," he said.
Marko explained that Nordost's flat ribbon cable is ridiculously difficult to build. With a micro-thread of Teflon wound around each conductor, it boasts a dielectric that is an impressive 80% air. It is also guaranteed for life "except for puppy bites." To which I add, if there's anything our two part-terriers, Daisy Mae Doven and Leo Gleesun, know for sure, it's to stay away from the cables!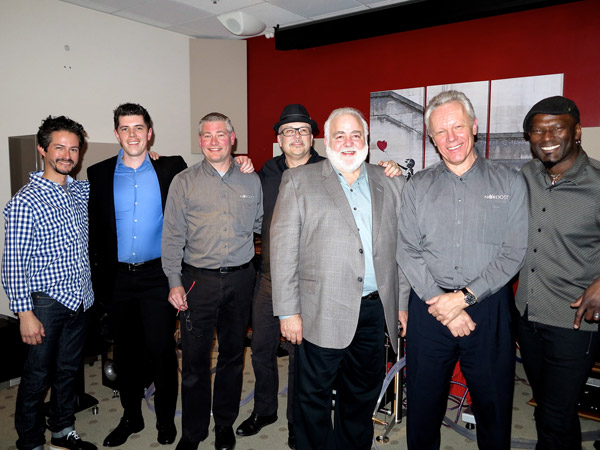 With Nordost Blue Heaven digital ($199) and Frey 2 speaker cable ($3299) doing the honors on the smaller system; Nordost Heimdall 2 digital ($699), Tyr 2 interconnect ($2399/pair), and Tyr 2 speaker cable ($7399/pair) on the more expensive set-up; and, I believe, Nordost's Quantum power purifier, QBase power distribution system, and Frey 2 power ($799 each) in use throughout, the two systems delivered some of the most solid and impressive sound I've heard in AudioVision's problematic main room. I can't pretend that the class-D amplification delivered the most colorful presentation on the planet, but it was far more satisfying than the class-D from a different company that I heard a few years back, remarkably detailed and controlled on complex heavy metal, and quite musical. Consider me impressed.
Elsewhere in the store, Sonos' Geoff Marks conducted constant one-on-one and small group discussions with customers in the hallway, and other members of the Sonos team joined Nordost's Michael Woods for Sonos and Nordost power cable comparisons in the smaller room. Although I wasn't present, Stephen Mejias and I have covered Nordost comparison demos in numerous show reports, and can attest to how convincing they are. Given the attention paid to everyone in attendance, and the quality of sound and music, it's easy to understand why AudioVision has become a major dealer for the brands it carries.