Wilson Audio Specialties Yvette loudspeaker Page 2
Instead of re-creating a performance in my listening room, the Yvettes were transporting me to the performance. This is something that's easy to say but hard to imagine until you've heard it—and when you have, it's impossible to forget. Every pair of speakers I've spent time with has re-created a model of the performance in my listening room. With good speakers, by definition, those models were detailed and accurate. Great speakers seemed to dissolve my room's walls. The very best speakers have replaced my entire room with the model. These last few were the speakers I've most praised, and I'm quite certain that, in review after review, I've described listening to them as "like being there." Hearing the Yvettes suggests that I should consider recalibrating my audio descriptors. Live and learn.
Logic would suggest that, when I realized what the Yvettes were doing, I was listening to a simply recorded, live performance of acoustic music. Instead, it was a 1964 Norman Granz production, Oscar Peterson Trio + One, with trumpeter Clark Terry (LP, Mercury SR 60975). I was shirking my reviewer duties and just enjoying the music when I casually became aware of being in the recording space with the players. A few seconds later, the significance of this hit me. I've heard this album through umpteen different speakers, and my listening experiences with all of them varied widely except in one regard: My listening perspective was always of watching the session from somewhere in the control room, gazing out over the mixing board and through the window at the musicians playing in the studio proper. This time I was on the other side of the glass, hanging out with the musicians.
I returned to an album that had bugged me more than most: an early Decca stereo recording of Josef Krips conducting the Vienna Philharmonic in Haydn's symphonies 94 and 99 (LP, Decca SXL 2098/London CS 6027). It was recorded in Vienna's Sofiensaal in 1957, using only a simple Decca "tree." Setting aside the dramatically boosted low end, this album does a wonderful job of evoking the warm ambience of the early Sofiensaal. The Yvettes transported me to the Sofiensaal and, for good measure, whisked me back to 1957. It was glorious. Even the cynical, seen-it-all reviewer in me had to grudgingly snort, "Okay then. If the best of what I'd heard in the past was 'like being there,' I guess I have to call this 'being there.'"
When I sat back and "looked" at the Sofiensaal around me, I understood that what made this experience so palpable was a natural, unassuming oneness that I'd previously heard only at live performances. That word, oneness, sounds odd even to me, but it fits. Words like coherence and seamless evoke images of separate pieces joined together, however snugly, but that's not what I heard with the Yvettes—and while unity again suggests discrete things joined together, that isn't right either. In the aural oneness the Yvettes created, there were no pieces to align or assemble. The sound was one, single thing.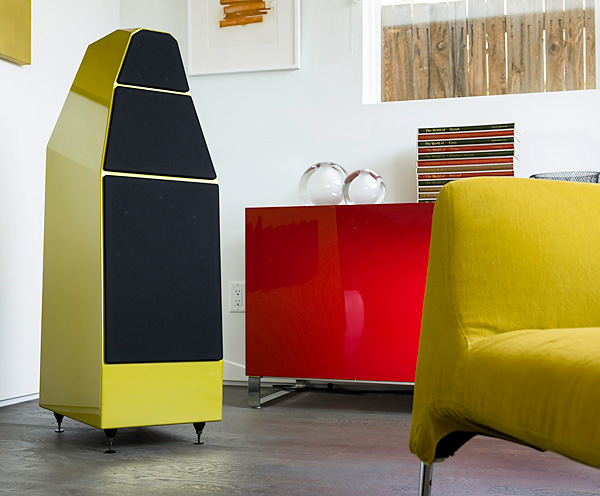 This oneness was also manifested in how the orchestra occupied the space. I was listening to a relatively complex passage in which one or a small number of sections made frequent excursions from a moderate level to perhaps ff. Again, I eventually understood what was making the sound so disarmingly natural. The instruments and sections swelled as the volume increased, but the sound didn't just propagate outward through a more or less immobile space. It was more like a tug-of-war in which the sound produced by the orchestra and the space surrounding it were compliant and pushing against each other.
One of the last albums I listened to before crating up the Yvettes was Bruce Springsteen's Darkness at the Edge of Town (LP, Columbia JC 35318). I love these songs, but I could never listen to this album. The problem was always my still-vivid memories of hearing the songs for the first time, in 1978, in a small theater in San Antonio, Texas. I was standing on a chair in the second row, and Springsteen and the E Street Band's raw power and emotion were unlike anything I'd ever imagined. The most incredible sensation was of the impact of Garry Tallent's electric bass—each note seemed to push me back two feet. The album contains those same songs, but lacks the power and emotion I heard that night. That LP has always been way too demoralizing to listen to, so it stayed on the shelf.
But that last night with the Yvettes, the spine of Darkness . . . caught my eye and got me thinking. Hmmm. I keep raving in my listening notes about realistic senses of scale, impact, power. I wonder . . . I pulled it out, blew dust off the jacket, made a quick stop at my Audiodesksysteme Gläss record-cleaning machine, cued up "Adam Raised a Cain," and held my breath.
Holy shit! Up went the volume. Up it went again. And again. And again: Holy shit! Each of Tallent's bass notes seemed to move my chair back two feet. Holy shit!
Conclusions
I loved my time with Wilson Audio's Yvette. I was never able to think of it as the Sophia's replacement, but Wilson does, so who am I to argue? To me, it was a smaller version of the Alexandria XLF. Nor did the Yvettes sound like the Sophias—they sounded like Wilson's larger models, and a whole lot like the Alexia 2s, which I recently heard.
The core of Wilson's philosophy of reproduced sound is the elimination of spurious cabinet resonances and the precise alignment in time of the outputs of all of a loudspeaker's drive-units. If the Yvette is any indication, they're right to make these their top priorities. The Yvettes excelled at every audiophile criterion I could think of. Again and again, I tried to describe them in terms of such things as detail, transparency, and focus, but finally realized that no combination of those qualities could describe what a pair of Yvettes could actually do: push back the line that separates recorded and live music.
I can't recommend any audio component more highly than I do the Wilson Audio Specialties Yvette. Buy a pair, take your pick—Vienna or San Antonio, Haydn or Springsteen, 1957 or 1978—and enjoy the show.