Weiss DAC202 FireWire D/A converter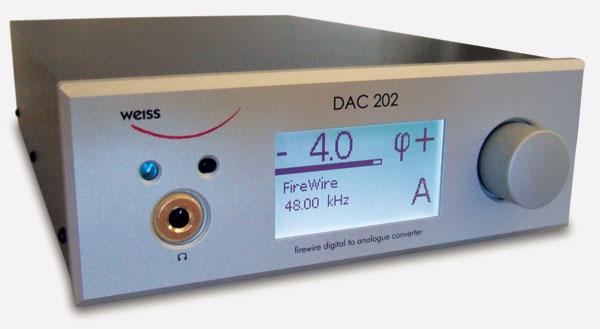 One of the better digital front-ends I've ever heard was demonstrated for me a number of years ago at the house of an audiophile friend: a Weiss Engineering combo of Jason CD transport and
Medea digital-to-analog converter
. That front-end remains in my mind as one of the only digital systems I've heard that could compete with the very best that vinyl has to offer while still doing what digital does best. In other words, there were warmth and musicality, staggering dynamics, and
real
silent backgrounds. When, recently, I saw that the Swiss company had come out with a DAC featuring onboard volume control, a headphone amp,
and
a FireWire input, I knew I had to give it a listen.
Building a Fire
The Weiss DAC202 has not only two FireWire ports, but also AES/EBU, S/PDIF RCA, and TosLink connections. A BNC input and output allow it to lock on to an external clock. There are also ouputs for AES/EBU and RCA S/PDIF digital signals. The narrow front panel has a largish LCD screen and a single knob, which you spin or depress to access and control any of the DAC202's menus and functions. The infrared remote control can be used to access the most frequently used functions: Power, Volume, input (FireWire, XLR, RCA, TosLink), Mute, Phase, and Filter, for the two onboard digital filters (more about those later). I found the dimmable screen very intuitive and easy to use to access every feature of the DAC202, and the remote is simple and elegant in design and feel. Also on the front panel are a ¼" headphone jack, an IR sensor, and a power-status LED. The fit and finish are good; the front panel's beveled edges look quite nice, and the knob had a sturdy yet silky feel. Still, the DAC202's looks favor function over opulence.
The DAC202's power supply uses a toroidal transformer and there are separate voltage regulators for the analog and digital supplies, a total of 11 regulators. The circuit board is laid out for optimal current distribution. The DAC202 uses the premium ESS9018 DAC chip, which allows for two digital filters (here labeled A and B) to be used. According to designer Daniel Weiss, filter A is optimized for an ideal stopband corner frequency, while filter B has a relaxed transition band that gives the optimum transient response. Jitter is suppressed with what Weiss calls a Jitter Elimination Technologies Phase Locked Loop (JET PLL), which uses feedback to lock the local oscillator to the incoming timing reference. In the DAC202, the JET PLL has two loops. One has its corner frequency set low enough to give good jitter attenuation. The corner frequency of the other loop, which regulates the analog oscillator, is set much higher. The DAC202 uses two converters per channel to increase its signal/noise ratio by 3dB, and it can accept data resolutions up to 24-bit/192kHz.
While so many other consumer DACs now connect with computers via USB, the Weiss DAC202 uses FireWire, which is favored in professional audio circles and fundamentally differs from USB in a number of ways. First, FireWire has greater bandwidth than USB and can therefore transfer more data faster. Second, FireWire is a peer-to-peer protocol, which means that every device on a FireWire network is equally capable of talking to every other device. Third, FireWire is always implemented in hardware, with a special controller chip in each device; the communications load it puts on your computer's CPU is much lighter than USB's.
According to Daniel Weiss, FireWire is more reliable than USB because it offers what he calls "isochronous mode, and it lets a device carve out a certain dedicated amount of bandwidth that other devices can't touch. It gets a certain number of time slices each second as its own. The advantages for audio should be obvious: that stream of data can just keep on flowing, and as long as there isn't more bandwidth demand than the wire can handle (not very likely), nothing will interfere with it. With our products, the FireWire connection works in the so-called isochronous mode, which means that a defined bandwidth is reserved for the link and cannot be taken by another device on the bus. To use USBspeak, the transfer is asynchronous; ie, the master clock sits in the D/A converter and the computer is slaved to it."
The DAC202's volume control is an analog/digital hybrid. Via a menu on the LCD screen, four coarse volume steps in the DAC202 are implemented in the analog domain. Once a range is set, controlling the volume, using either the knob or the remote, is done in the digital domain. This lets the user run the digital volume at the top of its range, where its effect on the signal's word length is minimal. Weiss also applies noise-shaped dithering to the 24-bit volume control to maintain maximum transparency.
Setting Fire
Setting up the DAC202 was a breeze—especially connecting it to my computer. Using an off-the-shelf FireWire cable, I hooked up my Sony Vaio Laptop (an Intel Core duo processor running at 2.4GHz with 4GB of RAM) to the DAC202, then ripped files from Weiss's supplied test disc, which contains data files of various sample rates and bit depths. I selected the Bit Transparency Test from the DAC202's menus, then played the test files from my laptop via J. River Media Center. The Weiss is the first computer-based audio product that could easily and unambiguously tell me that my computer was outputting a truly bit-transparent signal at all bit depths and sample rates. This level of onboard diagnostics should be mandatory for all DACs intended to be used with computers. Bravo, Weiss!
I used a Bel Canto Design e.One CD2 as a disc transport and connected the DAC202 directly to my power amps (Rogue M180 monoblocks or a Plinius SA-103) via the Weiss's balanced outputs. Before taking any serious listening notes, I let the DAC202 burn in for a few hundred hours.
Dance into the Fire
Describing the sound of the Weiss DAC202 is one of the easier tasks I've had to do for Stereophile. The DAC202 made music with delicacy and liquidity; its tonal balance was extremely natural, with a forgiving top octave; and it presented music with an easy grace that digital music rarely has. No matter what connection I used, which amp was in the system, or whether I was listening to high-resolution computer files or CDs, the DAC202 always retained these fundamental sonic traits. The Weiss was in no way concerned with dissecting music into its atomic elements, but instead projected its gestalt onto everything it played.
Classical music benefited from the DAC202's easy, liquid character. Latvian composer Eriks Ešenvalds's A Drop in the Ocean, from Polyphony and the Britten Sinfonia's Passion and Resurrection (CD, Hyperion CDA67796), was conveyed with musical generosity and an expansive soundstage. The DAC202 was kind to choirs, heightening their blend and offering remarkable tonal balance, with clear, unhighlighted sibilants and no trace of hardness. Via the DAC202, no part of the tonal spectrum was ever given undue prominence
I used the Polyphony disc to test the DAC202's filters. Filter A offered a bit more extension in the high treble (I was surprised I could hear this difference), and a little bit better stopping and starting of notes. However, Filter B offered a more three-dimensional quality, greater liquidity, and a smoother top end. I felt that Filter B played more to the DAC202's strengths, offering sound that even the most digiphobic audiophile could appreciate.
The DAC202 also did a great job with hi-rez files from my computer. A few months ago I became the proud owner of the Beatles' entire stereo catalog in 24-bit/44.1kHz, complete with a green metal apple in which to house the flash drive. The DAC202 brought out the greater palpability of these hi-rez files compared with their 16/44.1 counterparts. Compared to the "Red Book" CD remasters, the panned voices in the hi-rez version of "A Day in the Life," from Sgt. Pepper's Lonely Hearts Club Band (24/44.1 FLAC), sounded less like images of voices moving through space and more like entire singing bodies moving from left to right through the stereo field.