VTL + Wilson: A Vital Wonder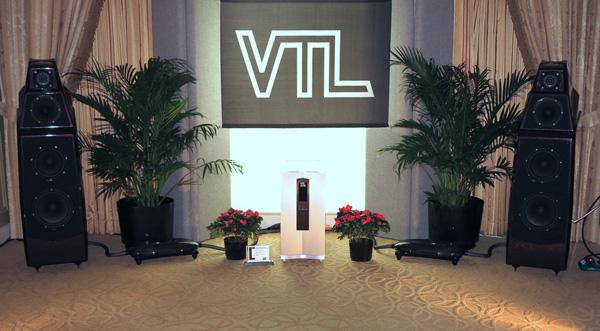 In all my years of evaluating audio systems, I have never heard a more mesmerizing, realistically air-filled soundstage than that created by pairing VTL electronics with the recently reviewed
Wilson Audio Alexia loudspeaker
($48,500/pair). Wishing to start my CES adventures on a positive note, I thus headed to the VTL room on the Venetian's 30th floor, where VTL's TP-6.5 Signature phono preamplifier MC Step Up ($10,500),
new
TL-6.5 Series II Signature line preamplifier ($13,500), and S-400 Series II Reference stereo amplifier ($33,500) sang with the Alexias, Transparent Opus MM interconnects and speaker cables, and Nordost Odin power cables. With the sources the superb Spiral Groove SG1.1 turntable with Centroid tonearm ($31,000) outfitted with Lyra Etna cartridge ($6995), a MacBook Pro running Audirvana, and dCS Puccini and U-Clock ($24,498), I was greeted by beautiful, extremely liquid, transparent, and, yes, remarkably airy sound that drew me deep into the music.
Since my focus, until the last day, was almost exclusively on new amps and preamps above $2000, let me note that the VTL TL-6.5 Series II Signature line preamplifier (above) is a one-box version of the two-box TL-7.5 Series III Signature line preamp. Incorporating its big sister's advanced technology, it boasts a revised power supply based on current-sourced shunt regulator technology that yields, in the company's words, "dramatically improved rejection of noise and AC fluctuation;" the newest FET technology that operates more like vacuum tubes in the output stage because they always remain on; and zero global negative feedback. You don't have to understand all that; once you listen to this pairing, you'll know why it receives praise at show after show.