Verity Audio Monsalvat Amp-60 power amplifier Page 2
With
Paris-Madrid
, from Franco-Israeli classical guitarist Liat Cohen with soprano Sandrine Piau and tenors Charles Castronovo and Rolando Villaz¢n (24/96 WAV, Erato 584341), I noted how right the guitar sounded and how easy it was to hear the shifting timbres of its different strings as melodies moved up and down the scales. Although voices sounded as if recorded in a different acoustic, they resounded naturally, the darkness of the tenors depicted in sonorous contrast to Piau's wonderful soprano. When I turned to mezzo-soprano Cecilia Bartoli's new disc of Vivaldi arias (24/96 WAV, Decca 002894834475), my alternate "
Recording of the Month
" and assuredly a future "Record to Die For," I was in heaven. Bartoli's voice has never sounded as beautiful and limpid as on this recording, especially when she floats notes softly in the soprano range. The authentic sonorities of Jean-Christophe Spinosi's baroque band, Ensemble Matheus, echo her emotions with perfectly judged gradations of dynamics and extraordinarily sympathetic playing in which all perform as one. Solo turns by trumpet, flute, and strings were mesmerizing; the listening experience was as close to sublime as I've gotten with high-resolution playback.
Nor was I alone in my elation. My audiophile buddy Steve Zettel had joined me for a listening session that included switching out the Amp-60 for the 125-lb Dan D'Agostino Progression monoblocks. "The subtlest shadings of voice are clearly exposed," he declared, "and the dynamic envelope from delicate to declamatory was breathtaking."
But a perpetual state of reverie does not a detailed review make. We next listened to two tracks that Steve had brought along. Marcus Miller's electric bass guitar in "Blast," from his album Free (24/44.1, Dreyfus Jazz FDM 46050 369102), sounded very right, if not as nasty as Miller might have intended, and the lowest notes were a bit muffled and far from ideally tight. Said Steve, "It sounded like he was loping along instead of gritting his teeth and digging in." As for "Wicked Game," from Chris Isaak's Heart Shaped World (16/44.1, Reprise 25837-2), I thought the sound too warm, yet surprisingly smooth and beautiful for this early digital pop album.
When we turned to my own reference tracks, there was no escaping that the subsonic bass in "There's a Limit to your Love," from James Blake (16/44.1 WAV, A&M 949999), was less gut-shaking than I'm used to. Nonetheless, what the Amp-60 did with the expressive, longing middle of Blake's voice, and the contrast between its warm, emotive sound and that of the emotionless high clicks that occasionally appear in the recording's left channel, was so striking that this music was transformed from a bass reference track to an enthralling listening experience.
The opening 6.5 minutes of Iv†n Fischer and the Budapest Festival Orchestra's recording of Mahler's Symphony 3 (DSD128, Channel Classics CCSA 38817/NativeDSD) confirmed that, as beautiful as the Amp-60's exceptionally pure midrange was—it imparted beauty to the center of every note, from the lowest double bass to the highest triangle—the sound lacked oomph. While the single Amp-60 filled my listening space as if it were a pair of monoblocks, and the way orchestral chimes hung in space was hypnotic, Mahler's big bass poundings shook the room less than I would have preferred. The impending doom Mahler hopes to convey at the symphony's start was diminished.
In the opening passages of Andris Nelsons and the Boston Symphony Orchestra's recording of Shostakovich's Symphony 4 (24/96 WAV, Deutsche Grammophon 002859502), when Nelsons makes sure the piccolos' cries of alarm are sharp and piercing, the Amp-60 didn't flinch from telling it like it is. In this respect, its sound was a far cry from that of the Krell KSA-50S amp I once owned, which delivered everything under the sun—including Shostakovich's grimmest musical depictions of suffering, bloodshed, and devastation—with a sweetness that drove me up the wall. I know that some audiophiles love "sweet" sound, but when a composer wants me to feel pain, I want to feel it. Nonetheless, the sound was a bit too warm and polite, with diminished bass impact and drive.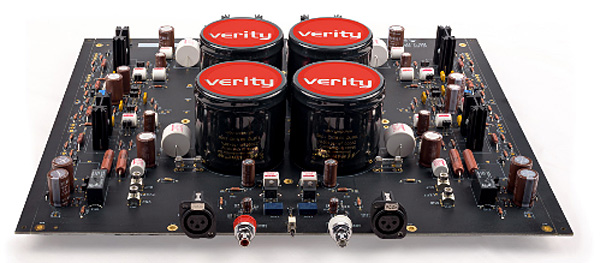 Steve and I were of one mind about the gorgeous midrange that enriches mezzo-soprano Marianne Crebassa and pianist Fazil Say's award-winning recording of Debussy's Trois Chansons de Bilitis (24/96 WAV, Erato 564483). Turning to very different music, a recording of Xenakis's Psappha on percussionist Kjell Tore Innervik's superbly recorded Utopias (MQA 24/352.8, 2L 2L-141), I was thrilled by how masterfully the Monsalvat Amp-60 conveyed the contrasting colors of Innervik's various instruments, and how well it handled the sustains and natural decays of their sounds. The complex overtones, undertones, and sonorous core of a single bell resounding in space were conveyed to perfection. Lows sounded a bit boomy and lazy, but everything else was of demonstration class.
Using the dCS Rossini SACD/CD transport, we listened to "Duke's in Bed," from a reissue of tenor saxophonist Ben Webster's 1965 recording My Romance (SACD/CD, Top Music International UD-SACD8934.2). Beyond the hard-left/-right nature of the recording, we both felt the sound was too romantically warm, and the bass was mush.
Switching to my Progression monoblocks revealed just how special the Amp-60's midrange was. While the Progressions excelled in the bass—the entire bottom end of every recording was significantly stronger, fuller, tighter—their highs were brighter, their midrange less adorned. Regardless, the Progressions' unfiltered directness, neutrality, and control are things of beauty all their own, and more closely resemble what I hear in live performance.
Comparing the sound characters of these amplifiers brought to mind what someone once told me about soprano Elisabeth Schwarzkopf, whose keen attention to acoustics is illustrated in a video that shows her in street clothes, walking all over a stage as she sounds the same note, until she finds precisely the spot where her voice best resounds. She seems to have preferred a certain rosewood-paneled hall, for the warm glow it brought out in her voice. The Monsalvat Amp-60 is the audiophile equivalent of Schwarzkopf's rosewood hall: it gave everything a warm shine.
Summing Up
Of all the power amplifiers I've heard, whether in my own systems or at audio shows, the one whose midrange continues to linger in my mind is Verity Audio's Monsalvat Amp-60. I've packed up a lot of great gear in my time, but next to my loaner dCS Vivaldi DAC, now on its way home to the UK after bringing me joy for well over a year, the sound I've most regretted saying goodbye to is the Amp-60's.
At first, I thought I'd describe the Monsalvat Amp-60's smooth, glowing, naturally warm sound as "dew-kissed"—but to some, that metaphor might imply a hyper-liquidity that I did not hear. Better to describe its midrange as velvet smooth. Imagine yourself blindfolded and led to a series of objects that you can identify only by touch. With each new texture your fingers encounter, your sense of wonder increases: the surface of a ceramic dinner plate, the warm chassis of an amplifier, a piece of cardboard, a cloak of finest velvet. As you luxuriate in the feel of those textures, you can begin to imagine how the Amp-60 sounds.
Because the folks at Verity Audio and High Fidelity Services sent me the Monsalvat Amp-60 only after they'd tested it with a pair of Wilson Audio Alexia 2s—my reference loudspeakers—I'm inclined to believe that my experience of its lighter-than-ideal bass accurately reflects the amp's character.
Verity Audio's Monsalvat Amp-60 is a relatively low-powered stereo amplifier with a soundstage virtually as wide as what top-quality monoblocks can produce, impressive dynamics, and an overall sound that is beauty itself. Its low bass, at least through my speakers, was not demonstration class, but everything above that in the audioband sounded seductive. With your loudspeakers in your listening room, you may find its velvet midrange and smooth top heaven-sent. Overall, the Monsalvat Amp-60 is one of the finest-sounding feel-good amplifiers I've ever heard in my home.