Valve Amplification Company Signature SE preamplifier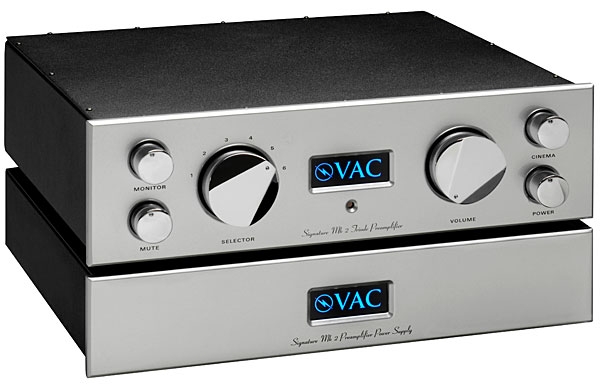 For me, the highlights of any audio show are finding a room with great sound and visiting it often throughout the show, to relax and absorb a wide range of great music. At the
NY Audio Show
in April 2012 in New York City, it was the room occupied by the Valve Amplification Company. There, I fell in love with the sound coming through the Signature Mk IIa line-stage preamplifier, and remembered that while I'd heard many VAC products at audio shows over the past two decades, and had enjoyed the sound every time, I'd never had a VAC product in my house. I requested a review sample.
A saga began. VAC is a small company, but the demand for its products is high, and backorders caused several delays. VAC was understandably reluctant to send a sample to a reviewer and thus make a customer who'd already paid for a unit wait even longer. Then the company's founder, Kevin Hayes, called with some good news. VAC would be introducing an upgraded version of the Signature Mk IIa, the Signature SE, which would include technology trickled down from VAC's flagship preamplifier, the Statement Line ($75,000). If I could wait just a bit longer, I could have an early-production Signature SE.
Well, of course! I requested a sample of the Signature SE ($19,500) that included the optional MC/MM phono stage ($6500): total retail price, $26,000. Some two years after my initial request, a Signature SE finally arrived. I wondered if it would prove worth the wait.
Designing
According to Kevin Hayes, the Signature SE line stage is, in effect, a small, zero-feedback, class-A, triode power amplifier with a step-down output transformer. He claims that this makes its output very stable and nonreactive and, as such, resistant to the stray interactions of the power amplifier and source component that can occur when various types of feedback are employed. The line-stage circuitry is hand-wired from point to point. The Signature SE controls the volume level using high-grade potentiometers; Hayes concluded from his testing that chip controls and stepped attenuators are sonically inferior.
The optional phono stage is no mere afterthought. It uses six 12AX7 triode tubes and, like the line stage, no feedback. It has its own power transformer and filter circuit, and has moving-coil and moving-magnet inputs, each with variable loading. The MC input is routed to a step-up transformer that provides another 18dB of gain before the MM stage. I'm impressed that VAC has figured out a way to incorporate a phono stage with six tubes, two transformers, and additional circuitry within the case of an existing line stage.
The Signature SE also includes the input transformers used in the Statement Line, and several other features not found in the Signature Mk IIa: improved input signal routing, enhancements of and a new layout for the phono circuit, and a new layout for the line stage.
The Signature SE has five line-level inputs, three of which can be configured for balanced or single-ended operation; and two outputs, each configurable as balanced or single-ended. If the preamp is ordered without phono stage, the phono input can serve as a sixth line input. Also featured is a Cinema Bypass input, which has fixed gain, for use with home theater systems, where control of system volume will be handled by the processor.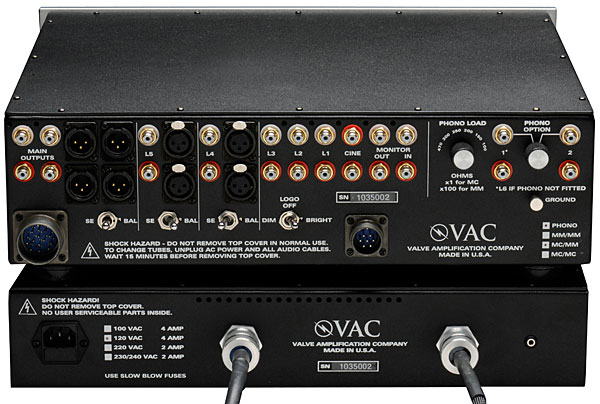 On the Signature SE's front panel are an input Selector, and controls for Volume, Mute, logo brightness intensity, Power, and Cinema bypass. The rugged but tiny remote control has three buttons: volume up, volume down, and mute. When I handed it to an audiophile friend, he said, "That's all you need."
The Signature SE comes with an outboard power supply. I was amazed that it ran very cool, despite the fact that it has eight tubes and only a few discreet ventilation slots.
I auditioned both the line and phono stages, using into the MC input my Koetsu Urushi cartridge, loaded at 100 ohms.
Listening
I've now auditioned quite a few expensive tubed line stages in my house, and every one has fit this pattern: flawless or nearly flawless sound, each with a unique sonic personality that would match certain listening tastes. But just as none of those preamps fell short of the others in any meaningful way, not one so outperformed the rest that I would prefer to listen to only it.
With the arrival of the VAC Signature SE, that changed. I spent many weeks listening to it, trying to describe how this preamp presented a more realistic reproduction of live music than any other preamp I'd heard in my house, but found it difficult to put into words. True, with every recording I played, the Signature SE gave a flawless performance—I could find nothing even approaching a weakness shortcoming. It produced an illusion of live musicians playing in an actual space better than any preamp I'd heard.
As I dug deeper into my music collection, I concluded that, in three critical areas, the VAC achieved a level of performance I hadn't thought possible from a tubed line stage:
1) Levels of detail resolution, ambience retrieval, air, and low-level dynamic articulation across the audioband that were nearly indistinguishable from a live performance.
It's winter. You're late for work. Your windshield is covered with nearly frozen fog and haze. You can't see. You crank up the heater and defroster, but can't wait for them to do their duty. You grab a damp rag and wipe the inside of the windshield as best you can, applying extra elbow grease to the center on the driver's side, to maximize visibility. You drive off. Your visibility is pretty good at the center, but around the periphery a foggy haze still limits your vision. You should have waited five minutes to fully warm up the car, let the defroster run full blast, then driven off with a crystal-clear windshield and full visibility.
The Signature SE's clarity, transparency, and resolution were analogous to waiting those last five minutes. By comparison, other expensive tubed line stages I've heard sound like the quick rag job. The midrange might be gorgeously transparent, but some other regions of the audioband are less tactile, less lifelike. With the Signature SE, the crystal clarity extended throughout the audioband and all areas of the soundstage with all recordings: In every case, I could hear deeper into the performance.
2) Lightning-fast articulation of transients but with no hint of sharpness, and no sense of dulling or softening at the frequency extremes.
I love percussion recordings and their sense of transient speed. But in the reproduction of a recording, I don't want any trace of sharpness or etch. Neither do I want the softened transients at the extremes of the audioband that I've heard some line stages produce in an attempt to avoid an "etched" sound. The Signature SE never approached either quality with any recording. All percussion sounded extremely fast and lifelike, with no artificial edge, nor was there ever the slightest hint of softening in any frequency region. Not surprisingly, the VAC was also unforgiving of any recording whose sound included even a bit of transient edge; there was no tube-like softening.