Unison Research Unico Primo integrated amplifier Measurements
Sidebar 3: Measurements
I performed a full set of measurements on the Unison Research Unico Primo using my Audio Precision SYS2722 system (see the January 2008 "As We See It"). As always before performing any measurements on an amplifier, I preconditioned it by running it with both channels driven at one-third power into 8 ohms for 60 minutes. Thermally, this is the worst-case situation for an amplifier with a class-B or class-A/B output stage, as one-third power is when the maximum heat dissipation occurs in the output transistors. As the Unico Primo's maximum power is specified in the manual as 80Wpc into 8 ohms, I set it driving 27Wpc into 8 ohms. However, the amplifier turned itself off after just 15 minutes at this power level. The two green LEDs on its front panel were slowly flashing, which, according to the manual, meant that the amplifier's protection circuitry had detected thermal overload. The internal heatsink's temperature was 113.2°F (45.1°C), which didn't seem that hot. But I turned the Primo off and let it cool down for 30 minutes, after which I could turn it on again.
This preconditioning test puts a significant strain on inexpensive amplifiers, which tend to have undersized heatsinks; it appears that the Unico Primo is not the best candidate for use at parties.
I looked first at the phono input, which Ken Micallef had used with the default moving-magnet setting. Measured at the Tape Out jacks, this preserved absolute polarity (ie, was non-inverting) and offered a gain of 40.5dB. The input impedance measured 46k ohms at low and middle frequencies, dropping slightly to 39.6k ohms at the top of the audioband, and both the gain and impedance are appropriate for MM cartridges. Fig.1 shows the RIAA error: The two channels match closely, and while there is a slight rise in the top two octaves and a slight rolloff below 30Hz, both are low in absolute terms. The unweighted, wideband signal/noise ratio, measured with the input shorted to ground and ref. 1kHz at 5mV input voltage, was excellent, at 69dB, increasing when A-weighted to 79.3dB left and 80.5dB right. The phono input's channel separation was also excellent, at >80dB above 2kHz.
The MM stage's overload margin was superb, at 26dB at all audio frequencies, this equivalent to an output voltage of 9.5V at the Tape Out jacks. Harmonic distortion was correspondingly low at typical MM signal levels, with the third harmonic of a 1kHz tone the highest in level at a very low –97dB (0.0015%). Intermodulation distortion was similarly low in level (fig.2).
Turning to the line inputs, the Unico Primo's maximum gain into 8 ohms measured 40dB, which is typical for an integrated amplifier; these inputs also preserved absolute polarity. The input impedance was a usefully high 47k ohms at low and middle frequencies, dropping inconsequentially to 42k ohms at 20kHz. At 0.3 ohm, the Primo's output impedance was on the high side for a solid-state design, presumably due to the low level of loop negative feedback. As a result, the modification of the amplifier's frequency response with our standard simulated loudspeaker reached ±0.25dB (fig.3, gray trace). This graph reveals that the Unison amplifier had a wide small-signal bandwidth even into 2 ohms (green trace), but the 10kHz squarewave (fig.4) shows no overshoot or ringing. Fig.1 was taken with the volume control set to its maximum; turning down this control also reduced the amplifier's bandwidth, but the response was still flat to 20kHz at the lower settings, and the excellent channel balance seen in fig.1 was preserved.
Channel separation for a 1kHz line-level signal was a little disappointing, at 65dB R–L and 70dB L–R, and decreased with increasing frequency, reaching a poor 40dB at 20kHz. I also noted significant inter-input crosstalk, at –30dB at 1kHz for adjacent, unloaded inputs. The unweighted, wideband S/N ratio, measured with the line inputs shorted to ground but the volume control set to its maximum, was also disappointing, at 68.4dB ref. 2.83V into 8 ohms, though when A-weighted this did improve to 82.8dB left and 79.3dB right. Fig.5 reveals that the noise floor is dominated by spuriae at the AC mains frequency of 60Hz and its harmonics.
Fig.6 reveals that the Unico Primo exceeded its specified maximum output power of 80Wpc into 8 ohms (19dBW), clipping (defined as 1% THD+noise) at 105Wpc (20.2dBW). However, into 4 ohms (fig.7), the output voltage dropped, the amplifier clipping at 135Wpc (18.3dBW), which suggests that its power transformer is undersized. While performing this test, I noted that at levels above 20W or so the transformer audibly buzzed, which suggests the same thing. These two graphs indicate that the THD+N level remains relatively constant over a wide range of powers, from 100mW to 10W, but that the amplifier becomes more linear as the output current increases.
I plotted how the THD+N percentage changed with frequency at a level, 8.95V (equivalent to 10W into 8 ohms, 20W into 4 ohms, and 40W into 2 ohms), where I could be sure that I was examining actual distortion rather than noise. The results are plotted in fig.8: The rise in THD in the top two octaves is lower than usual, suggesting that the circuit has a wide open-loop bandwidth. The distortion also remains relatively constant over the range of impedances.
The distortion signature at 1kHz and low powers appears primarily to be third-harmonic in nature (fig.9), but at higher powers, the second harmonic and higher-order odd harmonics make appearances (fig.10). The graph of intermodulation distortion (fig.11) looks a little alarming, but other than the products at 18 and 21kHz, the spuriae are all at or below 70dB (0.03%).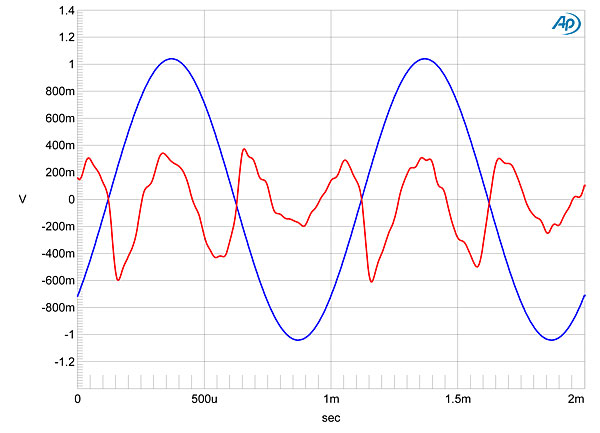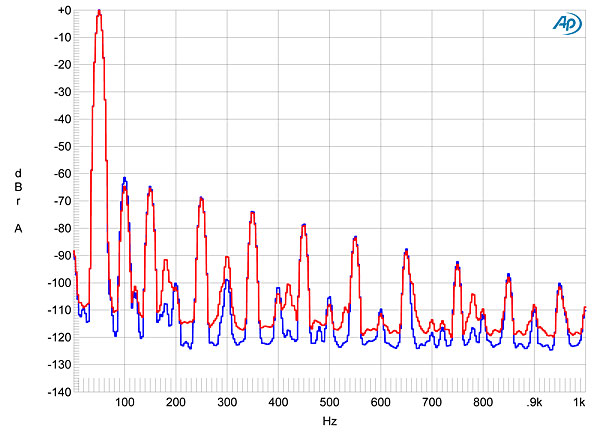 Some of its measured behavior suggests that some corners have been cut to keep the Unison Research Unico Primo's price relatively affordable. But despite its disappointing levels of noise and distortion, the Unico Primo appears to maintain a relatively constant level of performance over a wide range of frequencies and power levels, which is always found subjectively to be a good thing.—John Atkinson