Tripping with Terry Riley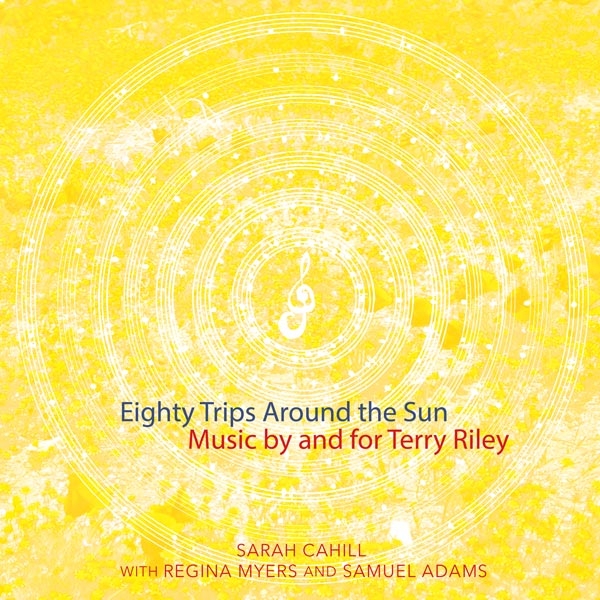 Did I really listen to and love the hi-rez (24/44.1k) file equivalent of four CDs chock-full of piano music written by and for the great Terry Riley (b. 1935)? Not only is the answer in the affirmative, but I can now honestly attests that pianist/pedagogue Sarah Cahill's
Eighty Trips Around the Sun
abounds in opportunities to take you on multiple mind-bending excursions through the mind of a true master.
As the composer of In C (1964) and A Rainbow in Curved Air (1969), Riley's reputation as "The Father of Minimalism" is assured. But as much as those two compositions changed the course of modern music, and influenced artists as diverse as Philip Glass, John Adams, The Who, The Kronos Quartet, and dancer Anna Halprin, they only hint at the breadth of Riley's musical output, and his boundless curiosity for exploring form, technique, and expression.
Cahill's remarkable survey, which spans 50 years of Riley's output for solo and two pianos, showcases both the breadth of Riley's musical imagination and her own sensibility. Few who listen closely will fail to sense the probing mind, open-eyed wonder, and sensitivity of a keyboard artist intent on deepening her relationship with a kindred spirit.
Eighty Trips Around the Sun: Music by and for Terry Riley begins with his uncharacteristically 12-tone Two Pieces (1958/1959), and concludes with his Be Kind to One Another (Rag) (2008, rev. 2014). The latter was commissioned by Cahill for her project A Sweeter Music, a full-length program of original pieces that explore the theme of peace and war.
Riley's reflections on his substantially revised version—Cahill has now recorded both the original and the revision—can serve as an ideal introduction to the spirit that infuses his oeuvre:
"As with many of my piano works, Be Kind to One Another (Rag) began as an idea I was noodling around with in late-night improvisations. Its gentle and somewhat naïve atmosphere attracted me from the beginning, and it soon became a hit with my then very young twin grandchildren, who always wanted me to play it for them when they got into bed at night. It is basically laid out in four related sections, and in its improvised version it can take many forms, with each section being repeated as many times as desired before moving on to the next. When Sarah Cahill told me about her project A Sweeter Music, I felt this material best suited the bill. I wrote out this concert version, giving the piece a more overall arching structure with related interludes and developments added that were not in the original improvisations. The title is taken from something Alice Walker said immediately after 9/11 happened: 'We must learn to be kind to one another now.' My new composition is a statement for peace, and as such it does not aim for dramatic content, but strives instead to enforce a feeling of balanced equilibrium and compassion."
As lovely and affirming as Be Kind to One Another may be—it was the piece that we in the audience loved the most when Cahill premiered it during her A Sweeter Music program in Hertz Hall at UC Berkeley—it only hints at the complexity of many of Riley's other compositions for piano. His early Keyboard Studies No.1 and No.2 (1965), the second of which was submitted by request to John Cage, requires that a pianist's two hands play in independent meters, and extremely fast. Cahill, who did not choose the easy way out, initially met with Riley to figure out how to play it, and somehow thought that she should play page one with her right hand and pages two and three with her left hand.
As she explains in the recording's extensive liner notes, "It was only years later that I noticed with chagrin that the first page reads "Keyboard Study 1' and the other two pages are 'Keyboard Study 2,' but by then Terry had given his approval, so that is the version on this recording. While demonstrating the Keyboard Studies, he pointed out how he makes use of the sostenuto (middle) pedal, allowing for particular pitches to ring out over the repeated patterns, so I made frequent use of it on this recording."
Other works combine elements of funk, virtuosity, child-like fantasy, dance, and meditational rumination. While Riley's jazz influence can be heard from time to time, his decades of study and performance with Indian master Pandit Pran Nath surface mainly in the astounding rhythmic complexity of many of the works, and the transcendent spirit of love that infuses every note.
Cinco de Mayo, the first of five works for four hands on one piano that Cahill commissioned from Riley, was written for her 1996 three-concert festival celebrating the centennial of Henry Cowell. (I was there, and it was amazing.) Originally performed with Joseph Kubera, and recorded here with Regina Myers, the celebratory 13:23 work first creates a unique contemplative universe—Riley describes it as 'an introspective evocation of the early morning hours after a [vigorous, rhythmic] celebration"—and builds up to a wild, oft-astounding Latin-inspired dance."
Even wilder are the rhythms of Tango Doble Ladiado, and the complexity of Waltz for Charismas. Riley's ability to switch from the naïve, infinitely charming fantasy of Jaztine (inspired by a child from the Philippines that Riley and his late wife, Anne, sponsored) to the polyphonic virtuosity of Etude from the Old Country and the complexity of Waltz for Charismas shows him a modern-day virtuoso, albeit with different concerns than a Liszt, Chopin, or Rachmaninoff.
Cahill's recording ends with eight of the ten piano pieces that she commissioned for A Piano Party for Terry Riley at 80, which was held in 2015. (Damn. I had left the Bay Area by then, and missed it.) Many of the composers had personal relationships with Riley. Deep listening pioneer Pauline Oliveros, for example, first met him in the 1950s, and became his lifelong friend. Gyan Riley, Terry's son, frequently collaborates with his father in performance. Samuel Carl Adams, another notable composer with a famous father (named John), used to lie under the piano when he was a boy and listen to Terry play. Other contributors include the fascinating Dylan Mattingly, whom I interviewed when he was still in high school, Evan Ziporyn, Danny Clay, Christine Southworth, Elena Ruehr, and Keeril Makan.
Audiophile alert: Thanks to the assistance and participation of Samuel Adams, who placed small resonators on the strings of Cahill's piano while she prepared the instrument with a few dimes, weather stripping, and other "implements," and also used a small stone to bounce against the string as well as superball mallets to rub the inside and outside of the piano, audiophiles will find Oliveros' 39:38 A Trilling Piece for Terry especially fascinating. I played it (and the rest of the recording) while evaluating Jadis monoblocks, and found the depth of the recording, as well as its fascinating assortment of sounds, a major test for components. Which is not to discount the work's inherent value, depth and complexity, and its ability to create a multi-layered universe of its own.
The same could be said for virtually all the music on this collection. While I will admit to personal bias when writing this review—Riley and I worked together on music for one of Anna Halprin's most powerful rituals, and have engaged in some of the most memorable conversations I can recall, while Cahill gave me the opportunity to write my first CD review, helped launch me on my path as a music critic, and also created a space for some of my finest performances—I doubt anyone approaching this collection will fail to recognize the genius that infuses both individuals' work.
Eighty Trips Around the Sun: Music by and for Terry Riley is essential listening for anyone who values music's ability to transport us to places and emotional states far removed from the noise and soulless chatter of daily life. While the physical version of the recording is slowly making its way from the Czech Republic to the virtual and brick-and-mortar shelves, the 24-bit files are available now. Once you have the opportunity to listen, I hope you'll post which pieces are your favorites.