Totem Acoustic Signature One loudspeaker Page 2
On a roll, I tried Handel's oratorio
Samson
, with Karl Richter leading the Munich Bach Orchestra and Choir (4 LPs, Archiv 413 916-1). In Act II, scene 2, the voice of Martina Arroyo (Dalila) was stunningly clear and undistorted. The Totems' formerly fuzzy mid-midrange was now clear.
Generally, I am not a fan of operatic singing but something about Arroyo's voice seduces me. On this recording she sounds not only harmonically pure and enticing, but gives Dalila an extra dose of seductive voluptuousness. My hormones and dream-addled brain forced me to play all eight sides—and especially side four—twice in one day. This is the type of Archiv recording that can, on the wrong system, sound brittle and unsupple. With the Rogue Audio RH-5 preamplifier and PrimaLuna ProLogue Premium power amp, the Totems again surprised me. Not only was Arroyo's voice throaty and lusty, the sound energy pulsing from the Signature Ones nicely mimicked the performance energy captured in the vinyl.
After a few weeks of the Totems sounding less remarkable than the Altecs in some important ways, I was stunned to hear this spectacular awakening. When the tone and force of a performance such as this actually survives all the way from Munich to Bed-Stuy, it speaks most highly of the little wooden boxes at the end of the playback chain. Bravo, Totem!
Before I bought my first Beatles album, I owned two by Delta Blues master Skip James (1902–1969): his comeback recordings of 1965 and 1968, respectively Today! and Devil Got My Woman. They're now long gone—all I have of that precious and well-recorded music is the compilation Blues from the Delta (CD, Vanguard 79517-2). I regard James as the most complete talent of all the Delta Blues artists. Early Skip James on Paramount 78s, and his comeback recordings for Vanguard after he'd disappeared for 30 years, show him to be not only the most ethereally surreal and poetic countertenor, probably ever, but also the best guitarist and pianist. "I'm So Glad," "Devil Got My Woman," and "Crow Jane" are blues classics. Cream and Deep Purple covered his songs. Robert Johnson's "32-20 Blues" (1936) is a caliber increase of James's "22-20 Blues" (1931). If you're a fan of jazz and/or classic rock and don't yet know the intense quality of James's talent, prepare to meet an authentic American master.
The Signature Ones delivered the loping staccato of James's "She's All the World to Me" with a weighty-sounding upright piano. Once again, their puny wooden boxes rolled out satisfying scale, fine tone, and a piano that sounded like a real wooden instrument with a stool, an ashtray, and a whisky glass. With this track I thought I could hear the Totems' cabinets coloring the sound, but it didn't distract me from James's piano, or his masterful fingerings and expressive pedal work. I could hear the metal-dome tweeters being metal-dome tweeters, and the mid/woofer cones being their cellulose-acrylate selves. But none of those completely normal colorations of box-speaker domes and cones mattered, because they were ultrasubtle—the essence of the music was not blurred, distorted, or confused. James and his piano were extremely clear and present. The start and decay of each note seemed perfect.
I was using the First Watt J2 amplifier, and James's vocal articulations and word enunciations were pleasures to behold. I got easily lost in imagining James's life, where he might have disappeared to, and his artistically productive last days at Vanguard's recording studio in New York City.
The best way to survive the times—while checking for tight bass and rhythmic propulsiveness—is to listen carefully to Zeca Afonso's "Grândola, Vila Morena." At 12:20am on April 25, 1974, this song was broadcast on Portuguese radio as the signal to launch the coup that overthrew the country's government. I'm sure the version jazz bassist Charlie Haden and his Liberation Music Orchestra present on The Ballad of the Fallen (LP, ECM 1248) is not like the one played that day on Rádio Renascenáa, but the Signature Ones let Haden's version sound whole and pulsing with innovative bass energy. I am not a bass aficionado. But if a small loudspeaker like the Totem Signature One can deliver a little power and scale from pipe-organ recordings, as it did with the Couperin and Buxtehude mentioned above—and if it can make each of Haden's notes unique in a noticeable way, that is all the bass power and quality I require.
As with the Model 1s, the Signature Ones' imaging was a special joy, but their reproductions of texture, transparency, and tone didn't seem as accurate as my Stirling LS3/5a V2's. But with every amplifier I tried, and with each of the above-mentioned recordings, the Totems generated terse energy that filled my small room and engaged me as a listener. But sometimes this energy could be a little thin.
Driven by the First Watt J2, the KEF LS50s played with more force and density than the slightly less punchy Totems. The Signature Ones were fundamentally well mannered and refined, but this aura of refinement stemmed partly from their lack of gross musical weight and slam. The Totems sounded more tough and solid with the Bel Canto e.One REF600M monoblocks. (I'll say more about this weight-and-slam thing in my forthcoming review of Pass Laboratories' XA25 amplifier.)
In Baaba Maal and Mansour Seck's Djam Leelii, Maal's singing is complex and ancient sounding (UK LP, Rogue FMSL 2014). Imagine pulsing, timeless Senegalese love songs accentuated with the marimba-like balafon and diverse strobe-like percussion. The songs on Djam Leelii feel like laments or ancestral prayers. The Signature Ones' quickness, transparency, and flow drew my attention to the sentiments behind Maal's singing much better than the KEF LS50s.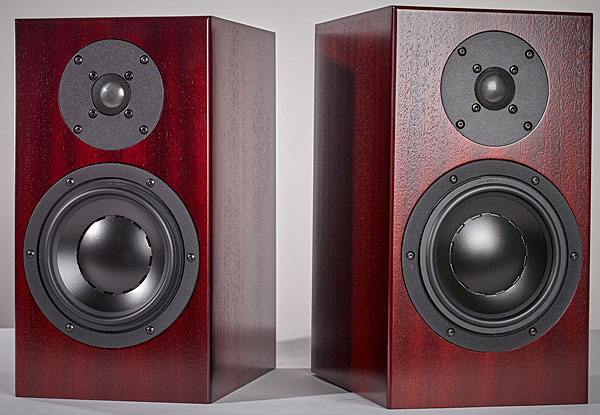 Comparison: Totem Acoustic Model 1 Signature
Toward the end of the review period I started moving the Signature Ones back, incrementally closer to the front wall: I was beginning to think they sounded too vaporous. I wanted my new set of Charlie Parker's The Complete Savoy & Dial Master Takes (3 CDs, Savoy SVY 17149) to have more body. After I'd spent a couple days moving them around and fiddling with tiny degrees of toe-in, the Totems ended up with 20" between their front baffles and the wall, and firing straight ahead. (I'd been enjoying organ records with their baffles 36" from the wall.) These new positions not only improved instrumental corporeality, especially drums, they also made voices more present, and improved the speakers' beat-keeping abilities. Best of all, they let Parker's All Stars sound more like the cool, hipster, haute-jazz powerhouses they were. And, surprise surprise, these positions were within 2" of the marks on my floor that indicate the best positions for my Totem Model 1 Signatures.
The Signature Ones banged out these 1948 masterpieces by Parker, Miles Davis, John Lewis, Tommy Potter, and Max Roach very solidly—right there in front of me. They delivered poetry and Beat Generation attitude. When a hi-fi delivers subtle but distinct layers of period attitude—as the Ones did with Miles, Max, John, Tommy, and Charlie—you know your system has got it going on. With the First Watt amplifier, the Totems generated delirious, true-toned, mind-engaging bebop. What more could I want?
When I returned my old Model 1 Signatures to the system, they sounded lighter and smaller in comparison, and Parker's All Stars sounded brighter, sharper, more "digitally remastered." Pianist Lewis's right hand was emphasized, and the bass was drastically reduced. Davis's trumpet kept poking me sharply in the ear. With the Model 1s, all three CDs of this set sounded less relaxed and natural, less spacious, and considerably less satisfying than through the 30th anniversary Signature Ones.
To help me precisely determine the differences between the Model 1 Signature and Signature One, I played the Eduardo Paniagua Group's Danzas Medievales Españolas (M•A Recordings M034A). I've found that playing any of Todd Garfinkle's recordings for his M•A label is always a good test of how well my stereo is performing. They sound so vibrantly natural that if they sound even a little bad, I know something's wrong in my system.
The Model 1 Signatures produced more laser-like focus and a smaller, denser, more crystalline soundstage than the Signature Ones. This is probably because, compared to the new Totems, the old ones generate less harmonic energy in the 50–200Hz region. Consequently, the Model 1s seem tighter and better resolved in that region. For me, this reduction in energy is a Faustian bargain: It makes the soundspace too bright and unnaturally dense. The super-well-recorded Danzas Medievales Españolas sounded considerably more transparent and sensual through the Signature Ones, which generated deeper, darker soundstages, with more tactile images and more information about the acoustic of the recording venue, in this case the Cathedral of the Monastery of St. Espina, in Valladolid, Spain.
The sound of the Model 1s was tight and clean, like studio monitors; the Signature Ones sounded relaxed and colorful, and not hi-fi. (I credit the new tweeter for these improvements.) Both Totems are pacey and rhythm-driven. Both were exciting and enjoyable to use. I still love the old Totems' tightness, but the new Totems' sound is more satisfyingly lucid and expansive. The Signature Ones "disappeared" more as I listened, and that pleased me.
Conclusions
The Totem Acoustic Signature One has an appealing, easy-flowing musicality that retains most of the monitor-like accuracy that made the original Model 1 a respected design that endured for 30 years. Highly recommended.