Toronto Audiofest Day 1
Perhaps the most unusual speaker at Toronto Audiofest 2018 was Bryston's whimsically-named T-Rex Model T. It's a stacked pair of Model Ts, the top speaker upside down. I was reminded of the Double Advent system popular in the 1970s, but the T-Rex goes well beyond the Double Advent, with substantial bracing joining the speakers, a layer of rubber between them, and Bryston's DAX-1 digital crossover included. The total price is $18,000/pair (unless otherwise noted, all prices in this report are CN$), which represents something of a bargain for all this hardware.
The T-Rex Model T, shown in the photo with Bryston's James Tanner, is nearly 9' tall, so it's not going to find a home in a small apartment. The T-Rex Middle T, based on a pair of Middle Ts but also including the DAX-1, is $12,500, and comes in at just under 7'. The T-Rex Model Ts demoed at the show made a big, impressive sound.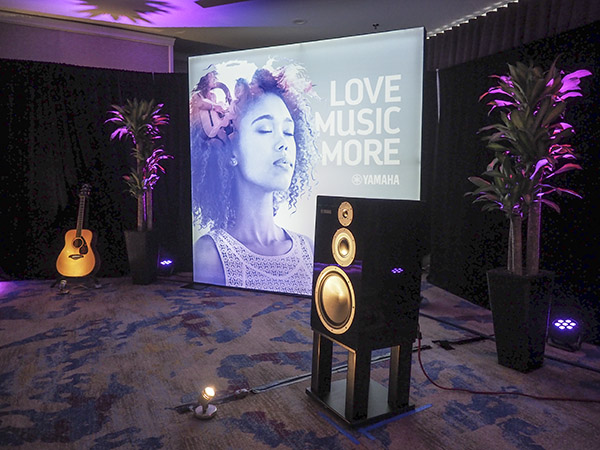 Judging by the products on display at Toronto Audiofest, Yamaha is serious about its entry into the high-performance audio marketplace. In addition to the DS-5000 speakers shown in the photo, they had the C-5000 preamp and M-5000 power amp, not released yet but expected to be priced at approximately $1k each. The DS-5000s showed astonishing clarity, with perhaps a touch of brightness.
Turntable setups were much in evidence at Toronto Audiofest. Mike Tang of Mike Tang Audio—always on the lookout for improving vinyl playback—showed some interesting tonearms, including the one in the photo that has a bamboo wand, the bamboo pieces carefully chosen for their sonic qualities. He also has a tonearm with a wand made of glass, both tonearms priced at $750. A little pricier ($1000) and more high tech is a tonearm with a magnetic suspension.
As I think is the case for many audiophiles, my introduction to high quality sound reproduction was from headphones. I loved the immediacy and more natural quality—so much better than I could get from a "record player." Although most of my listening now is to speakers, I retain a fondness for headphones, and I'm not surprised by the rise in their popularity. This popularity was certainly in evidence at Toronto Audiofest. A dealer named Headfoneshop had a good assortment of high-end headphones—at prices that would have been hard to believe in the days of the yellow-foam-pad Sennheiser HD 414. I had a listen to Sennheiser's latest headphone, the HD 820 ($3500). This is a closed-back 'phone, with Gorilla Glass featured in its construction. It's a lovely-sounding headphone, and maximizes the "you're-isolated-from-the-world" effect. Still, for $3500, I'd be looking for speakers. But then again, speakers need an amplifier to drive them, and there's the expense of speaker cable—not trivial in the high-end world. And while your source component may be able to drive headphones, to get really good sound you need to consider the purchase of a dedicated headphone amplifier. It never stops . . .
Wynn Wong of Wynn Audio takes pride in presenting products that are truly price-no-object. A couple of years ago, at TAVES, he had a system whose price was a cool million dollars (a good chunk of change even in US$). At Toronto Audiofest, the system demoed did not reach that exalted price level, and, I suppose, by Wynn's standards it's practically bargain priced (Vimberg Tonda speakers, $43,000/pair, Karan Acoustics KAM200 amp, $78,000, Goldmund Mimesa 22H preamp, $140,00, Kalista Dreamplay One CD player, $56,000, Zensati cables, price unknown, but if you have to ask . . .) Yes, it sounded really good—if memory serves, better than the million-dollar system—but past a certain price level I have trouble considering the price/value relationship. Wynn is a quiet, unassuming fellow, and I believe he's sincere in offering products that he feels push the envelope.
Although I may admire price-no-object audio products, my heart is really with products that are reasonably priced, and offer conspicuously good value. One of these that impressed me at the Toronto show was the Monitor Audio Studio speakers ($1799/pair, $2500 including dedicated stand) seen in the photo above. Incorporating design elements used in the Monitor Audio Platinum II series, including the Micro Pleated Diaphragm tweeter, the Studio has an attractive minimalist appearance (no grille, so you can see the high-tech drivers), and, with Roksan electronics, evinced admirable clarity, particularly at the high end.
In the Expensive-But-Maybe-Worth-It category was the system presented by Toronto-area dealer, Audio Excellence. The system was built around the Sonus Faber Aida II speakers ($186,000/pair), top-of-the-line McIntosh electronics and digital front end (approximately $75,800), ClearAudio Statement V12 turntable ($225,000), etc. (about an additional $104K). Yes, it's very expensive, but owners of this system may legitimately claim that it was the best-sounding system at Toronto Audiofest.