Sony HAP-Z1ES high-resolution file player Page 2
Enter the Android/iOS app for the HDD player, downloadable from Sony (Android) or the App Store (iOS). With this, one gains access to several screens and controls in a graphically pleasing and informative display. The main browser screen, a comprehensive browser screen, and a Now Playing screen all offer album art and progressively more detailed program information. There's nothing the front-panel controls can't do, including settings and playlist operations, but with the tablet the display is bigger, the operations more fluid, and—surprise—you can use it from anywhere you are on the network, including your favorite listening spot.
Serious Stereo
The Sony HAP-Z1ES works pretty much like a portable player, especially with the tablet controller, but it sounded like a serious audio player. (I can't compare it to a portable player because I've never used one, which should tell you something about my priorities.) Across all formats and resolutions, the sound was consistently well balanced from bass to treble, delivered wide dynamics and fine details, and had extremely low—generally, inaudible—levels of noise. In all of these parameters, the HAP-Z1ES's sound seemed determined more by the recording than by any limitations of its own.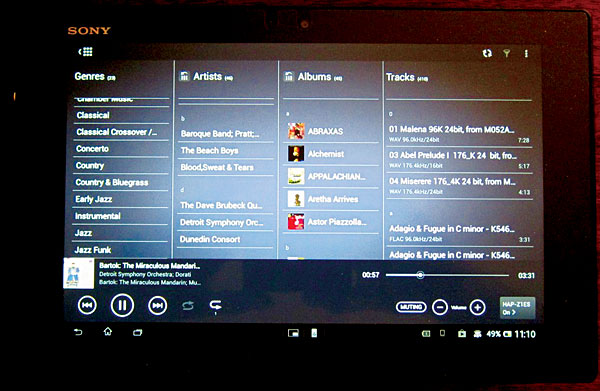 With hi-rez files, the Sony's sound was outstanding. For its harmonic purity of piano and voice and for the spaciousness of its ambience, I've often used mezzo-soprano Marianne Beate Kielland and pianist Sergei Osadchuk's Come Away, Death (SACD/CD, 2L 2L-064-SACD), available as a free 24/192 PCM download. The HAP-Z1ES played it as well as I've heard it, but differently. I was less aware, though not unaware, of the space occupied by the musicians, which was fine. However, it was more apparent that Kielland was a mezzo-soprano, even though the music is written in a range mezzos share with sopranos. A newly heard richness in the middle of her range made it seem both more human and more present.
DSD recordings, too, sounded absolutely first-rate, as evidenced by Shostakovich's Chamber Symphony in c, Op.110a, with Candida Thompson leading the Amsterdam Sinfonietta (Channel Classics download). The work is actually an orchestration by R. Barshai of the composer's String Quartet 8, a very successful one that well expresses the original's anguish and anger, with some added weight. Spatial detail is excellent, and individual instruments convey their particular flavors in much the way they do on the SACD via Sony's SCD-XA5400ES player.
The Shostakovich download included an MP3 of the same tracks, and though it suffered in A/B comparisons with the DSD version, it sounded reasonably clear and fairly open on its own. Here's where the HAP-Z1ES's DSEE was advantageous in converting the closed-in sound of MP3 to something more natural. When I switched it on and off, the difference was easy to hear. DSEE did magic with lossy Internet radio at all bit rates, and made 256/320kbps streaming a delight. For the first time, I can listen to so-called "hi-rez" streams, such as Linn Classical or AVRO De Klassickenthe excellent RCORadio, for hours without fatigue. I tried DSEE with many recordings, but could find no lossy or older, non-remastered 16/44.1 file whose sound it did not improve. Its usefulness was questionable with higher-rez PCM sources—it did nothing most of the time, and for the rest, it hindered as often as it helped. The HAP-Z1ES automatically turns off DSEE when it detects a DSD source, and that's a good thing—in that case, using DSEE would require a pyrrhic conversion to PCM.
Deeply interred in the settings menus is the option to turn off the DSD Remastering Engine. I believe Sony has buried it there to deter users from defeating this signature function. Embodied in a custom DSP/FPGA board, DSD Remastering Engine basically upsamples 64Fs DSD to 128Fs DSD. Other players and DACs can do this; Sony alludes to applying "Sony know-how" in this process, but says little else. I have files in both formats, but how can I rely on these to hear how Sony's upsampling compares when I don't know the details of how they were derived? Nonetheless, after many hours of stressful focus on A/B comparisons, I can offer no reason for ever defeating the DSD Remastering Engine; upsampling to 128Fs never sounded inferior to the 64Fs originals.
Comparisons
It was worthwhile to compare the sound of the HAP-Z1ES to other DACs when all are fed the same files. I had on hand the multichannel exaSound e28, the Mytek Digital Stereo192-DSD, and the Oppo BDP-105. The Sony seemed a bit warmer than the Oppo with PCM and DSD files from a flash drive plugged into its USB type A input, and similar to what I described above with Come Away, Death. Both the Mytek and the exaSound shared that warmth, but in the context of somewhat greater clarity and depth of soundstage—and, in the case of the Mytek, a hint of somewhat greater impact in the bass. The Sony was sonically competitive with all.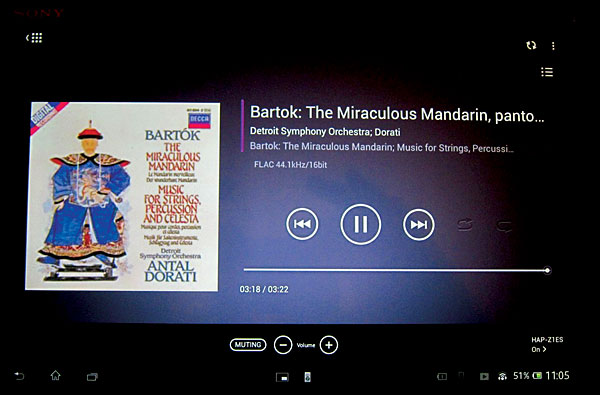 Conclusions
I've read comments on the Internet that criticize the feature set of the Sony HAP-Z1ES. I don't buy into any of them. Sure, it lacks digital inputs—but it's not marketed as a DAC. It lacks digital outputs—but its own DACs are entirely up to the task. It can't download files directly from the Internet—but that would require the inclusion of a browser engine.
Fuggedaboutit! Sony's HAP-Z1ES is an integrated single-box player that is of the highest sonic quality. Add any or all of those other features and it becomes something quite different. It also has the potential to become a gateway product for the mass market of portable-player users because it's based on the effective and familiar paradigm of downloading files to a computer and transferring them to a player. The only feature I might add would be a headphone jack, to ensure those users' seduction by the High End.