The Sonos SUB: Sexy, Smart, and Fun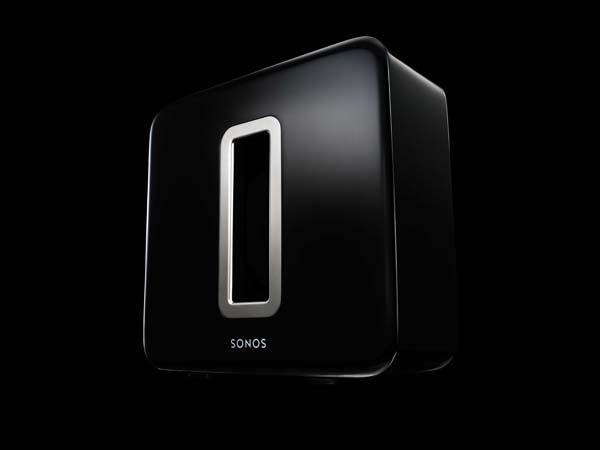 Yesterday afternoon, John Atkinson and I snuck out of the office, rode the subway down to Astor Place, and walked over to the Standard Hotel on Cooper Square. Once we figured out how to get inside the beautifully designed building—there is nothing standard about the Standard Hotel—we were welcomed into the Sonos Sound Library. Devised by
Sonos
and
Cool Hunting
as part of the International Contemporary Furniture Fair (ICFF) and NoHo Design Week, the Sonos Sound Library mixes acoustic treatments with fine furniture and places Sonos Play:3 wireless speakers around the room to create a fun, friendly listening environment.
(And guess who was there. You'll never guess. Bernie Williams! The former New York Yankee centerfielder! I'm a Mets fan, but I'm also a baseball fan, and I could hardly contain my excitement. "Mr. Williams," I said. "It's a pleasure to meet you. I'm a fan and you were an amazing player." Bernie looked at me like I was crazy.)
Highlighting the Sonos Sound Library is the Soundalier, a sort of functional sound sculpture. Created by Kiel Mead and Lindsey Adelman, the Soundalier is a visually striking piece that combines Adelman's iron chandelier with Play:3 speakers.
But John and I were at the Standard to see and hear something else. Several floors above, in a small suite with an enormous view, we were treated to a demo of Sonos' new SUB. Like with everything else on display, we were immediately impressed by the SUB's appearance: clean, sleek, modern but friendly. Designed by an engineering team led by Chris Kallai, formerly of Velodyne, the Sonos SUB uses two class-D amplifiers and two force-cancelling speakers in a mirror-image array, intended to eliminate cabinet resonances and allow for easy, versatile placement, vertical or horizontal, anywhere in a room. And did I mention the SUB is sleek? It measures approximately 16" H by 6" D by 15" W, weighs 36 lbs, and has almost no buttons or knobs in sight. There are no wires, no controls, no programming hassles. Kallai demonstrated the simple setup procedure which comprised answering a few basic tone and volume questions via an iPad, eradicating the tedious and potentially intimidating matters of level, phase, and crossover settings.
And the SUB, like all Sonos products, is smart. The SUB and other Sonos components happily communicate with one another, automatically adjusting audio settings to suit your room and placement requirements: All filter settings, equalization, and time alignment are done through DSP circuitry.
The SUB seems like an obvious choice for listeners who already own Sonos systems, but what if you want to connect the SUB to another brand of loudspeaker? Sonos's engineers considered that, too. They've analyzed a number of other loudspeakers to create algorithms which will allow the SUB to mate properly with your system.
How did it sound? We listened with the SUB mated to a pair of Play:3 speakers ($299 each), which were set almost randomly at the front corners of the room. At my request and with just a couple of taps upon the iPad's touchscreen, Sonos' senior PR manager, Eric Nielsen, cued James Blake's "Limit to Your Love," a low-frequency torture test. There seemed to be no limit to how low the SUB could go. When called for, it tickled our eardrums with tight, musical bass. And, as you can see from the picture above, the spare room had no shortage of reflective surfaces, but, aside from perhaps some lack of soundstage depth and image focus, the overall sound was visceral, exciting, and clean. "To-to-totally cool," I trembled.
The Sonos SUB seems a no-brainer for those who have already purchased Sonos systems and who need, or merely want, the extra bass power. But, because it is so beautiful and so easy to use, it will likely also appeal to anyone who appreciates smart technology and high-quality sound. I have no use for it at all, and I still want it.
The Sonos SUB, in its high-gloss black finish, will be available in mid-June for an eye-opening $699. Too expensive? A matte-black version will be available later for $599. Awesome.
For more on Sonos, see John Atkinson's review of the company's original WiFi music system.