Some Great Sound on Floor 5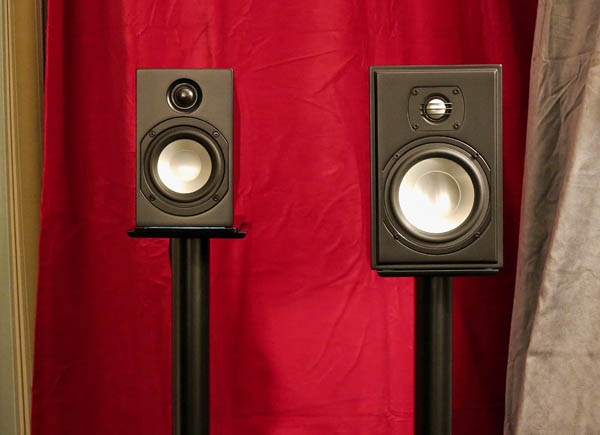 Vanatoo's two diminutive, bargain-priced self-powered speaker models were among the many excellent-sounding exhibits I encountered on the fifth floor of the Embassy Suites by Hilton Tampa Airport Westshore, during my second day at the Florida Audio Expo. Nor was I the only attendee to realize how good Vanatoo's speakers sounded: The Seattle-based company's Gary Gesellchen was DJing to a standing-room-only crowd when I arrived.
I spent most of my time revisiting the larger Vanatoo Transparent One Encore ($599/pair, on the right in the photo above, next to the $499/pair Transparent One), which I'll be reviewing for Stereophile. Highs on one selection sounded a little brittle, but when it came to the 24/96 version of "Misery" from Dave's True Story, one of many hi-rez tracks found on HDTracks' 2009 sampler, I was seduced by the speaker system's really beautiful midrange. Dire Straits' "My Parties" sounded just great. Considering that I was listening to files sourced from a laptop via fresh-out-of-the-box generic optical cabling, the excellence of the sound was noteworthy.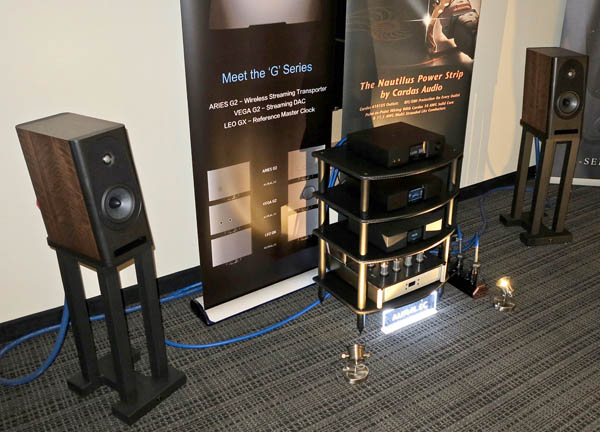 Talk about synergy. On this system from Auralic, Doshi, Ryan, and Cardas, midrange and imaging were superb on Qobuz streams of Friend 'n Fellow's "What a Wonderful World" and Malia and Boris Black's "Magnetic Lies," from the album Convergences. The three-dimensional soundstaging was one of the system's many strong points.
The plusses continued with Stokowski's recording of "The Old South" from The Plow that Broke the Plains. Not only had I never before heard this music at an audio show—kudos for that—but it also sounded extremely musical. "The Doshi amplification has such a beautiful sounding midrange," I wrote in my liner notes. "I'm hearing everything I'd like from a system."
Doing the considerable honors: Auralic's Aries G2 steaming transporter ($3999), Vega G2 streaming DAC ($5999), and Leo GX Reference master clock ($7999); Ryan Audio S610 stand-mounted speakers ($3995/pair); Doshi Audio 75Wpc stereo amplifier ($19,995); Cardas Audio Clear and Clear Beyond cabling plus new Nautilus power strip; and Pangea Audio Vulcan audio rack ($129).
Deland, FL-based À La Carte Productions displayed a "basic value system" that, heard from the extreme nearfield, sounded very nice, convincing, and invitingly warm on Eric Clapton's "Before You Accuse Me" from Unplugged. The system's midrange was definitely its strong suit on my first show hearing ever of an inherently bright Testament LP reissue of Janet Baker's famed rendition of Elgar's Sea Pictures. While this wasn't the most transparent system on the planet, its stereo imaging didn't always cohere in the nearfield, and there was a bit of distortion on top (which, for all I know, was the fault of a worn LP or dirty needle), its sound was extremely musical.
I heard the VPI Player turntable ($1500 with Ortofon 2M Red cartridge), in this case outfitted with an Ortofon 2M Blue ($236); Creek Audio Evolution 50A integrated amplifier ($1195); Spendor Audio A7 speakers ($4995/pair);, Luminous Audio Technology cabling; and a Tweek Geek Dark Matter Tech Dark Energy Harmonizer, passive edition ($499).
Dynamic Sound Associates, aka DSA, of Naples, FL also set up a nearfield listening system whose speakers were spaced so far apart on the room's long wall that I couldn't possibly photograph everything without standing on a chair in the corner and including, in the photo, shots of several iPhone-toting visitors. This system's lovely midrange and strong solid bass, rather than its top, were definitely its strong suits.
The show exhibitor did his best to try to convince me that the Dallas LP of Rachmaninoff's Symphonic Dances contains something other than a limp, lifeless, slow, plodding, and emaciated performance. Yes, this version has extremely strong bass, but that doesn't mean that it's either in proper proportion with everything else on the recording, or alters the fact that this is the most unmusical rendition of Rachmaninoff's final orchestral work.
Are my feelings about this horrid performance and recording clear?
Billie Holiday's "Day In, Day Out" sounded quite mellow in the midrange but bright on top. A mono recording of June Christy's "Something Cool," played with an Ortofon Cadenza Mono cartridge ($1280), only confirmed that impression. Also heard: Ortofon MC A95 ($6499) and Windfeld TI ($4390) cartridges—I have no idea which was playing when—VPI Avenger "Magnetic Drive" turntable with three JMW-12 Fatboy 3D printed arms ($31,200), DSA Phono II phono preamp ($13,500), DSA Pre I line stage ($16,500), DSA Amp I monoblocks ($25,000/pair), Spendor Audio D9 speakers ($10,995–$12,395/pair, depending on finish), Tweek Geek Bybee Stealth Dark Matter Power Purifier ($5949), and the world premiere of the Tweek Geek ADD-Powr Sourcer parallel line conditioner ($4999), and Luminous Audio Technology cabling.
Nola by Accent Speaker Technology usually gets great sound from its setup, but for some reason, Sweet Home Audio's pairing of the diminutive Nola Brio Quatro satellites and subs ($5000 total), Rogue Audio Cronus Magnum III integrated amp ($2995), Electrocompaniet CCD1 CD player ($2500), Quadraspire Rack Bamboo ($1500), and Wireworld Eclipse 8 interconnects delivered a transparent, dynamic presentation on Pentatone's excellently recording SACD of Stravinsky's L'Histoire du Soldat, conducted by Paavo Järvi, that was marred by saw-like highs. Ditto for a track by Dead Can Dance, which otherwise sounded quite captivating. A recording of Joe Williams that was playing as I left featured schmaltzy piano, but did a fine job of conveying his voice's warm midrange. Color my impressions mixed.