Saturday in Munich with Art, Part One
Since Herb Reichert and I were booked to fly back to New York on Sunday, Saturday was to be my last day at High End 2018—which is to say, Saturday was my Sunday: a day of moving along smartly, covering as many rooms and booths as possible, and listening only briefly.
Wouldn't you know it that my first stop of the day, at the room sponsored by German loudspeaker manufacturer Zellaton, was one that discouraged drive-by reporting: This system, built around the enormous (350kg each) Zellaton Statement loudspeaker ($375,000/pair), had a clarity and ease unlike anything else at the show. And the system presented instrumental and vocal images with uncannily convincing presence: On a recording of a small jazz combo, for the first half-minute, although I was grooving on the convincing, rolling musicality of a guitar in one channel and percussion in the other, I thought maybe the center fill was a little disappointing. And then bam, a very colorful and tactile piano entered center stage, and dispelled any such concerns. And on a recording by Dean Martin of "Melancholy Baby," the voice was similarly, eerily present.
Company head Manuel Podszus, the grandson of the man who founded Zellaton between the wars, described for me the three-way speaker's aperiodic loading, and explained how difficult it is to manufacture each of its drivers: a tweeter takes two weeks, a midrange driver six, owing to the challenges of creating, by hand, their laminated aluminum-and-foam diaphragms. Podszus also described the system's Schnerzinger cables, used with a product called the Schnerzinger Protector—if I understand correctly, the latter uses antennas at both ends of the speaker cables, to transmit RFI-blocking and -cancelling signals—and the time-consuming process of designing and fine-tuning the Statement's crossover network, built with the finest available Duelund capacitors and chokes. And Duelund founder Frederik Carøe (that's his hand, above) showed me an example of one of the hand-made, silver-wired capacitors that are used in the Statement.
The phono source for the system described above—which also used a preamp and dual-mono amps from the Japanese company YS Sound—was the Reed Muse 3C turntable ($15,000), which Michael Fremer wrote about in the November 2017 Stereophile. I had never before heard or even seen this remarkable product, which offers both belt- and idler drive from its two horizontally opposed motors, tucked away underneath the platter. I mused (sorry) whether the 3C was the source of the system's very good momentum and musical flow.
In a room sponsored by the Swiss distributor High-End Company AG, I heard a pair of Totem Acoustics Tribe Tower loudspeakers (far right, with the tapered cabinet—5950 Swiss Francs/pair) driven by a VTL ST-150 power amplifier (8330 Swiss Francs) and TL-2.5 preamp (4870 Swiss Francs), fed by a YBA Signature CD player (14,260 Swiss Francs), and with all Straight Wire cables. The room—which really was a room, not a temporary break-out thingie—was crowded and a bit noisy, but even so the system's key strengths shined through: a taut, muscular bottom end with lots pleasantly stringy texture on electric bass, and similarly good texture on vocals and solo instruments.
On numerous occasions I've written about the PTP Audio Solid 12 turntable, a high-value product that I regard as the best and most affordable way for vintage-audio newbies to see what the idler-drive fuss is all about. I'd never before met company head Peter Reinders, who creates his turntables by combining vintage Lenco drive systems with Corian plinths and various original mechanical parts—but at High End 2018 I finally ran into him while we were both walking from one atrium to another. Unfortunately, I ran out of time before I could visit the PTP booth, but Reinders mentioned that he has two new turntable models: the Twin 9 and the Twin 12, the numbers referring to the tonearm lengths their plinths can accommodate.
I saw my old friend Roy Hall at the Music Hall booth and asked him: "Roy, if I were to photograph one of the products here and put it on our website, which should it be?" Without hesitation, he pointed to the Music Hall mmf-9.3 turntable-tonearm combination: not a new product, but newly available with a pretty walnut veneer. (Just the thing to go with your vintage Advent speakers!)
I walked into the Luxman room in time to hear an absolutely lovely bit of music: a small-scale orchestral work by cellist Fan Tsung-pei, from an LP called Longing for the Unforgettable Spring Breeze. Sonically, the system—Luxman PD-171A turntable-tonearm combination, EQ-500 phono preamp, and L-509x integrated amp, plus Quad ESL-2912 loudspeakers—had an excess of texture, but that might have been endemic to the record, which was new to me; that being said, the system was musically enchanting, leading me to wish I could have stayed longer.
Jules Limon (above), the Swiss engineer and product developer who in 2007 became President of EMT, recently decided to begin winding down his professional commitments and to consider retiring from the historic firm. Consequently, his co-workers decided to honor him with a new EMT cartridge: the JSD Lime (Citrus aurantifolia). At High End 2018, Limon responded by dressing in an appropriate color scheme.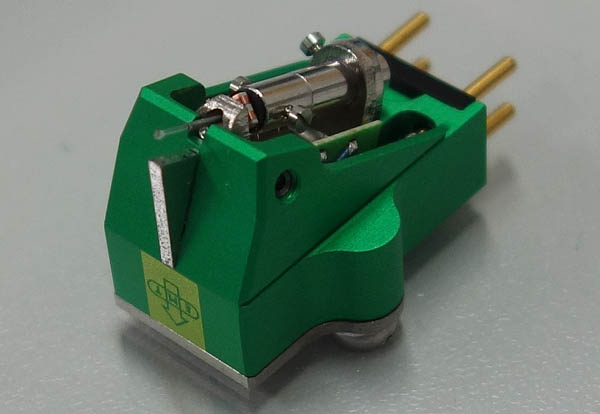 Specifications for EMT's JSD Lime cartridge—which features a Super Fine Line stylus on a white sapphire cantilever—include an output of 1mV, an impedance of 20 ohms, and a downforce of 2.3-2.4gm.