Ry Cooder's Finest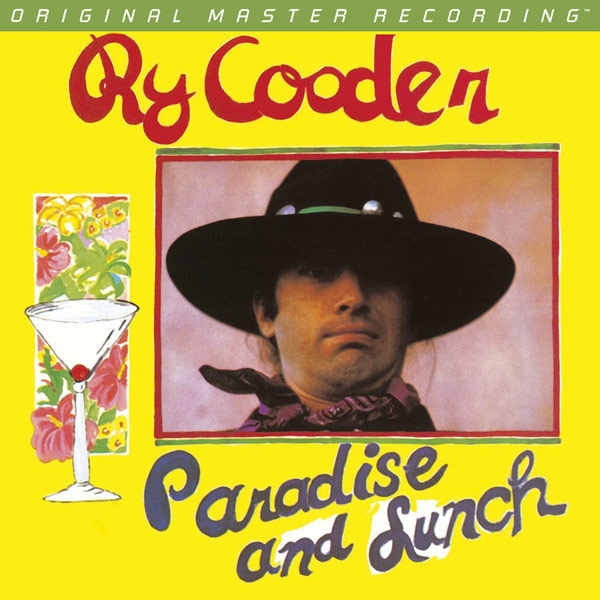 I'm not sure if Ry Cooder, guitarist extraordinaire, ever made a bad record but I damn sure know that
Paradise and Lunch
will forever be his brightest classic.
For the first time since it was released in 1974 and repressed in 1976, the album has been reissued on LP in the US by Mobile Fidelity Sound Lab, who has done its usual beautiful job in terms of both sound and packaging. Originally produced by Warner Brothers honcho and co-visionary (along with Mo Ostin) Lenny Waronker and SoCal cohort (and Randy Newman producer) Russ Titelman, the album was always well-recorded in the extreme. While this new LP version may be a touch louder, it's close to the original which was big, ultra-warm, perhaps a bit run together and ill-defined in spots, but with the kind of inclusive, inviting sonics that draws the listener in and makes you feel like you too are a part of this good-time, ragtag mob, effortlessly making magnificent music and having one hell of a good time.
I've always felt that Paradise and Lunch is country music, not in the sense of Nashville, but in the sense of earthy, real, utterly American art. Paradise and Lunch is the kind of record you can listen to a hundred times and still not understand all the information, inspiration, and pure genius that rises from its rarified grooves. Despite being the solo record of a guitar virtuoso, this is also a vocal record, a point made in the very first track, the deeply funky traditional number "Tamp 'Em Up Solid," when eight backup male voices play tag with Cooder's string work.
The rhythmic intelligence surrounding and infusing this entire record continues on the album's sole original, "Tattler," a tune memorably covered by Linda Ronstadt and one that contains the enduring lines, "True love can be such a sweet harmony/If you do the best that you can."
Towards the middle of the record comes the most effective one-two punch of Cooder's entire recording career. First up, "Jesus on the Mainline" with its loopy bass line, massed male voices, and Bowery Mission-like brass band, seems like the most infectious, impossibly funky track ever cut by a white Americana musician. That's immediately equaled, however, by a shaggy, reggae-meets-New Orleans, organ vs guitar take on Bobby Womack's great single, "It's All Over Now." Cue up those two tracks and see if you can sit still during either. Clearly, at this time Little Feat and Cooder were imbibing from the same intoxicating musical pool. Funny enough both of those tracks feature more Cooder singing than guitar.
And if that wasn't enough to make for a memorable record, the guitarist goes the extra mile and closes the proceedings with his best vocal performance, a version of Burt Bacharach's "Mexican Divorce," a tune made famous by The Drifters. While that may sound like an incongruous choice, it fits perfectly. The coda, unbelievably enough, is a guitar-piano duet with the great jazz pianist Earl "Fatha" Hines on Blind Blake's "Ditty Wah Ditty."
To say they don't make records like this anymore may rank among the greatest understatements ever. It's an amazing collection of songs and performances. And the cherry on top is that the great Jim Keltner is the drummer through it all. He's never made a bad record, either. This boundless treasury, inexhaustible vein, the everlasting spark from which Americana as a musical genre sprung, Paradise and Lunchis truly a masterpiece.