RMAF 2016: Herb's Friday Morning
I believe deeply in the importance of bricks-and-mortar audio dealers. I see audio salons as regional pilgrimage sites. I see them as places to hang out, educate myself, and dream about how perfect life will be when I get that new tonearm and cartridge I'm lusting for. They are also the best place to buy perfectionist audio.
In New York, we have at least nine high-end audio dealerships, and each is radically different in vibe and product roster. At each one I learn about and experience a completely different musical-aesthetic viewpoint. I believe this type of direct contact with genuine, live, audio-smart humans and the systems they create can never be replaced.
Out here in the Wild West there's a pilgrimage site of another sort: the Four Corners Monument, where you can stand in one spot and be in Arizona, New Mexico, Utah, and Colorado simultaneously. Visit it, and you'll also be just a stagecoach ride from some of ListenUp's six high-end audio salons, in Denver (two locations), Boulder, and Colorado Springs, CO, as well as Albuquerque, NM and Portland, OR. ListenUp, founded by Walt Stinson, showcases at least 60 high-end audio brands and employs over 100 knowledgeable humans to assist you on you audio journey. Here at RMAF 2016 they had nine rooms on the 8th floor, and every one showcased good sound and good people. Each room featured one or more major brands that ListenUp represents…
The first time I saw the Pro-Ject VT-E R ($300) vertical/wall-mount "plug & play" turntable (top photo), I smirked and imagined some fancy CEO's office with a wall full of signed sports jerseys, a display cabinet full of signed baseballs and footballs—and a bright red Pro-Ject VT-E R. Then my brain began to spin, wondering how the thing actually works. What keeps the record on the platter? What keeps the tonearm on the record? (The short answers: a record clamp, a special cartridge, and a spring-loaded tonearm with pre-adjusted tracking and antiskating forces.) I think these players are cool-looking, well-crafted, and ready for prime time.
Paris-based Devialet merges modernist design elegance with high-tech, 2016-style amplifier engineering. They were demonstrating their new Expert 1000 Pro ($39,990): an elegant two-chassis integrated amplifier delivering 1000Wpc. The sound was smooth and tactile—just like their name. The speaker was the always explicit and dynamic Focal Sopra No2 ($11,093/pair), and the cabling was by AudioQuest.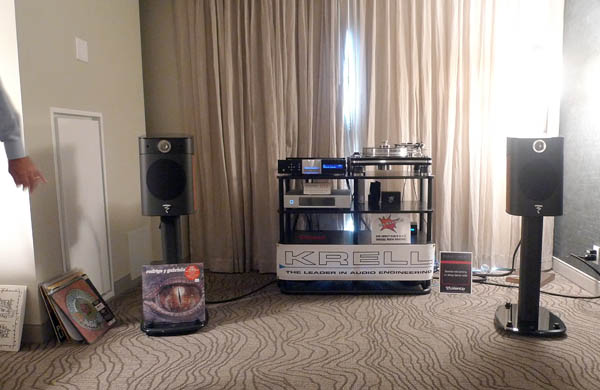 By all rights, I should say mean things about the ListenUp/Krell room: those people kept me awake all Thursday night, breaking in their system—just on the other side of the wall from my pillow. But it wasn't actually the sound that drove me crazy, it was the fact that they set their Aurender N10 Music Player ($8000) to repeat just one Dire Straits track—"The Sultans of Swing"—over and over and over. I tossed and turned and covered my head with pillows: Please, Lord, save me from this aural waterboarding…please! At about 3:36 am, God answered, "But Herbo (He calls me Herbo), they're using the excellent Krell Industries Digital Vanguard integrated amplifier ($6000) and AudioQuest cabling throughout!" The next day, I forgave them (just like God would), because they made a very interesting demonstration. They played that "Sultans of Swing" song via Bluetooth, then via CD. When they asked me if I was impressed by how much the Bluetooth sounded like the CD, I said I was not.
But! Just as I was gathering my stuff to leave, I noticed a copy of the Grateful Dead's American Beauty LP leaning against the equipment rack. The Imp of the Perverse whispered in my ear, saying, "Ask them to play that Dead record on their VPI Prime Signature turntable ($3800) and Ortofon Cadenza cartridge ($2309)." The Imp told me to—so I did. And damn! I'm glad I did. The sound went from, dull, round, and uninvolving (Bluetooth) to lively, detailed, and fun (CD), to flat out stunning (LP). But it wasn't the great LP sound that made me forgive them for that all-night aural waterboarding—it was their cheerful, apologetic humanity!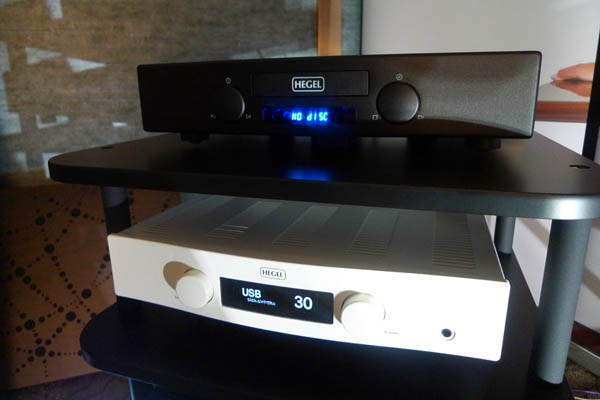 The Imp of the Perverse stayed with me (riding on my shoulder, so he could whisper in my ear) as I entered the Hegel room, wherein I learned some unusual digital lessons and had some musical fun. Eileen Gosveg and Anders Ertzeid made this amazing demonstration: First they played a WAV file of James Taylor's "Sweet Baby James" through the built-in DAC in the Hegel H160 integrated amplifier ($3500), with Sonus Faber Amati loudspeakers ($19,500) and Nordost cables all around, and it sounded very recording-studio-like. The reverb in the recording was conspicuously present and tangible in a way that suggested full-on high resolution. Then they played the file again, via their new (all white) Hegel Röst integrated amplifier with DAC ($3000), and it sounded even more deliberate and defined, but also a touch more relaxed. But then! With smirking deliberateness, they played it one more time, but this time via a CD inserted in their new (I am in love) Mohican CD player ($5000), which is only 16/44.1 all the way through.
At home I listen to a lot of 24/192 programme and it is usually nice sounding, but in my heart and inner mind I tend to prefer the 44.1 versions. Why? Because they flow more easily, make me feel the music more strongly, and seem less mechanical. Hegel's owner and chief designer feels the same way. I thought the Mohican 16/44.1 CD player delivered a more enjoyable, elastic, and persuasive presentation than files played through the DACs of either the H-160 or Röst. Anders said that Hegel wanted to make this new CD player an all-out assault on the Red Book standard. According to Anders, Hegel's owner insisted, "We must make this last [of the] Mohican[s] CD player—even if we only sell seven worldwide!" I was beyond impressed, and I doubt Hegel's new Mohican 44.1 player will be their last CD player or the last 44.1 product. I seriously doubt I am the only one still harboring warm feelings about Red Book digital playback.
They were playing Dead Can Dance as I was walking out, and that ol' Imp of the Perverse whispered in my ear once again: "Tell them you absolutely must review the Mohican, and demand they send you one right away!" I did as I was told, of course.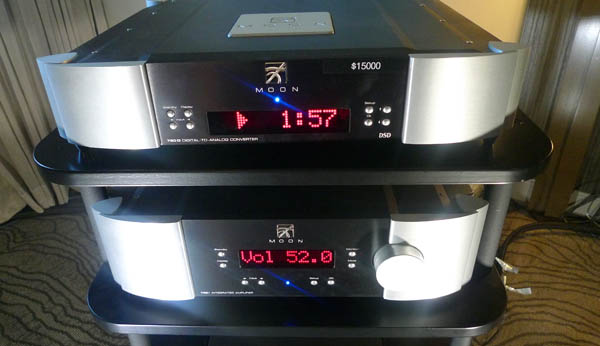 If you are confused, Moon is the brand, and Simaudio, which for 37 years has been manufacturing electronics in Montreal, Quebec, is the corporation behind it. Most important, Simaudio is privately owned, and reportedly does everything under one roof, all while offering a 10-year warranty on all of their products. These facts strike me as no less important than the model numbers and prices of the Simaudio gear on demonstration at RMAF—but JA insists I mention the latter, too, so here goes: a Moon by Simaudio Evolution 780D DAC ($15,000) fed a 350Wpc Evolution 700i integrated amplifier ($14,000) that easily drove a pair of B&W 802 D3 loudspeakers ($22,000) to a kind of clear, clean, and highly stimulating reproduction that was, for me, among the two or three best sounds at RMAF.
What's the hard part about providing journalists with an 8.5" by 11" printout of the gear being demonstrated in the rooms we're attempting to write about? When I ask exhibitors for such a thing, most just say, "Can I e-mail it to you?" Others hand me a USB stick and say, "It's all on here." Those promised emails almost never arrive, and the USB sticks turn out to contain mostly advertising hype/press releases. At least the USB stick provided to me at the Cambridge Audio room—site of a beautiful but static display—described "new versions of [their] TV2 ($199) and TV5 ($299) soundbase models [television loudspeakers], with extensive improvements to performance and design."