RMAF 2016: Friday Afternoon with Herb
It was one of those walk-in-the-door, "Ah ha!" moments: Instantly, I got a very good feeling about not only the looks of Brinkmann Audio's Nyquist DAC ($18,000) but also the quality of the work it was doing in the MQA room. The Nyquist really caught my eye
and
my ear.
Although they're more boring looking, high-end DACs remind me of analog (phono) front ends, because of the manner in which they approach their job and the diverse quality of the work they do. It is crazy how different each of them can sound, but when they're exceptionally good—or exceptionally bad—the differences between DACs are not subtle.
This DAC, which is named after Harry Nyquist—he of the Nyquist-Shannon digital sampling theorem—was new to me. I already knew and admired Helmut Brinkmann's high-fidelity turntable, tonearm, and amplifier designs. But I had totally forgotten that Brinkmann had developed and introduced the company's first DAC, the Zenith, in 1986. The Zenith relied on Brinkmann's analog circuitry and passive filter implementation to show the newly formed world of digital audio the potential of standalone DACs. Brinkmann says, "Everything we learned with Zenith—combined with three decades of subsequent engineering experience—has resulted in Nyquist: the culmination of our vast audio design expertise." The Nyquist looks superbly crafted—and, again, the minute I walked in the room, I knew it played music with a unique, solid authenticity. And then…I got up close and looked inside the chassis. Wow! Dang!
The inside of the Brinkmann Nyquist is beautiful, like a jet fighter. Not only does the substantial, seemingly-military-grade "DAC module" plug in from the back (so it can be easily changed or upgraded), it has been optimized to accommodate all the latest digital formats, including MQA streaming and playback, PCM, DXD, and DSD 64 and 128. The Nyquist employs hybrid circuit topology, with output-stage tubes nestled in the unit's side-mounted heatsinks. It is also Roon-ready and provides balanced and single-ended headphone outputs.
With the aid of Brinkmann's Marconi Preamp ($12,000) and the Mono power amplifiers ($15,000/pair), I listened to "Nature Boy" by Radka Toneff (1978) through some Vandersteen 5A Carbon loudspeakers ($29,000/pair), and I really dug it. Cables were by AudioQuest, the equipment rack was by HRS, and the sound character was fully textured, dynamic and engaging. Very nice.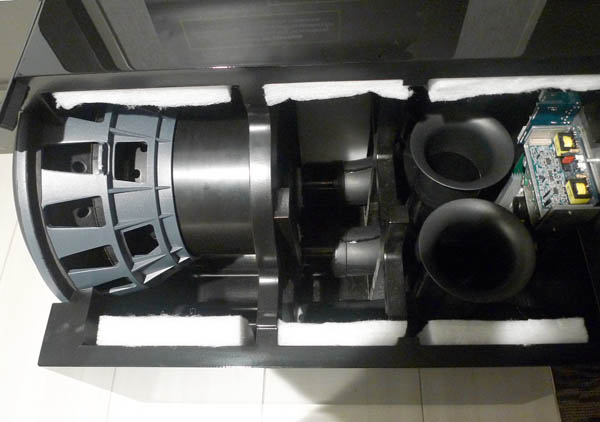 When I stood next to the cut-away display model of the SVS PB16-Ultra subwoofer ($2499.99) and looked down, I was almost scared. It looked darkly foreboding and potentially powerful—maybe even dangerous. I jumped in panic when they started up George Miller's latest Road Warrior epic, Mad Max: Fury Road. For a handful of minutes I witnessed world-class bass and completely stunning home theatre.
The sound of the music matched the style of the components in the Constellation Audio room, where they demonstrated Constellation's Inspiration Preamp 1.0 ($9,900) and Inspiration Stereo 1.0 amplifier ($11,000) with Magico's S1 MK2 loudspeakers ($16,500/pair) and Meridian's new Ultra DAC ($20,000). Cables were by Wireworld. Every song was thunderbolt fast and hospital clean.
What can I say about Audioengine? Known mainly for their self-powered desktop speakers—not long ago, Audioengine released their first passive desk models, the HDP6 ($299) and the P4 "bookshelf" speaker ($249-$325)— the company usually puts on silent or semi-silent displays at audio shows, but I love how smartly conceived and well crafted their products are. I always look forward to shooting the breeze with the so-cool-and-suave Brady Bargenquast, his fabulous wife, and his smiling, informative, and high-horsepower crew.
Meanwhile back in my Brooklyn bunker, I have auditioned the Audioengine A2+ powered desktop speakers ($249) at great length, and the B2 powered Bluetooth Speaker ($299) currently forms the voice-articulating "sound bar" of my miniature home theater. The sound quality of both high value loudspeaker products is way better than it has any right to be. Brady and Audioengine seem to really understand what their customers want—and I'm their biggest fan.