Richard Thompson: Daring Adventures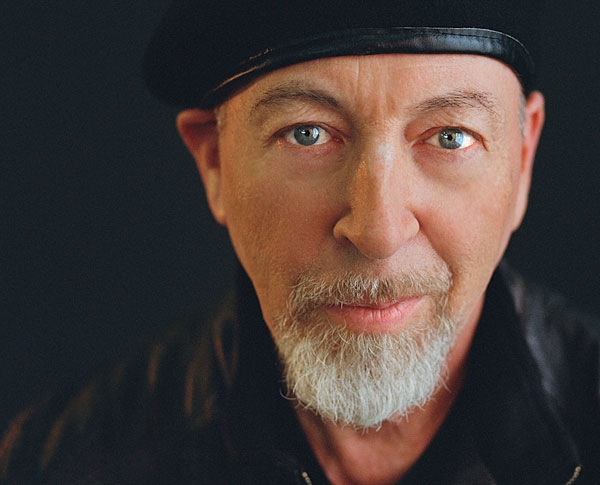 It had been years since
Stereophile
's last San Francisco Hi-Fi Show, when we'd hired him as a solo act, and yet the conversation was once again instant vaudeville, and I was again the straight man.
"The last time we saw each other, I think I just shook your hand and handed you a check."
"What, you didn't bring a check this time?"
"So this is your 16th solo record?"
"Is that all? Bach was doing a cantata a week. How many songs did Schubert write?"
"But he didn't do the words."
To say that Richard Thompson, who started out in Fairport Convention in 1967, at the age of 18, is an old hand at songwriting, guitar playing, and the art of conversation is to understate the case just slightly. In fact, he knows the music side so well that, at times, he worries that he's getting a bit too comfortable doing his stuff. It's that need to leap out of his comfort zone and shake up his music that's moved Thompson to bring in outside producers for his last two solo studio albums. In 2013, for Electric, he hired Nashville guitarist and singer-songwriter Buddy Miller. For his latest, Still, he's tapped into the Wilco mystique by working with the group's founder and chief songwriter, Jeff Tweedy.
"You do worry that you begin to sound similar from record to record," Thompson said as cars whizzed by the windows of the Roger Smith Hotel, on Manhattan's Lexington Avenue. "I don't think the Buddy Miller record sounds similar to any other record that I've made. You want someone to bring their personality to it. Mix it a little differently. Push the compression up a little bit more than I would, or something."
Tweedy has been hailed as a genius of sorts, thanks to the many creative phases Wilco has gone through since he and Jay Farrar split up Uncle Tupelo in 1994. He recently embarked on several side careers: as a record producer, producing two records by Mavis Staples, You Are Not Alone (2010) and One True Vine (2013); and as band member and touring mate, with his son Spencer, in the modestly named band Tweedy. In addition to producing, Tweedy plays keyboards and rhythm guitars on Still.
"Have you heard the latest Mavis Staples record? That's a well-produced record," Thompson enthused. "That's a record that puts the artist at the front and center of their own project. Good thing. And he surrounds them sympathetically. I think he did the same thing on this record.
"We didn't talk too much about the actual songs. We didn't have to have a big fight there. He suggested some tweaks to some of the rhythms, or dropping verses here and there. And he added audio things. In 'Broken Doll' there are keyboards going on, which is great, very sympathetic to the song. More than anything else, he had the good idea of allowing me to bring my own rhythm section in, which I think is very good."
Thompson wrote the songs for Still in the three months before they began recording, at the Wilco Loft, in Chicago.
"I usually feel, if you write songs in a compressed period of time, they kind of belong to each other. They have a commonality. Sometimes there's a preponderance of a particular harmonic idea or something—there's something that, to me, seems to tie things together."
"So what's the link here?" said the straight man.
"I can't tell you or you'll see through my shallow construction. [mischievous grin] The window we had [to record] was nine days, we knew that going in. Eleven days would have been nice. I might have rethought a couple of things if I'd had the time. But then, you know, [if] you don't have the time, sometimes it's a good thing. We had rehearsed [my working] trio, which is good, so three of us supposedly knew the material—ha-ha! Tweedy was perceptive enough to see what the project needed and who would be the best people to deliver that, and so the other musicians who came in were very fast [learners].
"Guitarist Jim Elkington—maybe it's because he's English—he got me very quickly. He got my thing, whatever that is, really fast, and did just a great job, which saved me having to overdub an acoustic guitar here or there, or to be a second guitarist myself. And Liam and Sima Cunningham had the brother-and-sister vocal connection. They picked up on my accent and phrasing very quickly, so they didn't sound like they came from Nashville or Memphis or something. They actually kind of blended really fast."
As has been the case for most of his career, Thompson says, Still was recorded on tape and not straight into the computer. "This is for Stereophile, and so I would like to stress that my record is in stereo. If you have a stereo image . . . like, the classical records I like best tend to be from the 1960s. Early stereo. They're recorded at Watford Town hall in England, Sir Adrian Boult's conducting, and it just sounds fantastic. It just sounds so of a piece: lush, and brilliant. Sometimes digital can sound slightly unnatural to me. There's a little too much high, it's a little too shiny.
"We're basically putting down stuff live as much as possible. It was all recorded straight to 24-track and then put into Pro Tools after that. I like the combination of the two. If you go through Pro Tools [from the beginning], you need to warm up the signal somehow, so you either go through a nice old tube mixer or you master to ½"; you do something to get it warm.
"The nice thing about working to tape initially is that it just seems to blend better, it seems to mix better, and so bass and drums sound like they belong as a thing rather than having to spend a lot of time manipulating them into that state. For me, it's a more three-dimensional sound. There's more depth to the sound on analog, I don't know why. It's probably an audio illusion. To me, digital just sounds a little bit flat. You don't quite get the picture."
Speaking of recording on tape and production values, perhaps the only period in Thompson's long career that has provoked any controversy was a concerted push by then major label Capitol Records (now part of Universal Music) to make him a more mainstream performer and enlarge his audience—a time that stretched from Amnesia (1988) to Mock Tudor (1999).
"When you ponder that period of your career now, what comes to mind? How do you feel about those records today?"
"The first thing I think about when I think about that time is fun. We had a lot of fun making those records. The second thing is maybe I should have put my foot down more, and said 'I'd rather have this than that.' [The push to make me a rock star] was absolutely happening at the time. You have a major label saying, 'You know, treat the drums a bit more, a bit more reverb, a bit more 'Born in the USA' snare drum, where's the single?, blah blah blah.' I think we had reasonable autonomy, but there was a bit of that."