Resolution Audio Cantata Music Center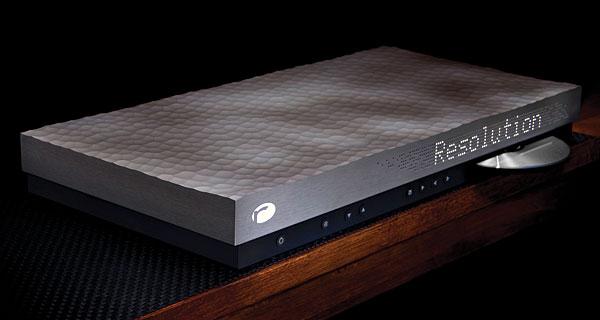 The dual subwoofers were bumping and our pant legs were flapping. Only moments before, we'd been treated to a polite viola da gamba. Not now. Resolution Audio's designer, Jeff Kalt, had brought only two discs with him to ensure that his company's Cantata Music Center was functioning properly in my system: Jordi Savall and Hespérion XXI's
Altre Follie, 1500–1750
(CD, Alia Vox 9844), and Tool's
10,000 Days
(CD, Tool Dissectional/Volcano 81991). After changing a few things around with the chamber music, we'd advanced to the hard rock of Tool.
Next to Kalt on the couch, his girlfriend, Maryann, was nodding her head up and down to the music. At the loud level Kalt had set, the staccato start/stop style of "Jambi" had taken control of the room. He turned to me, remote in hand, and tilted his head toward the volume setting, as if to ask "Can I turn it up?" I nodded, and we all proceeded to bounce (yes, the floor and couch were bouncing a little) to the onslaught as Tool's glory pinned our ears back even tighter.
"Jeff and I bonded to the music of Tool," Maryann confided to me later. Two such sweet, almost shy people—I never would have guessed. Under their unassuming surface were an intensity of purpose and an intelligence that, I would come to discover, are also present in Kalt's products.
When I get a new product in hand I normally shun its manufacturer's advances, preferring to experience my first impressions of the product just as a regular buyer would. But when Kalt pointed out that his dealers often offer a setup service for new customers, I relented. Turns out the Cantata was easy to set up and use, but I discovered that this attention to the customer was, indeed, pretty standard for Resolution Audio. Take the box the Cantata comes in: a sturdy, handmade, stamped wooden crate carefully lined with foam that perfectly cradles the product.
Senses Working Overtime
Audio products are here to stimulate our sense of hearing, but the Cantata also pulls sight and touch into the mix. Jeff Kalt says he worked closely with his metal fabricator to get the most unique casework I've seen enclosing an audio product: the top is an undulating sea of scalloped aluminum waves. It must be seen to be believed, and touched to be understood. Stunning. The Cantata is also fully packed; at 13 lbs, it weighs more than its looks suggest, and that top panel got a bit warm (about 102°F).
For those who, like me, have left analog sources behind, the Cantata may be all that's needed in addition to amplification (a matching Cantata 50 amplifier is available) and speakers. The Cantata is a digital preamp with a built-in CD player, and a DAC for everything else digital. And I mean everything.
On the front right half of the low-slung Cantata's front panel is an array of small holes; splashed across the 1"-thick edge of the aluminum top, these holes hide a retro- yet oddly futuristic-looking large alpha-numeric display. Below the aluminum slab is a row of buttons on a black background. From left to right, these are power, input select, volume up/down, the disc-player controls, and the built-in CD player's all-but-invisible disc drawer. Clean and to the point.
More comprehensive control is available via either the Cantata's medium-size remote control or, with a free app, your iPad, iPhone, or iPod Touch. The beautifully designed app controls all of the Cantata's functions, and Kalt has created the best implementation of touchscreen volume control I've seen. Instead of the typical slider bar, which can accidentally be pushed to full window-shattering volume with a single errant tap (trust me, I've done it), the Cantata app has a calibrated virtual wheel that spins forward and back as you swipe at it. Elegant and idiot-proof.

On the Cantata's rear panel are, from left to right: the power switch, fuse, and detachable grounded power-cord socket; a Cantata Link (for hooking up to RA's Cantata amps); Ethernet, USB, TosLink, AES/EBU, and coax inputs; and balanced and unbalanced stereo outputs. Unlike the Ethernet jacks found on most components these days, this one is not only for controlling the Cantata via your network, it's also a digital audio input (as I'll explain shortly).
Swiss Army DAC
I set out to test as many methods of running digital audio through the Cantata as possible. These included using the CD slot on the front; the S/PDIF, TosLink, and USB inputs on the back; and from my Apple computer, via the rear-panel Ethernet jack, connecting to Resolution Audio's Cantata Pont Neuf Bridge USB adapter (see below), and to a wireless WiFi bridge (also via the Cantata's Ethernet jack and the Pont Neuf).
Nightmares of lo-rez audio iClouds got you down? Create your own local full-resolution audio cloud. Most folks will integrate a computer as a source component into their system via USB, and while regular USB DACs require a computer in the listening room due to the 1–2m limit on the length of USB cables for best performance, Resolution has come up with a way to create a wireless "bridge" between a computer or USB music source in another room and your system, like a Sonos system on steroids.
This last option is one of the Cantata's more interesting features: using a wireless bridge and a remote computer, you can wirelessly stream, via WiFi, audio of resolutions up to 24-bit/96kHz. To make this work, Jeff Kalt created the Pont Neuf USB to Ethernet Bridge ($400). (Pont Neuf, French for "new bridge," is also the name of one of the Paris bridges spanning the Seine.) It looks like a mini Cantata—it, too, has a top plate of scalloped aluminum—and is the size of a pack of chewing gum. At one end of the USB-powered Pont Neuf is a USB plug for inserting into your computer and, at the other end, an Ethernet jack.
To test this type of connection, I ran the USB output of my Mac to the Pont Neuf, which I then connected to my WiFi network locally with an Ethernet cable. I then connected the Cantata, in the listening room in another part of the house, via its Ethernet jack to an Apple Airport Express. I controlled the remote computer's music libraries with my iPad. The Cantata wasn't connected to the network directly via Ethernet, only through the Airport Express. After I'd configured the AE to join my WiFi network and restarted it, setup was simple, and within minutes I was streaming from both iTunes and the VLC player (for FLAC files) at any sampling rate up to 96kHz. And it sounded great.
In fact, I tried dozens of cuts, and couldn't hear a reliable difference between using a wireless bridge via Ethernet and the Pont Neuf, and direct S/PDIF or the Cantata's disc player. I was prejudiced to hear some flaws with the WiFi-Ethernet connection, but could never hear any. Same thing after adding USB to the mix. This surprised me quite a bit.
Macca On the Mac
During this review, I received CD copies of the new Abbey Road remasterings of Paul McCartney's McCartney and McCartney II); then HDtracks.com made available downloads of the 24/96 FLAC versions. These two releases are confusing in that McCartney II was released 10 years and many Paul McCartney and Wings albums after McCartney. Something to do with how each was recorded as one-man solo effort in a small studio, and the albums in between were full-on studio/band affairs.