Recording of October 1978: For Duke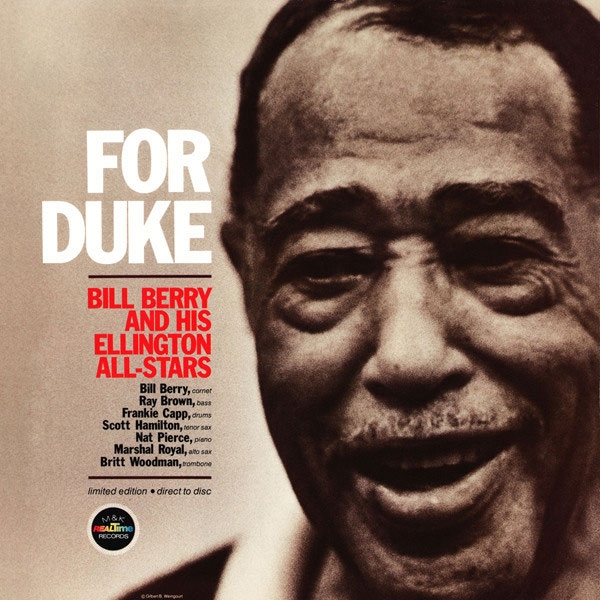 Bill Berry and His Ellington All-Stars: For Duke
Works by Duke Ellington
Bill Berry, cornet; Ray Brown, bass; Frankie Capp, drums; Scott Hamilton, tenor sax; Nat Pierce, piano; Marshal Royal, alto sax; Britt Woodman, trombone.
M&K Real-Time RT-101 (direct-to-disc LP).
This is to-date the best direct-to-disc recording I have heard. For once I can't complain about the high end being shrill or hard. The balances are excellent and the performances superior, with each member of the group getting his chance to show off. Marshal Royal's saxophone solos must be heard to be believed, Everyone present is obviously having a good time making music, which is the way it always ought to be but often isn't.
The highs on this disc are extraordinary—nothing like what I have come to think of as the German-microphone sound (hard and sizzly). Yet the mikes used were in fact German AKGs and Neumanns; the difference is that they were extensively modified by Miller and Kreisel Sound Corp's Ken Kreisel, who is to be congratulated for the success of his efforts.
I am most pleased to report that this superb disc is but a taste of things to come: Scheduled for release by M&K in the near future are: recordings of Earl "Fatha" Hines; Ed Graham, a percussionist; a Flamenco show with a rousing contest between drummer and dancers; and most exciting, Beethoven's Ninth Symphony will be recorded early in July.
We look forward to auditioning all these releases as soon as possible and give M&K top marks for building an exciting and diverse catalog.—Margaret Graham
Editor's Addendum: Everyone making perfectionist-oriented discs ought to take a long, open-minded listen to this. The high end is as open and natural as anything yet committed to disc; the cymbals sound real. And the other instruments—even those which are a bit too close to the nearest mike—have a naturalness of timbre and formant structure that has rarely been equaled and never to date surpassed.—J. Gordon Holt