Plinius Audio SA-103 power amplifier Page 2
That's the Power of Love
Setup was very straightforward: Lug the beast into place, attach the speaker and interconnect cables, select the mode and input, and switch on the main power toggle on the rear panel. The SA-103 turns on in muted standby mode. You then press the Mute button on the front panel; the SA-103 will now play music, but in class-A/B mode. You can also use Mute to swap out input and speaker cables while the amp is on—a nice tool for reviewers. To switch to class-A, hit the button so labeled. I listened to the SA-103 only in balanced stereo mode.
Plinius intends for the SA-103 to be left on at all times, and left in class-A/B mode when idle. If you forget, an internal switch can be set to automatically switch the amp in class-A/B mode after 15, 30, or 60 minutes of no signal, thus saving on heat dissipation and your electric bill. If you're a control freak, you can turn off this feature entirely, but remember: In class-A mode, the SA-103 sucks almost 500W continuously. I loved being able to leave it on all the time without having to remember to power it down to class-A/B. This let the SA-103 continuously charge its capacitors and to get to its optimal class-A operating temperature—and best sound—much more quickly than from a cold start. Nor did I notice any big increase in my electric bill during the amp's time at my house.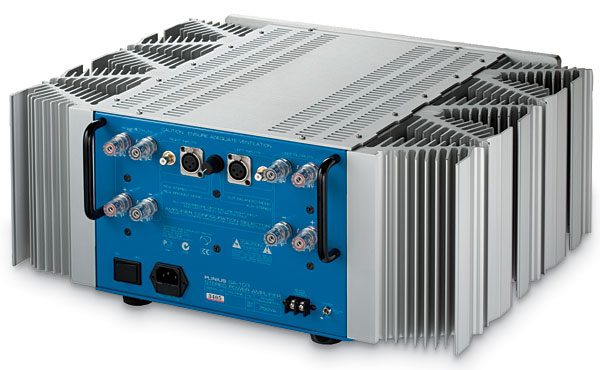 Plinius recommends that all serious listening be done in class-A only, and that's what I did. However, if you're throwing a summer dinner party and don't want to heat the house to get some background music, the SA-103 will work nicely in class-A/B. I let it run in, in class-A mode, for about 100 hours before doing any analytic listening.
Where has this bass been all my life?!
Such was my initial impression of the Plinius SA-103's sound. I have used the same loudspeakers, a pair of Revel Performa F30s, in the same positions in the same room, for some 10 years now, but never had I heard from them such depth, slam, articulation, and texture in the bass. Nor could my friends, who know my system almost as well as I do, believe the musical foundation the sound now had. Consequently, the Plinius kept me on a steady diet of bass-head treats.
Pantha du Prince's Black Noise (CD, Rough Trade RTAADC544) was in constant rotation, and this wonderful recording of rather minimalist electronica was beautifully served by the SA-103. On much of the album, electronic bass notes are used instead of drumbeats to kick out the jams. In other words, the bass notes also provide the music's rhythmic drive. To correctly reproduce this music, a system must have not only great pitch definition, but impeccable timing and control. The SA-103 locked on to my F30s' woofers in a way no other amp has, combining roundness and generosity of tone with incredible control and articulation—usually, I've been able to get only one or the other of those pairings. For tube amps, my Rogue Audio M-180 monoblocks do a great job in the bass, and give me a feel similar to what the Plinius SA-103 provided, but they just can't grip the speakers with as much control or dynamics, or play as loud.
Bass-drum thwacks and orchestral dynamics were ably served by the Plinius's bass control and drive. The recording by conductor Ants Soots and the Estonian National Male Choir of Veljo Tormis's Curse Upon Iron (CD, Alba NCD 35) is undoubtedly the most hair-raising performance of the most terrifying choral work ever written. The work is scored for shaman drum (in this case a very large hand drum) and male choir, and its compositional core is the interval of the tritone, so abhorred in conventional harmony. The choir sings, sometimes screams an ancient Estonian text cursing iron, the material of swords and war. Not only did the Plinius get the enormous drum thwacks right, with the correct amount of weight and speed to each stroke, the SA-103 also delivered a rich, detailed, full-bodied rendering of the choir's voices. The overall effect of this performance and recording of this work is similar that of viewing Picasso's Guernica—the horrors of war are laid bare in a way that is, at the same time, beautiful and terrible. It's the sort of music whose emotional impact on me is so strong that I can listen to it only once in a while. When I listened to it this time, I was very glad it was through the Plinius SA-103.
Men's voices also sounded lovely singing less raucous fare. To my ears, audio systems have a hard time reproducing male voices. Room effects and speaker crossovers do their best to screw up the sound, and many amps can present either a voice's body and warmth or its detail, but seldom both. The Plinius did a fine job of conveying the years of joy, pain, and experience in the desiccated voice of the late Johnny Cash as he sang "Give My Love to Rose," from American IV: The Man Comes Around (CD, American 440 063 339-2), but also offered hints of the former richness of his bass-baritone. The more youthful sound of the late Isaac Hayes singing with Dionne Warwick, in concert, a medley of "By the Time I Get to Phoenix"/"I Say a Little Prayer," from Ultimate Isaac Hayes: Can You Dig It? (CD, Stax 35CD-88043-2), gave me exactly what a close-miked male voice should sound like, with equal amounts of body and detail. Hayes was a lot more than Chef (the South Park character whose voice he provided) and "Shaft," and his singing and arranging on this track prove it amazing.
But the Plinius SA-103 also loved the ladies. Soprano Barbara Bonney singing songs by Hugo Alfvén, accompanied on piano by Antonio Pappano, from her Diamonds in the Snow: Nordic Songs (CD, Decca 289 466 762-2), was rendered with just the right perspective, tonal balance, and liquidity through the SA-103. Hearing Bonney sing "Skogen Sover" was a little slice of heaven.