Peachtree Audio's Grand Pre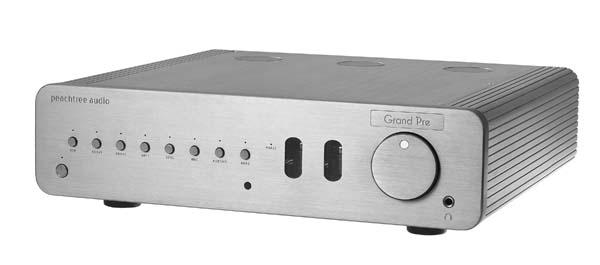 Peachtree Audio has built a reputation for providing good-looking, versatile, high-quality products that fit the needs and lifestyles of the growing group of audiophiles looking to integrate computers and iPods into their home stereos. By manufacturing overseas, the company has managed to do this while keeping most of their products priced well under $2000. Fortunately, I've had the opportunity to meet a few of the people behind the Peachtree brand, and they've proven to be some of the most enthusiastic and passionate in hi-fi. Such enthusiasm is bound to show up in their products, and is inevitably shared by the company's loyal customers.
Today, Peachtree Audio announced their new flagship asynchronous preamp/DAC, the Grand Pre, the first in a series of "Grand" products (a power amplifier and an all-in-one integrated amplifier will come later) and the first Peachtree component to have its design, final assembly, and final QC all take place in the US. For audiophiles hoping to "buy American," this should come as interesting news.
While the Grand Pre forgoes Peachtree's stylish real-wood veneer wrap, it nonetheless carries much of the company's distinct design philosophy. The Grand Pre will utilize an ESS Sabre32 9018 D/A chip and will provide a wealth of digital inputs: 24/192-compatible USB, two coaxial, two optical, and one BNC. According to the press release, a Bascom King tube buffer circuit will employ 12AU7 tubes and is meant to "rejuvenate average recordings and compressed music sources like Pandora and Spotify." Like Peachtree's Nova and iDecco, the Grand Pre can be used in pure solid-state or hybrid tube mode.
The price has not been determined, but the company is shooting for somewhere around $3000–$3500. The Peachtree Grand Pre will make its debut at the upcoming Rocky Mountain Audio Fest, to be held on October 14 through 16, in Denver, Colorado.