Payday Albums: 5/24/13
I'm embarrassed to admit that I haven't made much progress since the last Payday Albums post: I keep buying records, but the days don't get any longer. What's up with that? The number of LPs in my collection that have gone unplayed is growing dangerously large; soon enough, my collection will be made mostly of unplayed LPs. Meanwhile, I'm just plain running out of shelf space. What's a guy to do? Buy a massive hard drive and convert to computer audio?
Hmm . . . I'll cross that bridge when I get there.
For now: Today's payday. These are the albums I bought.
Dalhous: An Ambassador for Laing (LP, Blackest Ever Black)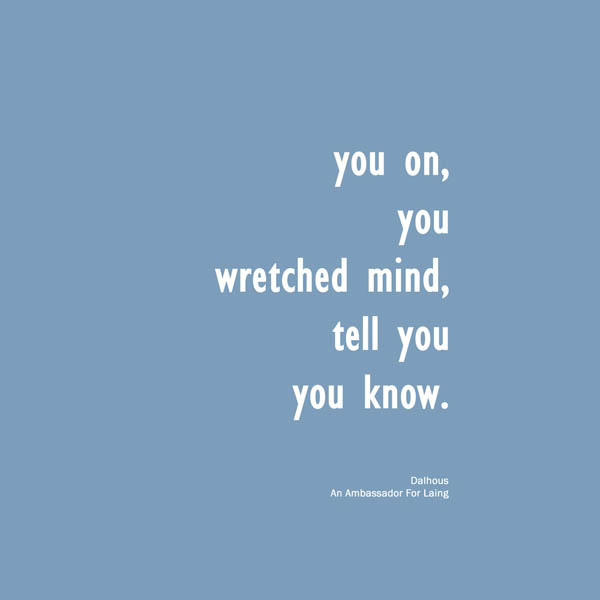 With a title like An Ambassador for Laing, track titles like "He Was Human and Belonged with Humans," and such quietly beautiful artwork, this LP needed to be in my collection. Plus, it's on Blackest Ever Black, and everything on Blackest Ever Black is good.
The Caretaker: Persistent Repetition of Phrases (LP, History Always Favours the Winners)
I love everything Leyland Kirby has released. Especially his Caretaker work. Actually, I'm pretty sure that I already have this particular album on CD—hell, I might already have it on vinyl—but I bought it anyway. So what?
Jenny Hval: Innocence Is Kinky (LP, Rune Grammofon)
I don't merely love everything Jenny Hval has released; I want to have sex with everything she's released. What? Is that weird? No, it's not. Have you heard Hval's voice? Listened to her words? I bought two copies of this record—one for me and one for a friend—and now I feel like I should have bought a few more. Get your heads out of the gutter. My review of Innocence will appear in our August issue; my conversation with Hval will appear here later this year.
Dean Blunt: The Redeemer (LP, Hippos In Tanks)
Dean Blunt, one half of oddball noisemakers Hype Williams, returns with a slinky, smoky, dark, and soulful solo release. Dean Blunt is the man. I would like buy this record a beer.
Glenn Jones: My Garden State (LP, Thrill Jockey)
This record is inspired by two of my favorite things in life: New Jersey and moms. Plus, Glenn Jones comes closer than anyone I've heard to conjuring the soul of John Fahey, without actually ripping off John Fahey. I would like to go for a long drive down the Turnpike with this record. I'll bring the E-ZPass.
I purchased these LPs at Other Music and Forced Exposure.
Bonus Round
Here's a list of records that I want to buy, but have so far managed to avoid:
Lubomyr Melnyk: Corallaries
John Roberts: Fences
Julia Holter: "Maria" b/w "2HB"
Lussuria: American Babylon
Ol' Dirty Bastard: Return to the 36 Chambers (The Dirty Version)
But, really, my struggle is pointless. I will buy these records, sooner or later. And then, there'll be more.