Noise, Resolution & Benchmark Page 2
Isn't that a problem for the design goals of an amplifier like the Benchmark AHB2? Can such excellent noise and distortion performance be realized in the real world, including my Manhattan apartment? I'll have more to say about noise and distortion later. For now, let's just listen.
A Distortion of Love
In reviewing the Benchmark AHB2, Kal Rubinson played Gerald Finzi's song "Come away, death" (the text is from Shakespeare's Twelfth Night), from the album of that title by mezzo-soprano Marianne Beate Kielland and pianist Sergej Osadchuk. I own that recording, too, in several versions. I played the 24-bit/192kHz version, same as Kal. "Come away, death" is a great piece of music beautifully performed, but it was the "Lullaby" from Mussorgsky's song cycle Songs and Dances of Death (Pesni i Pljaski Smerti) that was more revealing. "Lullaby" has many quiet, breathy moments with quiet, subtle sibilants and fricatives. Those sounds sounded different through the Benchmark system, with more roughness, texture, and complexity. Through my reference system there wasn't really anything to miss—the same moments and sounds were suitably quiet, breathy, and fricative—but through the Benchmark amps those quiet sounds were richer and more interesting. There seemed to be more going on in those quiet moments. It's harder to describe than it was to hear.
Another example: The first note of Changes by Rolf Wallin, from another 2L recording, Symphonies of Wind Instruments, with the Royal Norwegian Navy Band conducted by Ingar Bergby (24/192 download, 2L-102). As a former trumpet player, I've always loved the sonorities of wind ensembles. This piece starts with a literal bang, a loud bass-drum stroke synchronized with remarkable precision with wind instruments and a descending tone from some instrument I don't recognize. It's a loud, abrupt departure from silence. Through the AHB2, it was rougher. There simply was more going on.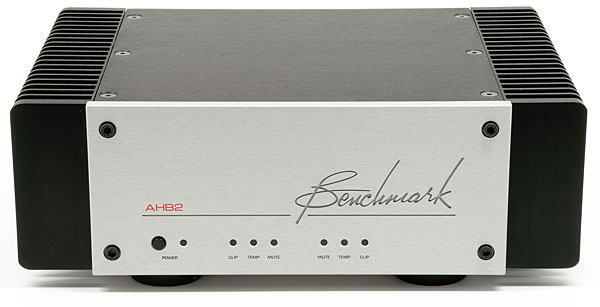 This must be what Kal was writing about when, in his AHB2 review, he reported hearing "much more apparent low-level detail in already-familiar recordings" through the Benchmark amplifiers—though he emphasized the qualifier apparent. What I heard with Benchmark's low-noise system wasn't as dramatic as what he reported, but it was real enough and repeatable: Over the course of several days, I went back and forth between the Benchmark amplifiers and heard it every time. The difference didn't go away.
Were the differences I heard musically important? I'd say no—not in the cases I heard—but they could be important in the right music. While subtle, the differences were as large as or larger than many other details reviewers often emphasize.
Tradeoffs? Kal reported that "Come away, death" and other tracks seemed tonally lighter through the AHB2s than through his usual amplifiers; to him, Kielland, a mezzo, sounded more like a soprano through the Benchmarks. I didn't hear that. In fact, if anything, I thought the AHB2s sounded slightly darker—on certain low notes, Kielland's voice was shifted toward the alto side. Kal was correct when he wrote, "Tonal balance is a curious audio parameter"; it may be the most fundamental parameter in audio, yet how we experience it seems, even more than other aspects of music, dramatically influenced by a range of subjective factors. We could also be hearing the amplifiers' output stages interacting with the loudspeaker impedance to an unusually large extent, though that would surprise me, given the AHB's low source impedance. (JA measured 0.09 ohm at 20Hz and 1kHz including cables, rising slightly to 0.22 ohm at 20kHz.) The AHB2 is a chameleon.
Summing up
Earlier in this Follow-Up, I spent several paragraphs establishing that, even at fairly high listening levels, the quieter parts of the music are below my room's noise floor. How, then, am I able to hear such differences in the music's quieter parts? I gave it some thought and asked some experts, including Benchmark's John Siau.
Noise isn't uniform. Most of the noise in my room is below 120Hz or so, where the ear is quite insensitive. On good, low-noise days, that low-frequency noise is measurably below the threshold of audibility, despite its relatively high level. In the midrange up into the treble, the noise is much lower in level in my room than it is in the bass—but it matters more, because the ear is much more sensitive in that range.
But midrange and treble sounds are directional, so it's easier to distinguish among various noise sources—noise from the speakers vs noise through the windows or from my refrigerator—and to separate room noise from music. As I listened hard to Kielland sing Mussorgsky's "Lullaby" for the third or fourth time, I was aware of noise from my street-side window, but my brain differentiated that noise from the quiet music. It was automatic. I wouldn't say the street noise didn't matter at all, but it mattered less than its volume would suggest.
"Our ears are capable of hearing individual tones that are well below the ambient noise level," Siau told me. "The extreme case occurs at 3kHz, where our ears are most sensitive. At 3kHz, our ears can detect a tone that is 30dB lower than a white ambient noise level, such as the noise created by TPDF dither." (See sidebar.) "In a typical room, the noise is not spectrally flat (white), and it is possible to do much better than 30dB lower than the ambient room noise."
After weeks of obsessing about noise, I'm convinced by another thing Siau told me: If you can't hear noise coming from your speakers while sitting in your listening chair with the source at idle, you haven't got a noise problem. If you can hear noise, that noise is likely to get in the way of the music at times, though it may not matter very much. At a volume setting corresponding to a reasonable listening level, I can't hear any noise coming from my speakers with any of these amps. The low-noise character of the AHB2s, then, apparently isn't important in my room.
But I'm hearing something—a difference—that's correlated with the music: the presence or absence of some sort of distortion or music-modulated noise. Are the AHB2s more "resolving" than my reference? Although I preferred the AHB2s' denser presentation of certain details, it's not clear to me which is truer to the source. Are the AHB2s simply more resolving? Apparently, that's unlikely. (See Siau's comments on resolution in the sidebar.)
Maybe the most important thing a review can do is provide context and a sense of proportion. I'm impressed by the Benchmark AHB2s, but I'm not inclined to buy them—I'm already well equipped. But if you're shopping, try them. It's great that the audio industry offers so wide a variety of equipment with a range of virtues at different price points. My PS Audio BHK 300 monoblocks are capable of great delicacy, but their character is clean and authoritative, and they have lots of power for speakers that present difficult loads. The Pass Laboratories XA60.8 monoblocks, which I also have on hand, emphasize sweetness, richness, and delicacy without sacrificing authority. The less-expensive AHB2s can play in this league and offer a different, and in some ways better, listening experience. It's a fine situation we find ourselves in.