Musical Fidelity and Monitor Audio Mate Marvelously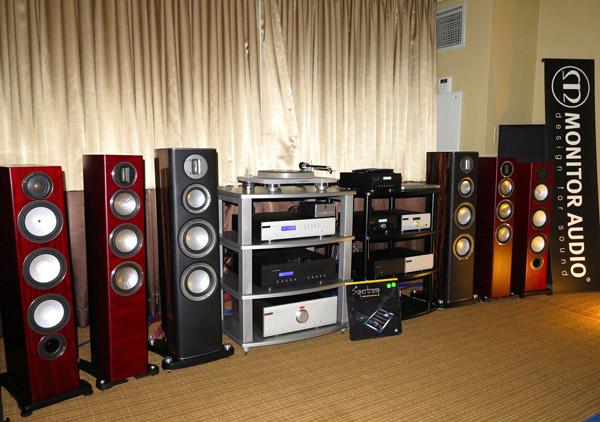 Given the number of loudspeakers in the relatively small room, I was amazed that two corner traps, combined with intelligent speaker placement that began at 8am, could result in such well-controlled bass. But on the Channel Classics native DSD/hybrid SACD of the Budapest Festival Orchestra performing Mahler's Symphony 2, the opening movement exhibited ideal control on the low end as well as natural warmth. I kept waiting for the booming, but it never came. What a great end to my first long day at AXPONA Chicago, 2013.
Doing the honors were Monitor Audio's Platinum 200 loudspeaker ($9000/pair); Musical Fidelity's M6500 integrated amp ($7000), M6 CD player ($2500), and M6 DAC ($3000). Cabling was Nordost Red Dawn LS throughout; that includes the power cords, which were plugged into a QB8 power distributor. Anyone who still thinks the new line of Nordost cabling is bass-shy or lacking in body needed to hear this system; Red Dawn LS, and all of the new Nordost lines, are very different than their predecessors.